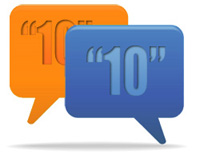 TrafficSchool.com Reviews
A Simple Question
is asked to customers that complete our online course and choose to do an optional survey:
"On a scale of 1-to-10: How likely is it that you would recommend TrafficSchool.com to a friend or colleague, and why?"
Here are a few dozen of our favorite answers:
Beautifully written. Very informative. As a former Ny Times syndicated columnist I know excellent informative writing and this is a shining example. I not only enjoyed taking the course but learned more than I ever expected.
Course was easy to navigate and understand.
Course good brush up on traffic, easy to understand
Site was very easy to use. Best online traffic school ever.
Well organized. Explanations/narrative easy to understand.
James
Rancho Cucamonga, CA
Best Traffic School EVER!
It was very educational and price effective
Great price and easy to use web site
It was easy simple and fast. Getting the audio for a bit more, its worth it!
Good school, easy to follow. Learned some good information.
The course was clear, informative, and easy to navigate.
Easy to navigate and get through. Like the frequent checks and quizzes before the final.
Convenience, in dealing with an inconvenient incident that happened. It was nice to get it taken care of on my own schedule and time frame. Much appreciated!
This course has everything you need at an affordable price to complete your traffic school which is approved by the DMV. It allows you to go at your own pace, save & log out, and log back in without any issues. If you need any assistance they have a toll free number to call. I would highly recommend TrafficSchool.com.
Clear, concise, and easy to follow. Good feedback on missed questions. Was able to complete in one day. Glad I choose this one over the other three I considered.
Enjoyed the info and ease of questions and feedback.
The Website is simple, uncongested and easy to follow, the course is written in simple and understandable English language, the price is cheaper than a soda-pop drink, and most of all, the Auto Reading option with different speed settings is just a cherry on top of this "Piece of Cake Traffic School". Perhaps, that could be your AKA name as well. Thank you, the entire team is very thoughtful !!!
It was understandable, to the point, and every section of the reading material was UNDERSTANDABLE and applicable to the course and every day driving! I enjoyed taking this class and most importantly: IT WAS AFFORDABLE! Thank you immensely for the updated and current information for driving in California. This is a great refresher course for me.
Great course. Easy to follow, would recommend to others.
This was quick! And amazing! I'm so glad!!!
Very helpful and attentive to detail on rules and safety
I really liked the experience, very easy to understand the steps and the way you guys make me learn more about rules and laws in this country, thanks.
It is very helpful information and reminding of current laws.
Easy to access and great course
It was easy and very informative.
I found this course very easy to read and comprehend, and also find it useful if DMV would apply this course to all first time drivers. It was informational and easy to read.
Because it was really FAST, SIMPLE, AFFORDABLE, and FUN. Easy to understand and use. Thanks.
I didn't know what to expect, but the course was comprehensive, well laid out, and even after driving for 45 years, I learned a couple of things. Appreciated the animated knowledge checks and the course was divided into bite size sections that made it less intimidating. Thank you!
This course is so useful, easy to understand, flexible times to repeat exams, your success is guaranteed. Thanks
I gave you this rating because the course is thoroughly explained and the reading feature makes it easier and faster. Each exam question are corresponding to what was covered in each section.
Course was easy to follow and quiz was a good way to review each section. When a have a question about the course itself, your representatives are usually friendly and professional and helpful.
Quick and easy common sense approach on the test. Appreciate the ease and fast pace of getting it done. Thanks!
I was worried before I started this Traffic School, thinking this would be difficult. It turned out that it was easy and I learned some new information that I didn't know before. I scored 100% on my final exam. Hurray for me! Thanks for a good experience in doing this class, even though it was an expensive lesson for running a red light.
Excellent course and an excellent price! The content was presented very well.
Wonderful course. TrafficSchool.com is the absolute best!
I received a list of more than 100 DMV licensed online/home study traffic violator schools from the Superior Court of California County of Santa Barbara, and I had no idea which one to choose. I looked into five different schools, and I took a chance with TrafficSchool.com. I liked the offer to begin the instruction without having to pay upfront. Once I began the course, I found it was easy to understand. I felt the course addressed pertinent information. The cost was a total bargain for the instruction and benefit provided. I scored 100% on the final test. I am totally satisfied with TrafficSchool.com, and I highly recommend the school to others. Other schools might also be very good, but I am pleased with my TrafficSchool.com experience.
It's was very good and easy
Because it was as simple as it can get process started. Some of the modules were long, but informative nonetheless. The module on road rage was very eye opening and a great reminder to abstain from doing anything that can precipitate or escalate situations.
I enjoyed the easy to understand directives.
Because it helps me a lot and it's knowledgeable.
Study was easy and was able to finish easily
The course was easy to understand and helped me to refresh my knowledge of the law
This is my 1st Traffic school course. There were areas of the law I wasn't sure of. This course gave me valuable information, along with answering the areas of concern. I would recommend this Traffic school. The quizzes and test were easy, but more importantly it was educational.
No one wants to HAVE to do this, but I must commend the writers of the study guide and prep materials. I found the information engaging, well-articulated and even, dare I say it, a pleasure to learn.
Easy to follow and understand
The course is easy to understand and you will surely pass the test. If you have traffic citation, TrafficSchool.com is the solution!! Enroll now and get rid of that point from your driving record.
Really educational, easy to use, and simple.
The course is easy to navigate and very informative.
Very great price and very easy understanding
Easy to navigate and informative
It's easy course and cheap price
The best thing about this school is you can pick up where you left off. I did not compare the price with other schools, and this one you can pay after you study, it makes you feel good.
Called before starting, customer service was excellent. Course was straightforward and easy to navigate. Thank you!
The content was very relevant, easily digested pieces and quizzes that re-enforced what I had learn or was reminded of. There were also very good suggestions for the challenges that come up more often than we expect. Thank you very much.
The material was presented in a clear and concise manner. Liked the "spirit of the law" way of summarizing the legal jargon. The use of the interactive videos was very helpful.
I was help in a timely manor and the associate were very helpfully and kind to me and thank for your help and support
It is really very educational and easy to do the process on the internet, I learned a lot and I would like many more people to have the same experience.
Very smooth no pop ups, very informative, I learned things I didn't know I will for sure recommend this trafficschool.com to anyone that needs to complete a course. Thank you very much.
I got stuck twice; called your number. Operators were very helpful.
Your course was thorough and the price was right.
It was easy to navigate and go back if needed. There was ample time and places to save and log in later. Thanks
Doing traffic school (lower case) was a far more pleasant experience than I expected, in no small part because I chose to go with TrafficSchool.com. I was very impressed with how clear and effortless the registration process was. I was immensely grateful for being given the opportunity to make some upgrades along the way, and again for how easy that was to do. I am a proofreader by habit and throughout the course I was repeatedly impressed at how clearly the material was written and repeatedly very relived at the absence of grammatical and typographical errors within it. How refreshing! I chose to place my trust in TrafficSchool.com based on the ease of registration and clarity of presentation. This has been a positive educational experience, I've learned a lot. Thank you
Very easy to complete and available
There were many course options, but the reviews for this school stood out and turned out to be very accurate. I would highly recommend due to the affordable price and ease of use.
Easy to navigate and great experience!
Easy, quick, and you can complete on your own time!!
PRICE was AWESOME and the course itself was EXACTLY what I needed!
Very easy to use and understand. Price was perfect for fixed income people like myself.
Instructions were easy to follow. Material contents were very comprehensive and useful
Easy to understand, convenient, and educational. Up to date information
IT SO SIMPLE AND SO EASY TO UNDERSTAND
Great driving school, all information is clear and simple. Thank you!
The course taught me everything I needed to know about driving in California, in a lawful manner. The course had a lot of good information was very easy and I would recommend it to anybody who needs to take driving course. I wish I knew about this when I was in high school.
TrafficSchool.com was really well written and easy to follow. I really liked the ability to stop between sessions and then restart when convenient. Well done and with an excellent price!
It was quick and easy. And could be done at your residence.
I learned a lot about new DMV laws, statistics, defensive driving, etc. It was a refresher course, with a lot of examples and friendly internet navigation. The price is great.
The course was easy to read and understand. I loved the review questions & tests after each section. I even had to laugh at some of the possible answers and yet some will select them as being correct. A common sense approach to taking this exam is the key to passing it. When I initially logged on I was having issues with the system accepting required information as to paying for the course on-line. I called your business number very close to the end of the business day and got to speak with the most polite and professional lady that I have ever encountered. She was a delight. She walked me through the steps and I was able to complete my application. She made my day at the end of her day. I passed the course with a grade of 92%. Not too shabby for an 85 year old retired USN veteran. I still have it "Fonz". Happy Days.
Course was easy to read and understand. I loved the interaction pages.
Great product and simple to use.
This has been an enjoyable course. The information is clear and concise. The animated quizzes are well done and informative. I like the simplicity.
It was easy to read, user friendly, and very economical!
The course was easy to understand. The visual clips in each chapter helps a lot.
Straightforward lessons and easy to follow.
Attempted other websites. They were confusing and no help. Yours was super easy, affordable, and self guiding at a comfortable pace. No sales pressure. Just optional choices.
Great website. Easy to understand
The website is easy to navigate and the studying materials and guide are excellent!
Easy to complete, given all tools needed to study and pass, able to chat with live person, reasonably priced with upgrades and rush fee
Great online setup, easy to use, can go at own pace with text version, simple to understand, no price gouging or deceptive tactics like some other schools. Great overall!
Because you made this completely affordable without any extra cost that wasn't stated in the initial price and allowed me to choose what add on's I wanted which I appreciated. You also made the course easy to read and understand and I really enjoyed taking it to brush up on my driving knowledge and how I can be the best and safest driver on the road. I learned valuable information, thanks!!!
A very good course of study, the narrative was full of a lot of good insights and gave me a lot to think about. I think every driver would benefit from this course.
Because of well designed website, ease of use, and reasonable price.
The layout the course was easy to follow and very informative. I like using the option of the audio as well as reading the material. Additionally, I appreciated the ease of finding pertinent information when I needed to return to previous subjects. I literally think this course is going to make be a more responsible driver. Thank You. PS. I thought the course cost and the extra options were very reasonable.
Excellent service, ease to navigate, all questions were clear and concise. I could not have found a better traffic school. I will definitely recommend it to all my friends.
The course was focused, to the point, easy to follow, well thought out, not too long, and allowed me to review information any time I needed to -- even during the final exam. I learned things I never realized by taking this course, and at the same time, I was pleased at how much I already knew. It was a great refresher!
I was terrified. I get nervous when taking tests. It wasn't bad a all. Very well written and super informative.
Thank you for putting the information together in a way that was user friendly.
Very easy to read and understand, thank you!
I really love this course
It was easy to apply, navigate and have sent to DMV for me
Easy and accessible service over phone. Thank you!
I found it easy to read and presented well.
Being divided into 7 sections made it easier to stop and start allowing me to step away when necessary.
You made the process quick and easy.
VERY EASY TO USE THIS COURSE AND VERY USER FRIENDLY GREAT COURSE
Easy to use and well structured
GREAT PRICE. FAST AND EASY.
Everything in this educational course is clear. That way we became a better drivers.
The course was easy to follow and the material prepared me well for the final exam, thank you.
Being an elder person I was impressed at the ease of navigating the test material
THE FEES ARE NOT EXPENSIVE AND THE COURSES ARE EASY TO UNDERSTAND.
The course is exactly as advertised, fast, easy, and affordable
Thank you for having this class available on line, for those of us that needs to be reminded the driving is a privilege. This course is educational and easy to follow. I think everyone should take a refresher course in driving.
Traffic School Reviews
We consistently strive to offer our traffic school customers the best possible online learning experience - this includes providing live & friendly customer service, easy to use courses, educational content, fast processing, and affordable pricing. But don't take our word for it, here are some real, verified reviews that our past customers have left about TrafficSchool.com!