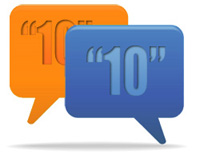 TrafficSchool.com Reviews
A Simple Question
is asked to customers that complete our online course and choose to do an optional survey:
"On a scale of 1-to-10: How likely is it that you would recommend TrafficSchool.com to a friend or colleague, and why?"
Here are a few dozen of our favorite answers:
Excellent service, ease to navigate, all questions were clear and concise. I could not have found a better traffic school. I will definitely recommend it to all my friends.
The course was focused, to the point, easy to follow, well thought out, not too long, and allowed me to review information any time I needed to -- even during the final exam. I learned things I never realized by taking this course, and at the same time, I was pleased at how much I already knew. It was a great refresher!
It was very easy to register and with guidance on what to do. Lots of information about driving under weather conditions that I didn't know about. Very informative
This is amazing! The way the information was displayed was very easy to follow, and very easy to understand. I had fun interacting with the material, never felt bored although I am a slow reader and it took me long time to complete since English is not my mother language. I definitely learned a lot and I am planning to apply what I learned because it is practical, life saving and all made sense.
Your site was efficient, competently designed, easy to follow, and succeed in filling it out with a passing grade, at a reasonable price point and investment of time.
I think that your course is very thorough and provides very relevant questions related to today's driving issues. It completely covers the Rules of the Road and makes you think about some of your own good and bad driving habits. Thank you!
Very easy refresher. Will see to it that I follow and apply the safe habits I have reviewed in this course.
TrafficSchool.com has a great way of teaching what needs to be learned in a sufficiently way of understanding each topic of driving and introducing the new laws. It was a well taught class. Thank you so much for your help
The course was easy to understand. They had options for answering the questions, and the interaction clips were nice because they gave a visual of the situation the particular lesson was about. I had several options of schools to pick but trafficschool.com stood out as the best one and I'm glad I chose them.
This was the fastest and best (most thorough and direct) traffic school ever.
To Whom This May Concern: I will recommend California Traffic School for three reasons; first, when I called for information, Claudia was so friendly and professional. She helped me register and explained the program clearly. Second, the audio feature was unexpected and amazing! I loved the option of increasing the speed which kept me engaged as did the video diagrams and pictures. Third, I had dealt with another vendor prior to contacting California Traffic School. The representative was rude on the phone and would not accept the fact that his material had misspelling and the test didn't provide accurate answers when compared to the study guide. California Traffic School's material was easy to follow and the answers to all unit quiz' and final exam were amply provided. Thank you for a favorable experience!
Easy to register, follow, and interesting
Easy to register and cheap
The course had a lot of useful information. Great reminder on how to be a better driver, avoid collisions and road rage. Thank you
Very helpful information about updated traffic rules and regulations, good driving instructions and the course itself is well-organized.
Material is very nicely organized. Easy to comprehend.
Brayan
North Hollywood, CA
Very easy and clear course.
Because was not complicated, easy to understand. Thank you very much
I highly enjoyed the course and learn a lot from it.
Super fast & easy to comprehend.
Best online course ever, very convenient!
Great price and easy to navigate website.
Very easy to use and provides helpful information!
I was very nervous about traffic school. I did not know how to start the process. I am so happy that I found TrafficSchool.com. I have paid my ticket and successfully completed my traffic school. The course was easy to maneuver through and not boring at all. This was a great learning experience for me. I highly recommend this course.
Germaine
Westlake Village, CA
Ease and comfort to take at home, program information was easily understood
Easy, affordable and very informative
The material is self explanatory and very easy to follow. I am very pleased with this school!
The course was very well layout and support staff was really available.
The course is well explained and easy to understand.
It's just like it says easy to read understand and complete. I highly recommend for ANYONE who has to take a traffic / safety course, TAKE THIS ONE. Thank you
This was an awesome course. It was self-explanatory with a lot of common sense. Everything was written very easy for one to comprehend. I was nervous about traffic school but trafficschool.com made it easy to understand.
Because it was easy to understand, I learned a few things, and it didn't cost an arm & a leg. Thank you!
This is a well-designed course and easy to navigate. I especially like that it can be done at your own pace! And the price is very reasonable as well!
Ease of use of site. Interesting material. Helpful agent/answered quickly.
Great education and easy best traffic school online that I have ever used
Yay so glad I picked your class. The lessons ran calmingly easy without the nervous jitters. I especially enjoyed the videos; visuals are better than words. Less descriptive text would be a PLUS. Thank you for a pleasant time. Your website is the one to use!
Very important and useful information. I really thought I wasn't going to like it but the questions helped me in re-assessing all my driving techniques. Thank you.
I was able to access the course with no problems. The course was easy to navigate through. The option to have each lesson read was fantastic!! It was an excellent refresher on child safety and handling all types of road conditions including handling potential road rage. Great course!!
Very clear and easy to understand
It is easy, useful and convenient
This was informative and I actually learned a few things! Also, able to complete in a timely manner.
Course was very simple and fun to learn and remember all the rules again
Professional. Very thorough and easy to navigate course. Tests were straight forward.
It easy to read and understand
Informative, extensive, user friendly, and inexpensive
I learned a lot of new information and feel my knowledge was reinforced as well since I have not taken a test in years. There was a lot of modern, up-to-date and new relevant information that I did not previously know particularly relating to newer automobile technologies (anti-lock brakes, computerized safety systems built into the newer cars, etc). The refresher on traffic laws was and is always helpful to restudy and review.
Very simple and straight forward.
I called the day before my due date and the person over the phone put me at ease and answered all of my questions even gave me helpful tips. Although I hated being up late the audio feature was very helpful as I was able to retain information better. Overall a good experience.
Because the website is very through and clear to understand and its very helpful
Great course! It took some time to read all the material but it was worth it. It will make me a better driver. Also the final exam was easy to pass provided you read all the material.
Great Experience! Great value of information, very informative, excellent course. Thank you
The course was very easy and informational.
Robert
San Luis Obispo, CA
The reading material was factual and succinct, the demonstrations helped reinforce the material and quiz and test questions were practical and right from the reading material.
An excellent course with easy to follow examples. I really loved the audio portion of the course that serves as a tool to reinforced what is read on the pages.
I loved this TrafficSchool because it gave me a refresher on what do to in dangerous driving situations and become familiar with the new traffic laws and policies. It taught me and reminded me of these laws and policies in an interesting and interactive way. I would, without a doubt, recommend this school to a friend or colleague!
Very convenient, reasonable price, you electronically notify court of my completion.
It was easy, fun, and quick to complete
I was very concerned about taking a online course and was hesitant. Once signed up, I saw how easy it was to follow directions and the guides. I wish I would of signed up sooner. Thank you for making this experience pleasant.
Straightforward, easy to maneuver through & you can work at your own pace.
Excellent course!!! So easy to understand!! Thank you!!
The course was easy to take and pass. I normally don't do well with tests but this I was very comfortable and the open book concept was just perfect
Very easy to use, understandable and affordable.
Very well done, good information, to the point, easy to understand with good information. Thank you!
A lot of info but was very informative and very well done in the 7 sections provided. I was dreading it like most but was pleasantly surprised with the course, quizzes and the final test which were very well done.
Affordable price. The entire step by step process for registration, course work, and test completion was easy understand and simple to follow. If I need to complete Traffic school again in the future, I would return to this site.
I think Traffic school is the best one to complete online traffic school. It's very easy to enroll they give you the opportunity to start your test and quizzes and once finished with the quizzes comes the final exam right before taking the final exam is that they require payment & there prices are very low, cant beat everything they offer, EASY, CHEAP in PRICE, excellent in every way possible. Thank you traffic school.com
I am glad I found traffic school online, the price not only reasonable. The lessons provided is very informative, easy to learn and understand, and quizzes help so much including the virtual questions help me visual how drive and avoid in situation on the road. Thanks.
This was my 3rd time in life taking traffic school and I must say. You guys were are the best!!! I even learned a few things. Reading was easy wording very understandable. Not being rude hope not to need you again but if so you'll be the first school I come too and recommend.
Great course easy to navigate, good Q&A, not overwhelming just enough to keep interesting. Facts I was not familiar with that I feel are good to know. This will make me a better driver. Enjoyed course.
Things were straightforward, and explained well. This took away my anxiety, other than the fact that I unfortunately did not get to this until the last minute. Thank you for the ease of completing the course, and submitting to the court for me, in a timely manner.
Stephanie
Mission Viejo, CA
The information given by the school was very informative and made it easy to pass the quizzes and final exam.
It was self explanatory, I comprehended everything I read. The GO exercise was fun. I enjoyed this course. I AM going to recommend this to all my friends. Thank you
It was not difficult at all it was easy and a learning experience for me I will definitely recommend this traffic school to everyone I know. Thank you!!!!!
Very easy to follow material, did not feel like a waste of time. I liked it was self-paced and I didn't have to wait through too many videos. The instructions and navigation was easy and there were no hidden costs. I especially liked that you can change the font size easily, odd minor thing but it was appreciated.
EASY INSTRUCTIONS, EASY WAY TO TEST, LOT OF INFORMATION. THANK YOU.
Because it made me realize and understand more basics and importance of driving more better along the way!
It was a lot of fun and fast thank you so much .
Easy to understand information
The information is very clear and good. Thank you
It was very easy to read and have control over your reading.
I learned items I did not know or had forgotten. Materiel was easy to understand.
It was easy to be registered and to read and explained very clearly
The content was very rich, highly informatic and well written for average student to understand
I learned something and it was easy to complete
Very helpful information that was provided!
Very instructive and easy to read Thank you
Very informative and interesting material made taking the course easy.
Easy to use and understand!
The course is self explanatory and easy to use
The course is well explained and easy to study.
The whole process was so easy and very informative.
Quick and easy online traffic school that was cheap.
Material was easy to understand and use, gave detailed information on updated driving rules and laws.
Its simple, good and more informative review for me.
The material for the course was easy to read and understood
The writing is interesting and will appeal to people of a range of cognitive styles. Some good metaphors and touches of humor in the use of an informal tone. That's a little surprising in this context. There are, however some segments with a sentence or two that this old reader has a whale of a difficult time visualizing. I wish there were a way to footnote or tag such phrases or sentences for your review.
This course was very informative and easy to understand
It was simple to navigate and the material was simple to digest. I have recommended your online school to the Marietta Traffic Court. Good job guys!
Flexible no rush or pressure do it on your own time what else do you want. Would like to verify I'm not an agent and I do not work for this company I'm just a happy customer thank you guys
Well organized and easy to navigate.
Justin
Rowland Heights, CA
The course has a lot of good materials. It is easy to follow and learn at my own pace. It is highly recommended.
It was easy and understandable
I was appreciative of being reminded of many driving rules, laws, and techniques that I had forgotten over the years.
It was easy and informative. I took it in a few days when I was rested and not distracted.
Is very helpful and easy to understand and really good
Because price affordable and easy understanding
It was easy to use the audio to follow along and the questions were good ones to remember the work. I learned a lot and I will apply what I learned to the roads. Slowing down while I drive and being a defense driver is the main key I got from this school. Thank you.
So easy to start and stop with out even logging off. My attention span only goes so far lol everything was so user friendly. Although the little videos could maybe use a little improvement on trying to answer the questions. Maybe just my iPad. Sometimes it wouldn't recognize my answer. Don't get me wrong I loved the course. Everything went with such ease. Apps these days usually makes me want to throw the phone across the room but not this course. Thank you much appreciated. Thumbs up.
Was very easy to log in read, take quiz and final exam
Very easy course, learn a lot.
The coarse was very informative, very detailed and one is able to learn quickly and retain the information at an outstanding level.
Easy online without going to sit in a classroom
Easy, quick, understandable, inexpensive
The course was easy to follow and to take the exams.
Lillian
Woodland Hills, CA
I liked the online Traffic very much because I was given ample time to do the sections at my own time which enabled me to study without pressure and at my convenience. All of what you asked met my expectations.
Traffic School Reviews
We consistently strive to offer our traffic school customers the best possible online learning experience - this includes providing live & friendly customer service, easy to use courses, educational content, fast processing, and affordable pricing. But don't take our word for it, here are some real, verified reviews that our past customers have left about TrafficSchool.com!