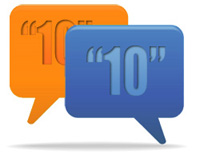 TrafficSchool.com Reviews
A Simple Question
is asked to customers that complete our online course and choose to do an optional survey:
"On a scale of 1-to-10: How likely is it that you would recommend TrafficSchool.com to a friend or colleague, and why?"
Here are a few dozen of our favorite answers:
This was my 3rd time in life taking traffic school and I must say. You guys were are the best!!! I even learned a few things. Reading was easy wording very understandable. Not being rude hope not to need you again but if so you'll be the first school I come too and recommend.
Great course easy to navigate, good Q&A, not overwhelming just enough to keep interesting. Facts I was not familiar with that I feel are good to know. This will make me a better driver. Enjoyed course.
Things were straightforward, and explained well. This took away my anxiety, other than the fact that I unfortunately did not get to this until the last minute. Thank you for the ease of completing the course, and submitting to the court for me, in a timely manner.
Stephanie
Mission Viejo, CA
The information given by the school was very informative and made it easy to pass the quizzes and final exam.
It was self explanatory, I comprehended everything I read. The GO exercise was fun. I enjoyed this course. I AM going to recommend this to all my friends. Thank you
It was not difficult at all it was easy and a learning experience for me I will definitely recommend this traffic school to everyone I know. Thank you!!!!!
Very easy to follow material, did not feel like a waste of time. I liked it was self-paced and I didn't have to wait through too many videos. The instructions and navigation was easy and there were no hidden costs. I especially liked that you can change the font size easily, odd minor thing but it was appreciated.
The course was very user-friendly. Signing up for the course was a breeze! The price of the entire course and any add-ons was very reasonable.
When I got my ticket, I was glad. Glad that my traffic violation resulted in a ticket, not a serious accident. I wanted to attend a traffic school that would help me be a better, safe, law-abiding driver. Which is why I chose TrafficSchool.com. The course is clearly written, thorough, user-friendly, the animations are a wonderful educational feature, AND it has helped me become a better, safe, law-abiding driver. I would certainly recommend TrafficSchool.com. ALSO I very much appreciated being greeted by a friendly person, not a recorded voice, when I phoned both times with questions.
This course was very clearly laid out and it was easy to follow. I was worried about having to take the course all at once, and was glad to find out I could log in and out when needed, although I actually completed the class in one seating. Very good information presented and I was very happy with this course!
Interesting, engaging and informative, your course is incredibly well designed. The study materials were clear and concise; the interim quizzes were highly effective in reinforcing important principles and rules; and the final examination constituted, I thought, a singularly valid and reliable assessment of the test-taker's grasp of the subject matter. I happen to be a law professor and law school dean; so I tend to notice, and appreciate, a thoughtfully developed class and exam. In addition to the course itself, you made the "bureaucratic" process -- providing notice of completion of the course to the court, prospectively providing me notice of dismissal of the case, etc. -- unbelievably convenient and hassle-free. Further, you've got the technological ins-and-outs of an online class worked out to perfection. Every "next step" is clearly demarcated, "user friendly" and, in fact, mistake-proof (even for a NON-technological wizard like me). I didn't experience even one glitch or one moment of confusion or uncertainty throughout the entire process. You made what I had dreaded as an "ordeal" not only painless -- but a distinct pleasure. Thanks!
Outstanding online course with a user friendly, flexible website and informative study sections. The course instructs and informs you in detail with relevant statistics and great section tests that prepare you for the not only the final exam but gives you a dose of reality about the dangers of driving in LA. Thanks for your help.
Michael
Rancho Santa Margarita, CA
Everything about the school is awesome. The class was laid out in an easy to follow format and actually taught me a few things. Okay, maybe a lot of things. Being a former traffic cop, who screwed up and got a ticket, this was a good course to go through. It actually explained the violation I received and how to prevent it from happening again. I appreciate the professionalism of the class.
Very easy, interesting, learned quite a bit, although nobody wants to take traffic school I enjoyed reading and learning. I got my first car at 14 years old. I am now 72. Been driving 58 years. Still found it interesting and informative! I would recommend you to family and friends.
This course material was not only very informative, but easy to review and easy to test on. Since I have a very hectic schedule, I was able to take do the program at mostly my pace. Cost was very reasonable and worth it. Great refresher course for seasoned drivers but should be mandatory for all drivers. The Teen Course is just as informative and provides teen drivers with knowledge they may have not received elsewhere. Highly recommended.
Amazing course and easy to navigate. Loved the review section provided when taking quiz and final exam! Finally a course that deserves all the 5 star reviews. I didn't get nervous passing the final exam. Such a good experience for traffic school. Very affordable too! Keep it up!
Great school online great course was happy I was able to take it in a very quick time without having to wait for any videos. All of the Animations were great and above me to learn the course better. I would recommend this course to anybody who needs to complete it for their traffic school.
Because it was fun and informative and interesting. I really liked the humor in the questions. I also learned things that are helpful in being safer while driving. The first person who helped me with starting the process was very good at helping me with the steps to take the course. Thanks for all the help.
The course was easy to understand and complete. The way it is set up easily maintained my interest and wasn't boring and redundant. I enjoyed the course details and inter activeness. The information was helpful and very informative. I feel better equipped to drive safely having completed the course.
I was very nervous taking the test so I studied & took all of the practice tests for 2 weeks as I am 75 years old. then I just went for it.... aced 96% on my test and a heavy burden was lifted. I really think DMV should have required online testing every 3 years to all drivers. It makes one open their eyes as to safety issues, new laws and the enormity of the scope of things responsibility that we automatically take for granted when we get behind the wheel. Of course, "after the fact" I found the information was easy to follow, actually fun to test yourself on practice tests.. a big YES....I loved it! Dottie
This is the best traffic school ever! It was very easy and I totally recommend it! It is affordable and can be completed in a timely manner! Thanks for sending over my certificate to the court!
user friendly, easy and clear, quick, informative and the website is mobile friendly.
The convenience of online, at home the cost efficient, the audio reading had adjustment so I was able to read and listen simultaneous. The visuals photo. The interactive quiz, the chapter quiz. Overall, a review of information that I had learn or new, I feel as if this course has help to keep me to be clear in my mind, focused and alert. Be mindful of other, Remember to use the the rules of the road, Take proper care of my vehicle.
Very affordable. Very easy to use. Very educational. And I actually enjoyed my experience with the class.
It was my best decision to make than going to a regular traffic school and spend 8 hours in there, on- line course you may have the option of taken the course at your on time , and I think I learned more doing it this way, Thank you.
This course was very easy and had a lot of options on what I wanted at the end, it emailed to me. It was fast and I didn't have to sit in a actual classroom to learn and finished in an hour in the comfort of my own home. Amazing course to take. I will rave about you guys if any of my family ever gets a ticket (they never speed and are near perfect drivers) but if they do, I'll send them to you. Thank you to this online traffic school!!!
I really enjoyed the course. It gave me great information that I can pass on to family and friends. It gave me a great sense of satisfaction. It has been a very valuable tool, that will stay with me for a lifetime.
The email version provided by DMV wasn't really helpful (I know that's not your issue) BUT I was so glad when I came across your school in my search field, and when I clicked on it - was a direct link to show it WAS included in the list if approved schools! Such a small thing but THANK YOU for including that! VERY helpful and MUCH appreciated!!!
Course was instructive, informative, and easy to understand. Thank you.
Easy registration, cost friendly, and excellent class information and questions
Easy and direct instructions to follow. Well presented and informative.
Extremely easy to digest information. Love that it was at my own pace. Love the interactive portions and that I could refer to the Study Guide when needed.
The course was thorough, easy to register for and complete and straightforward. The price was excellent and the options to upgrade and electronically submit to the court were well explained and fairly priced. Overall as good an experience as one could hope for given that it's resulted from having had a traffic ticket.
This has been the best course it allows you to work at your own pace
Coursework is organized well and easy to understand. Section quizzes test on important concepts not the obscure law or exception. Good price and able to log on and off easily.
Because the traffic school refocused me on things not to do and not to take for granite while driving. Overall an excellent course.
I tried to get the traffic school exam done by the other online company and had a lot of issues without getting the job done. Gave this rating due to my good experience with your company because there were live representatives available at the office and were able to answer all my initial questions regarding payment method, enrolling in the site in a professional manner. I will highly recommend you guys to my family and friends. Keep up the good work.
I had a friend recommend this website for me and I appreciated how easy it was to apply and get my traffic school done by a trusted company.
This online class was AMAZING super cheap super easy it could not have gone smoother highly recommended and the price WAS EXCELLENT!!!
Because, I found your online traffic schooling to be easy, efficient and lots of driving defensive techniques. I highly recommend this everybody young or old. Thank You.
It was interesting and I learned a few new things. I like the way you inserted the picture diagrams, it breaks up the monotony. I took on-line traffic school eight years ago and it was extremely boring. I'm glad I got your course.
The course was well designed and written without a lot of extraneous material that adds time to complete the course. The course was easily accessed.
Course was enlightening, fun, and uncomplicated. Thank you.
Easy to understand and follow directions. Inexpensive after having to pay court cost. Thank you.
The material is well organized and presented and the quizzes allow you review what you may have forgotten.
Easy to comprehend, fun reading, very informative of updated driving regulations
The course is laid out in a easy to understand format.
The course was easy to use and I learned the new laws. I am an older man and feel this web site was convenient and simple.
It is a very well structured course. Well done!
It helped to refresh the basic laws of the road and the important to take this privilege as seriously as possible and that a few seconds of inattentive behavior may alter your life.
Your course makes an unwanted chore less painful! Thank you!
Hoping friends and/or colleagues won't have to use this or any website for traffic tickets but if I did I would recommend this one because it was understandable, hit topics relevant to real life, fast, pleasurable and very reasonably priced. Thank you.
I really enjoyed the direct to the point matter of fact way each section was taught. I understood the material well and did not need to read things twice more than a hand full of times.
Adrienne
San Francisco, CA
Very straight forward and well written narrative.
The course was very well explained and all chapters were organized in a way that easy to understand.
I found this course to be easy to understand. further more I did not have difficulties navigating through the website. Most of all when I called to speak with a live person to ask questions regarding my enrollment the lady whom I have spoken was friendly and knowledgeable. She got right through correcting my problem. Besides correcting the problem she also explained to me what I was questioning about. After I was done with the course everything that she said did happened. I truly love this course. I am happy to have chosen this website.
First class service since the first time that I contacted (by phone) TrafficSchool.com. The material is clear and the voice option is very helpful.
The read-along package is very helpful. I found the course is enjoyable to listen to and thank you
Because it was interesting and knowledgeable
Very easy and interactive.
Very easy to navigate, good arrangement of material, helpful process, and efficient!
this was easy and fun and i had a great time with it thank a lot!
This is now my second time using your website for my traffic school, and I love it. Love that your site has audio it allows me to not stop my daily routine. Your site is so user friendly, and I would recommend this site for sure to others to use. Your site is awesome.
Easy, convenient registration. Meets requirements for the court and DMV. Thank you very much.
Very clear and concise traffic school.
I liked your school. Easy
It was easy to get around each question
This was really informative and gave me lots of information I either forgot or didn't know. It was easy and let me take my own pace which made it stress-free.
I have taken many on-line courses, and yours is one of the best. The written material was easy to understand, and the quizzes helped focus on important points. The graphics are nicely done.
Each section is understandable and to the point and videos did help. They were long enough to explain everything and short enough to not get bored! Simple! Thank you!
Joseph
Manhattan Beach, CA
Thank you for this course and the diligence in creating it. While it is very thorough, my concerns are the following: Too many DMV codes literally reproduced when they could be restated simply and directly in plain English. Too much unnecessary detail and confusing at times. For example: Tinted Windows could be described and could also simply stated thus: They are illegal in California. Instead the vehicle code is reproduced for us to stumble over. The animated quizzes in each chapter were instructive, well done and fun. The end of sections quizzes and final exam were meant to support my understanding rather than being trivia driven and much appreciated.
I actually kind of enjoyed this course! Who would expect to enjoy traffic school? I expected it to be tedious, but it really wasn't. The formatting of your course is so nice and simple, and the material is very straightforward. You cover all the topics thoroughly but concisely, and the pics and little animated quiz questions were a really nice touch. I actually learned a few things too! Thanks!
Your program was was easy to complete and very informative on some new laws that I was not aware of. Thank you for such an easy way to complete my traffic school at my convenience.
It was easy to understand but also very informational. There were subjects I wasn't sure about, so it answered some questions for me that are very helpful. I believe this course will help me be a safer driver.
The registration was simple; price was fantastic. The course and exams were easy and it didn't take a lot of my time to complete
This format was easy to use and efficient. It's also great that the cost was low, so I think a lot of folks would be able to afford this as opposed to what the court-mandated fees for traffic school are. I would recommend this to friends for sure.
Very informative and easy to use online! I loved it! Thanks for designing this course to be so user friendly and the navigation was easy too.
To begin with, the price is fair. The information in the course is extremely helpful and I found the short video graphics helpful when learning to understand rules about driving. Apart from that, the test seemed extremely easy.
Fast, easy and reasonably priced. Easy quiz at end of each chapter, including final exam.
Jessica
Huntington Beach, CA
This was a super positive experience. Fast easy, cheap and super friendly customer service girl.
Easy to understand and can work at your own pace.
Very educational, and leaves you with excellent awareness
The way the information is presented make it easier to learn and I love the audio option and having the ability to go back and reply to the audio option is extremely helpful. Money well invested!
I am visual and audio learning student. Started with reading first section before realizing I was missing listening. Thank you for offering upgrades at any time and on any screen! SO easy to add audio!
Quick, easy and a great value. I paid for my ticket and completed traffic school the same day.
The course is excellent I will gladly recommend it
The whole test made common sense, it was easy and it reminded me of the law.
Efficient, well organized training program. Phone support was great, polite and friendly. Thank you
This Traffic school was extremely easy. With the help of Quizlet I finished everything in under 20 minutes. I was only charged $3. They ask you if you want to add on additional services but you do not have to. For the basic information that the DMV needs it is only 3 dollars. There are 7 quizzes (8 questions each) and a final exam (25 questions). The questions are very straight forward but I used Quizlet just to be safe. I would recommend this to others. I did the online version.
Information was clear, detailed and comprehensive. I felt very well prepared for the final exam.
It was fun and informative.
easy to access and and giving a chance to pass the exam.
Course was fast, informative, and on time.
Very convenient, learned a lot and the course was fun.
Very simple and convenient. Flawless process.
it is simple and direct to the learning
Easy, affordable, what was advertised.
Every thing was informative and clear
Good information, clearly presented.
The information was clear and easy to understand.
It was easy to navigate and informative
Joseph
Rancho Santa Fe, CA
Clear and understandable. I liked the video examples. Should add more.
I highly recommend this site for the problem you may have encountered.
This website was easy to navigate.
VERY CLEAR AND EASY TO NAVIGATE THROUGH
The content was interesting and straight to the point.
This is a good informative course and it helps your driving knowledge along with keeping your insurance rate down.
this course was great and easy to use! would recommend this to everyone I know who needs it!
Because the course was easy to follow and very well explained (I was not happy about the experience of getting the ticket)
because I like all your teachings and pictures easily understandable
Because I learned more safety driving skills.
BECAUSE WAS VERY EXPLICIT, UNDERSTANDABLE AND DYNAMIC. I ENJOY IT.
it is easy to navigate through the training and easy understand what you are reading or listening too
Experience was great. Good format, and was easy to register.
it was very easy and informational
Your school was easy to find online and it showed a very professional method, that was far better than trying to use the .gov site to just get a list of schools and then trying to find a good one.
Traffic School Reviews
We consistently strive to offer our traffic school customers the best possible online learning experience - this includes providing live & friendly customer service, easy to use courses, educational content, fast processing, and affordable pricing. But don't take our word for it, here are some real, verified reviews that our past customers have left about TrafficSchool.com!