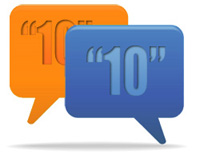 TrafficSchool.com Reviews
A Simple Question
is asked to customers that complete our online course and choose to do an optional survey:
"On a scale of 1-to-10: How likely is it that you would recommend TrafficSchool.com to a friend or colleague, and why?"
Here are a few dozen of our favorite answers:
One of the best online traffic school so clear and understandable and I lean more about my driving on the road.
I was dreading having to do traffic school and put it off for months, but this program was quick, easy, and painless! I also liked that the information was very current and up to date. Thank you so much!
I am an elderly woman and not computer savvy, however, I was able to do it with out too much difficulty.
Thank you! COURSE WAS VERY INTERESTING AND DID IT AT HOME. THANK YOU AGAIN.
I found it very easy to follow the reading of the course and the questions and I learned a lot of it thank you
The course was well detailed and simple to understand.
Easy to access website. My phone call inquiries were answered promptly by a real person, who was helpful and friendly. I like the study guide available during the final exam. Thank you!
Online option is terrific
Michael
West Palm Beach, FL
The course was good information set out in an easy to understand way. Cost was reasonable and Help was easy to get. Will recommend it to others.
Easy to follow and understand written text
The web pages are very easy to navigate. The course materials covered are concise with good quiz questions and clear explanations.
Easy reading, excellent explanations, even a little humor
I felt that all the tests were very helpful, I learnt from them a lot
Cheap, easy, fast, and convenient.
Fast, concrete and to the point.
The course is simple to follow, and is well written. The rules and laws are current and relevant.
Very clear examples for the driving exercise. Understandable explanations of right vs. wrong
You covered a wide range of driving challenges, you had good ideas for difficult situations, and the course was very positive.
Very simple and reasonably priced
Well written and designed to teach practical safety solutions to problems that occur while driving.
Very easy to use, everything laid out perfectly, and you can't beat the price. Very happy customer.
Very comprehensive material.
Great course, good visuals, and easy to follow/understand.
The course content contained new laws and regulations concerning modern vehicles and all the electronic devices that are associated with today's driving.
It was easy to find the way I should follow.
Because is easy and very practical.
It was very informative. I learned a lot from this School.
It was very easy to read and the tests were easily understood.
Very good information-----Very good course----Thank You
Romaunce
Grand Terrace, CA
This website was very easy to follow and I was able to come back whenever I was free and complete the course at my own speed.
GREAT COURSE...LEARNED A LOT AND THUMBS UP!
The course was informative and well laid out. I feel I'm a better driver for taking this course. Thank you
Easy and painless, thank you!
VERY WELL EXPLAINED QUESTIONS
I liked the course. I learned and also made me be more aware of my driving. Thanks
In general I thought the lessons were easy to read and follow and the review tests were helpful. Much better than sitting in traffic school all day!
The course was very well done.
Because I didn't have to wait one minute and thirty seconds per page in every chapter, like other online traffic schools. Thanks
Because it gave a lot information about driving and the new traffic laws and was easy
The way the online course was written was very easy to understand. I liked the interactive activities and the quizzes helped with the final exam. The price was affordable too.
Carmela
Woodland Hills, CA
The study method was simple to understand, I really enjoy taking the tests. Thank You
Thomas
South San Francisco, CA
It's simple to follow, the section exams are a reflection of the final exam. I can go back to verify the information. I liked some of the points mentioned in the course that are unfortunately not common practice among California drivers, i.e. if you drive slow, move to the right lane.
Arnold
Huntington Park, CA
Easy to navigate!!! Simple! Thank you learn so much! Highly recommend!
It was easy yet gave you all the new laws about driving. Easy to read and hit all the right points
Great service. Just sad I actually had to use!
Was easy to understand every chapter.
Easy to understand and the questions during each stage really helped
Amazing Course very straight forward if I'm in a jam i will use again nice
Not only was it a great course, but I found it to be very informative and interesting. Thanks
Course was very simple, affordable and informative. Would recommend to anyone who has to complete a Traffic School Course.
Taught me about vehicle law
The course was easy to navigate
Found the course was well laid out, and easy to follow..thanks
Franciskus
West Covina, CA
Easy and fast to use. Informative and a clean website user experience.
A very informative class with easy to understand instructions as well as covering all the new laws as each year changes. Simple to navigate and easy to read. Great job guys!
It was easy to understand and very informative.
Everything was easy to read and understand and wording was good.
Everything was excellent thank you
Good and easy course to complete. Loved doing it at home. It was informative. Thank you.
Charles
Manhattan Beach, CA
Very easy to navigate & understand
Victoria
Rolling Hills Estates, CA
I could easily sign on and off, the course was easy to access, the interactive graphics made it more interesting. It was a fair test of my knowledge.
I learned some new and helpful driving tips. I liked the professional presentation and the interactive screens helped to keep me focused.
Very informative and inspiring
Easy to understand and very accessable
Easy, quick, direct to the point. Could skip ahead to all quizzes if wanted.
This site is excellent and honest and easy to understand. Very pleased with this online school
Very easy to understand. Well written.
Excellent, well presented course. Important points very clear and reinforced. Thank you
The material was well presented and concise.
It was very helpful to see and refresh the new laws for driving. It helps to just review what you should know.
Great course and very informative
So easy and learning a lot
Because you were so helpful getting me signed up!
Clear, informative, easy to use and understand
It's easy access, to use, and learn. I really learned new things and concepts
The course was as it was advertised, I completed it in a timely manner, it provided a real learning experience, the website was professional, and I am happy that I took this course.
Very professional presentation of driving laws or rules, so easy to understand, you're well prepared material makes this class and your schools simply the best, thank you for your help
Course was simple to follow and exam easy thank you
It was easy to read and take the practice tests. I also learned a few things I didn't know.
Your phone support is extremely good. Please give those ladies a raise. When the certificate did not get processed on time I called TrafficSchool.com for help. We determined that the Pasadena Courthouse had made a clerical error on my paperwork. Your support staff were helpful, courteous, and patient. Amazing.
Inexpensive, very informative easy to use course; never had a technical problem.
This course was to the point and very user friendly. I learned a number of good driving practice skills from the text. I also learned things I did not know!
Course was easy to understand, website was easy to navigate. All in all it was a positive experience. I will definitely recommend this site to others!
Your class was fun to take and the animation was really easy to understand and interesting and you had some good humor in your answers.
It was super easy and took only a short amount of time to complete
Because the course is easy to use. The information was clear concise easy to comprehend.
I found the material easy to understand.
I learned so many things.
The interactions and information was clearly written and understandable. The tests were fair and comprehensive. Thank you.
Traffic School Reviews
We consistently strive to offer our traffic school customers the best possible online learning experience - this includes providing live & friendly customer service, easy to use courses, educational content, fast processing, and affordable pricing. But don't take our word for it, here are some real, verified reviews that our past customers have left about TrafficSchool.com!