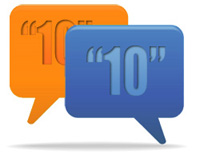 TrafficSchool.com Reviews
A Simple Question
is asked to customers that complete our online course and choose to do an optional survey:
"On a scale of 1-to-10: How likely is it that you would recommend TrafficSchool.com to a friend or colleague, and why?"
Here are a few dozen of our favorite answers:
Easy to navigate, clear instructions, informative, and actually kind of fun.
I loved the "your own pace" approach. I am very busy most of the week and don't really have time to sit in an 8 hour classroom style course. The website helped me not only with good driving instructions and information but made it possible for me to take the course in my own pace without distractions. I actually really enjoyed it a lot. I will recommend all my friends and family to use your website traffic school services and perhaps other services that you provide. Thank you for making it easy on me to complete my traffic school course.
Price was right. Course was very professional.
Everything was clear and easy to follow, having a read along was a big factor, and this made a new learning experience for me, I think this course should be part of the drivers license renewal, not just paying the DMV a renewal fee. It gives drivers an up to date recap on important info that may have been lost over time, it also made it clear of some of your bad habits. Thanks for your time and effort in this program.
Wayne
Pacific Palisades, CA
Wonderful course, very well written, interesting, and so much nicer than going in person to a traffic school! Thank you for this convenience!
Excellent course easy to use.
Course was informative and yet not difficult
I particularly liked the interactive videos. They were helpful to make sure I was understanding everything and a nice break from all the text/reading. I would recommend integrating even more of those into the course.
This course was very educational easy to understand and work through.
Dishes are done! Easy and practical from the comfort of home.
The course was easy to follow and very thorough.
Because it was easy to understand and it wasn't too complicated....
I think it is a good course and it refreshes what you might have forgot about driving
THE PROGRAM IS CONCISE, EASILY UNDERSTOOD, UP TO DATE INFORMATION AND EDUCATIONAL.
Because it was self explanatory, and understood every questions. It didn't make me nervous.
Price seemed right as well as its high ratings.
Well registration was easy and I was allowed to try first before paying. I finish 2 module till I felt comfortable then I paid the registration fee. I found it easy to follow and to the point information.
It was fast and easy it was great
It was very easy to follow and complete
Its nice to be able to do the course at your own pace and not have to be rushed. That you can save and log off and start where you left off and finish the course at another time and date. I have learn a lot... and I love the audio option cause I am a slow reader.
Loved the course for convenience and I learned a lot!
Easy to use and valuable information
Your program had a great review of driver skills
The course was concise and easy to complete. Registration was quick and all course upgrades were clear. I would definitely recommend this website.
It was easy to follow and it gave good information as to the correct answers. I also learned something that I didn't know.
It is the best traffic school
The last time I got a traffic ticket was 10 years ago and I went to a so-called comedy traffic school for two entire days, which was neither funny or really educational in any way - plus it took up an entire weekend. Nevertheless, when I received my current ticket (for 5 miles over the speed limit!) I went online to find an online traffic school with good reviews and found trafficschool.com. My experience was outstanding - the site was easily maneuverable and well written with good examples. I actually learned a few things, plus the cost was very economical. All in all, a great find!
This course was easy to follow.
Information was clear and concise and easy to read and was a good refresher for me
This course was a great learning tool and maneuvering through the system was very user friendly!
Very good course. All good information without trying to trick the reader with any picky questions. Very fair and informative and pertinent to improving driving.
No nonsense, can pick own hours
Very clear, I could do it at home, and I've learned to be a safer more aware driver, thanks!
Very convenient particularly when one has a busy schedule. Thanks much!
Pretty easy and understandable
It was way less time then traditional traffic school, it took a couple hours pretty easy! Thank you
Your school was very easy to register for and very easy to navigate through. It refreshed my driving knowledge and I appreciated the humor sprinkled through. It was actually enjoyable!
The course was very informational and easy to understand..I was surprised that I actually enjoyed and learned very good tips on different topics. Excellent course all drivers should have to go through this course every couple years just to refresh their knowledge and help them be better drivers. Thank you
Pretty simple this online course and I have learned a lot. It really helps me to understand better and be a better driver.
The material was easy to read and understand and I felt well prepared for the final exam. I was a little skeptical with the low course fee but was pleasantly surprised with the content and ease of use of your program.
Dean
South San Francisco, CA
Detail information provided
Lawrence
Mission Viejo, CA
This was a great course! I think everyone should be required to take this course as a refresher and to become informed of recent changes to traffic regulations and new traffic laws as well. There were several rules I was not aware of!
Easy to navigate, well illustrated, educational, and time sensitive
Simple and concise course to take!
Very easy and informative
Information is nicely organized
The class was thorough and informative.
William
South Lake Tahoe, CA
The course was simple and easy to understand
It moved at a good pace and kept my attention. I liked that I didn't have to complete the whole course in one day, but I could take my time over a few days. The quizzes were well written and prepared me for the test. Also the "check for understanding" parts with the yellow car were helpful.
Descriptions were very detailed. The videos that had questions were so useful. Questions were straight forward, easy to understand. Learned new things!
It was easy to understand, not too much memorizing of numbers.
It was thoughtful to be so thorough and give such great instruction and ideas for safety and optimum use of a motor vehicle.
Inexpensive and easy to complete quickly
To the point.... Easy to use
Information was clear,concise & straightforward. Feedback on test questions was useful.
Great course and it was a good experience for me!
I was dreading having to spend a day doing traffic school, but it turned out to be much easier than I thought. I love that you can complete it in your spare time, and at your own pace, by logging in and out and picking up right where you left off. I hopefully won't have to do this ever again, but if I do, I will definitely come back to this school. Thank you trafficschool.com for making this experience so much more pleasant than I ever imagined!
Course completion was straightforward and convenient.
I needed to take this course. I have learned to be courteous to others using the road, to be a safer driver, and about laws I didn't know. I'm kinda glad I got pulled over and given a citation and able to take this course. I'm a safer driver now. Thank you for making it affordable.
I found the text material interesting. It was a learning experience in some respects. I would recommend it to my friends
Loved this course, I learned a lot and was recommended by my sister and it's very nice to use a coupon code that was 50% off for signing up today on yelp. Thank you for making traffic school easy as possible. Would recommend this to anybody.
The questions and answer choices made the course very easy and quick. Thanks!
Clear presentation. Easy to understand. Very convenient.
The course has been very well explained
Richard
St. Petersburg, FL
The cost is reasonable and the material was beneficial. I also liked the go at your own pace aspect.
Simple, easy to understand course content
The material was informative and very easy to understand.
Easy to follow and answer the questions, Thank You
Economical and easy to use and informative
Material is easy to navigate and understand. Tests are very helpful. I specifically liked the option to start and stop at your leisure. Great course!! Recommend it to everyone .....
The price was amazing, the information was clear, I felt confident in the program as it is presented professionally. Thank you
It is easy to access and you can study at home.
Very informational and tests were fair.
Because hope no one ever needs this but if they do this is a good school.
Great course content, very easy to navigate and the interactive videos and being able to use the study guide when taking final test was great. Will definitely recommend to family and friends.
Taking the quiz with no problems was easy. Having the study guides were a great help!
This was the easiest, most concise training I have taken r/t traffic school on the computer ever. I appreciated the material and was engaged to read through it all. Thank you for providing updated information that I learned and can apply to my driving.
The reading and accessibility was very easy to read and follow.
Patrick
Lauderdale Lakes, FL
The material was easy to understand & the help guide was also helpful. Thank you
The course was excellent very easy to follow and comprehend in order to answer each question of the exam. This experience will be very beneficial to me to remember that driving is a privilege not a right!
It was easy to understand and straightforward.
This course was very informative.
The Traffic School website is easy to understand and navigate.
Easy to understand and navigate material and tests
Traffic School Reviews
We consistently strive to offer our traffic school customers the best possible online learning experience - this includes providing live & friendly customer service, easy to use courses, educational content, fast processing, and affordable pricing. But don't take our word for it, here are some real, verified reviews that our past customers have left about TrafficSchool.com!