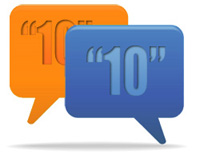 TrafficSchool.com Reviews
A Simple Question
is asked to customers that complete our online course and choose to do an optional survey:
"On a scale of 1-to-10: How likely is it that you would recommend TrafficSchool.com to a friend or colleague, and why?"
Here are a few dozen of our favorite answers:
The price to take this course was fair and super affordable compared to the pricing of other online traffic schools. The course material was very well written and up-to-date. The course material was also very easy to read which ultimately made it easy to follow along in each section of the course. I will definitely recommend this course to my friends (although I hope I won't have to since that will require them having received a traffic violation). Thank you again for this easy, quick course! :)
Easy, good info, cheap, all good!
Because it is an informative course, easy to use, and at a good price.
The program was a good refresher course and updated too. Easy, well readable and will definitely recommend and use again if needed. Thank You!
I found it a very thorough and informative review of everything. I enjoyed it. Thank you
It's easy to go through and gives all the correct pertinent information, everything is stated clearly and it's easy to follow along. All the most important parts were emphasized and that made the quizzes better.
Like the self-pacing and layout of the content. The sections and chapters were the right size to read, then check knowledge with the quizzes. Appreciate that minimum time spent isn't "forced" and the audio is optional (which I didn't need).
Simon
Twentynine Palms, CA
I LIKE THE NEW FEATURE WHERE IT READS TO YOU I FOUND IT VERY HELPFUL AND REASONABLE PRICED
Inexpensive and to the point learning. Easy!
It was very good lesson to go thru the class & I've learned a lot. I extremely recommend it to whom ever may need it.
Belinda
Rancho Cucamonga, CA
Because you're amazing, you guys saved me a lot of time be being able to finish it online
This course is helpful, easy to understand, a great experience, highly recommended, Thank you.
Very informative and comprehensive. Excellent value for price.
I rated your school as 10/10 because I firmly believed that you were amongst of the best school traffic in California compared to other school. Your traffic schooling provided in the website is so very informative and very updated one.
Very easy to understand and answer questions, and doing at my own pace is the best.
Terrific course. Very thorough on all counts. Helped me reform my habits as I was prone to speeding and getting to destinations faster. Realized that it didn't work as well and I had expected and increased the risk of my driving. Plus, you can listen to the narrator read all the tedious reading for you!!! Can't beat that to absorb a topic that is so dry!!!
Easy to enroll. Your website is user friendly. Study materials were excellent.
Course was thorough and anybody who pays attention should have no problem passing the course.
The course was easy to follow, broken down into manageable chunks, offered options, and fulfilled all expectations.
ok as weird as this may sound, or even hard to believe, this was actually fun. Like, I actually enjoyed this for some reason? Everything in each section was "to the point" and easy to understand. I did not see this as a "drag". Thanks for no tricky questions and making things simple, as they should be. I'd do this again lol
Everything is so clear to understand and therefore it is a great experience with TrafficSchool.com. I will recommend this site.
Courses were informative, fast and fun!
The Traffic School course was very informative, easy to understand and great deal for me!! I have 2 jobs and for me was the best way to be successful!!!! Thank you!
I think this course is very informative. I appreciated the fact that there were no time constraints. I would recommend the site to all of my friends and family. The price was right up my alley! Thank you!!
I was really happy to do my traffic school with you, and this is the second time doing with you. Thank you for your help. I will recommend to everyone.
only home course I have ever taken, and the process was very smooth, and easily understood. As I passed with 100% I was very pleased and learned several new concepts, including the road rage section and child safety concerns. Thank you.
First off, no one wants to get a ticket and worse, have it stain their perfect driving record! That being said, I really enjoyed the opportunity that TrafficSchool.com was able to provide for me! In this age of Covid-19, I was able to sign up for Traffic school, study the course and take the exam from the comforts of home! Traffic School also gives one the option of several upgrades to the course by electronically filing your passing grade to the courts, DMV and you have the option of receiving an email of the completed certificate! All in all, I HIGHLY RECOMMEND Traffic School!
The course was insightful and easy to learn. Very good reading and tests
Traffic School website was set-up in a way for students to learn quickly and remember the information. I learned a lot from the website. An added bonus which made me choose this site. You were allowed to read and take a few quizzes to see if the site is a good fit for you. This is an excellent site. Plus the site offers discounts.
Found the course easy and staff easy to get through and available when I need it .
Very easy to use and it is very helpful.
It was a very well done program.
Because you learn in a timely way at your own pace, and have the latest information on hand
TrafficSchool.com made the process to complete the course with little stress and great ease.
This course was very well explain and easy to follow instructions. Thank You
It was easy and simple to follow
It's easy to understand the question and not feel tricked by the question. I have a learning disability so have the question written in a way not set up to trick you made in more easy to understand the information being asked.
I am very satisfied and I will recommend this traffic school to my friends and family for sure.
It was very useful and convenient
EASY TO NAVIGATE THROUGH THE COURSE. THE QUESTIONS WERE EASY TO ANSWER AND YOU GAVE MULTIPLE CHANCES TO PASS!
I liked that it was simple to understand. Nobody wants to do this but you made it easy and I did learn some valuable information. Thank you.
As much as I dreaded taking the course...the tests especially!...I learned so much more than if I had just read the "handout book" that I have had in the past for driving tests. Will keep the workbook for further reference!...
My daughter utilized your course, and recommended it to me. She was correct. Not quick (not meant to be, I know ;) ), but definitely painless. Thank you!
very well put together and easy to understand
This course was well presented....I learned a lot, and was reminded a lot about various facets of traffic safety!!... I'm glad I chose you as my traffic school!!!
I felt that the course was well organized, very informative, easy to use, and I feel that I learned or relearned a lot of things that I learned years ago, but unfortunately had forgotten. Thank you
THIS COURSE COVERS EVERTHING THAT YOU WOULD LIKE TO KNOW ABOUT SAFE DRIVING AND PROVIDE VITAL INFORMATION I DO APPRECIATE AND THANK THE ORGNIZER OF THIS TRULY EXCELLENT WORK
The course was easily navigated and kept my attention. Also, although I have been driving for decades I learned quite a bit.
it was a breeze with the provided info.
Because was easy and very good to understand simple the way to go
Easy to understand and complete
It was clear and easy to do!
This was the best experience for traffic school. If anyone I know needs to take traffic school I will recommend trafficschool.com Thanks.
Easy to understand and navigate.
This course was so easy to navigate and comprehend the information. I liked how the interactive quizzes provided a nice break between pages with lots of text. Inexpensive and effective Thank You!
This is the best organized and easiest to follow traffic school course I have taken. Warm Regards, The Little Old Lady from Pasadena
It was fast and straight to the point
Excellent course!! I was brought up to date on all the current traffic laws and I really needed a brush-up on all the tips driving in inclement weather.
The website is easy to use. The online course is easy to follow. Your customer service is great.
it was fast easy and fun.
Maria
Hawaiian Gardens, CA
easy to follow and was interesting to learn some new laws and rules. Thank you!!
Because it's so easy to understand and follow the instructions.
They had an 800 number and I was able to get a live person immediately very kind easy to understand and walk me through the getting started procedure
It's streamlined, convenient, simple. I'm not very computer savvy, almost 80 years old and yes I actually enjoyed the entire process......Thanks..
Easy to understand, good information, quick to get through and no administrative problems. Thanks
It was relatively inexpensive & very convenient to do at home. Someone had passed the idea on to me. Thank you.
It was fast and it was cheap.
Quick, simple, informative, well designed website and excellent price!
This course was awesome, easy to use, cheap, easy to pass
10. I will highly recommend this traffic school. Informative and easy to understand. Excellent!
Very interesting and I like how I can save and continue when I want.
I would recommend this traffic school course to any family member super easy and understandable ! Very helpful !
Very easy to understand, It was easy to follow along.
easy to understand, convenient.
It was easy to enroll and follow the course, the price was very reasonable, and I felt I learned a lot from attending.
Over all great easy way to use online
Excellent. It refreshed my memory on many important areas.
It was easy to understand
Cause the site is understandable very easy to navigate.
Easy to understand and all the information about traffic is detailed
I gave your school a 10 because the course material was clear and comprehensible.
So far this course its proving to be very informative and useful. I also appreciate the audio option.
I enjoyed using the verbal read along. Helped make it more stress free for me since I wear glasses and I'm 75 now.
The information was presented clearly and concisely. I found it interesting and helpful. Thank you for making your school excellent.
Because the class was very well presented and clear to understand. I also have the ability to complete the class in three days without having to rush to finish everything in just one time. Great class very good value for the money.
Gerald
Westlake Village, CA
Course was well laid out, easy to follow and understand. It was also very informative and reassuring.
It was written well. It was easy to understand
Because you can reply to my emails in time on weekends to solve the trouble caused by my mistakes, and arrange professionals to contact me, The professionals in your company are very dedicated and patient. Due to language barriers, in order to allow me to understand what she means, I can communicate with me in Chinese that I can understand. I am very Kind and thank you for helping me solve the problem
It was a nice class to go through. Very clear and understanding. Thank you
Because this course is pretty good price and the easy to understand
MY KNOWLEDGE IS FULLY REFRESHED ABOUT SAFE DRIVING AND HAD A GOOD REVIEW ON THE RULES OF THE ROAD. THANK YOU.
It was so easy to understand
Emmanuel
Trabuco Canyon, CA
This is an excellent refresher training for all drivers of all ages. Very informative and up to date information.
The training was well designed and easy to navigate. The information was well presented.
Because of the ease of use and not hard to understand or follow.
The test questions are easy to understand and updated my knowledge in the recent laws in the State of California.
The course let me pass the examination fast and help me understand some traffic grey issues
Thank You, the course was informative and good.
The course is easy to use and very informative
Your course is self explanatory, very well put together. I would recommend this course to anyone.
fast easy to following good price
Because this course is easy to use and understand and above all extremely helpful.
your site is really easy to navigate through, very well explained and not boring at all.
Class was stress-free, simple to follow on the computer (not my forte!) and I learned some important things. Thank you
Im not to good with this kind of stuff but yall made it so easy to do that even someone like myself had no problem. Thanks
This course was completely user friendly. Easy to navigate, straightforward information
The reason why I would give you a rating is because the course was easy to understand and I was able to go through it very quickly. I learn a lot from this class and I highly recommend it to other people who are struggling.
Traffic School Reviews
We consistently strive to offer our traffic school customers the best possible online learning experience - this includes providing live & friendly customer service, easy to use courses, educational content, fast processing, and affordable pricing. But don't take our word for it, here are some real, verified reviews that our past customers have left about TrafficSchool.com!