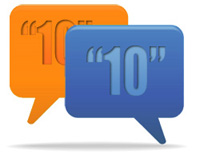 Local Naples Traffic School Reviews
We asked a handful of our Naples, FL traffic school customers one very simple question:

"On a scale of 1-to-10: How likely is it that you would recommend our online Naples DMV licensed traffic school to a friend, and why?"
Not looking for traffic school in Naples, Florida? Read Florida Traffic School Reviews for other cities.
Straight forward course, no tricks or gimmicks.
This study was very detailed and the method was very easy to understand language.
Easy to navigate and process the information. Great formatting.
Course website is well designed and easy to use. Did not find even ONE single typo in any of the course copy...very impressive!
Because I really thought this was a great course for me, clear, simple and very informative, much grateful.
I learned many new things
Easy to do and understand. Excellent.
Great schools need to be promoted to help others in need of a great education
Excellent instruction sequence. Reinforcement through repetition. management of pace of learning. Option to revisit modules after each test and verify the text behind correct answers for a better understanding. Option to re-take the Final Test up to three times which is most generous.
Because it is accredited school.
STRAIGHT FORWARD, but could be improved for time management if you provide the average time required for each module
Easy to sign up and follow program
I thought the course was very comprehensive and well-constructed. I definitely learned some things and would recommend it to everyone.
Easy instructions and help full
Very very fair class. Plus being able to complete at my own pace which allowed me to take the class around other commitments was very very helpful. I fully recommend this class to everyone. It is by far the best out there. Thank you.
Because it was very informative and a great refresher course, I've never had an accident and only one other citation in 52 years but a good review none the less
Good reminders of things learned along time ago. Informative
Informative and easy to use
Easy to understand videos helps
It's a very complete course
I was able to do it on my schedule.
Because the course was most informative and extremely helpful.
Was straight forward, well-constructed, and easy to follow.