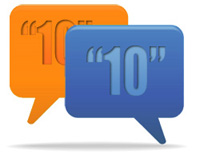 TrafficSchool.com Reviews
A Simple Question
is asked to customers that complete our online course and choose to do an optional survey:
"On a scale of 1-to-10: How likely is it that you would recommend TrafficSchool.com to a friend or colleague, and why?"
Here are a few dozen of our favorite answers:
I found it to be very informative and I liked the quizzes at the end of each module. I am glad I took the course it refreshed my memory because it has been many years since I took a driving course and there is a lot of new information and changes that I understood better such as crosswalks lines and the driving position of your hands on the steering wheel was new to me just to name a few things. Great course
I'm not very comfortable with computers but this program was easy to follow and complete.
It's very complete program
This is like reading a novel. It gives a kind insight about driving. Online is the best. You learn a lot. The knowledge acquired in this course is very uplifting. Driving is an art. If every Driver pays attention to what is obtainable in this course, there would a lot of improvement towards your Driving habit.
Very informative and easy to follow
I'm not very tech savvy and I do everything on my phone because I don't own a computer, however I did not have any problems getting through the whole course with no help at all from my daughter. 😅
The organization and presentation of the material was very Good. The background and information would be a great refresher for anyone. The topics were up to date.
You've got your act together! Great school! Great job! Thank you very much.
Everything about the course was positive. Glad I chose TrafficSchool.com
Learned a lot more than what I thought.
The voice version was absolutely wonderful. I had problems just reading the information.
I was able to save my test and return when applicable
Raymond
El Dorado Hills, CA
Very thorough and easy to get through.
Thanks to TrafficSchool.com I'd learned so much, at the same time it refreshes my memory. It was very clear to understand.
Jillian
Westlake Village, CA
Lots of reading, but ended up being quick tests! Lots is common knowledge, but I learned several important facts. Thx. Now I want to take the mature driver course to reduce my insurance!
This course was very well laid out and simple to complete...
Course was well put together ease of understanding. Great test illustrations.
The information in this course was clear concise and easy to understand. I enjoyed the course
I grade you this way because, in my opinion, you are the best in the business. I am yet to find any other place that can compete with your price and the ease to accomplish this task the way you plan and make it happen. I will be eternally grateful for your help. THANKS! MERCI! GRACIAS! OBRIGADO!
It was easy for me to take this course and very helpful....thx
Was a very easy to navigate
Easy to use and clear instructions given
The way the program was structured e.g. professional, direct and ease of comprehension.
It was a easy web to navigate with a easy testing options.
The best! Great course and easy. I will recommend it. Thank you! :)
Very interesting course. I HIGHLY recommend the optional audio feature as it reads out for you if you're too tired from reading or if you don't want to read at all. I even found some funny remarks that certainly kept me interested and awake. I can't recommend this enough.
Because it's easy to follow along
Nice to do on my own time schedule
The instructions are very good to follow.
I may be weird but I actually really enjoyed this course
The price was affordable and more reasonable than other sites. The site was very easy to navigate through.
Dorcas
La Habra Heights, CA
Easy to use, pause and resume at any time. Logical order, simply stated, liked the intermittent visual exercises and the ability to get 'more info' and look back at the learning material during the tests. It did take a bit longer than was stated during the sign-up call but was still a reasonable amount of time. The content was valuable and I feel much more confident about the rules of the road.
It's really very convenient, easy understanding to those English as a 2nd language, and it's affordable price.
Pearlie
Temple Terrace, FL
It was informative and the updates were outstanding.
Kimberly
Lake Elsinore, CA
Easy to follow the instructions
The course was simple and easy to follow along with. I liked the add on options and chose the audio add on to help keep things interesting.
I took my time on doing it is really easy to understand and no one is rushing you to finish I love it
To help keep a clean record for insurance reasons
Through, helpful, interesting. Excellent course.
Felipe
North Hollywood, CA
Very affordable and easy!!
Mohammed
Pleasant Hill, CA
This is the best number 1 class everyone should take....
Clear, easy to follow, liked the visuals
Really easy to read- informative yet casual. Good job and thanks!
It was priced reasonable, easy to function, and time sensitive
I found this course to be easy to follow. Having the opportunity to log off and on was very helpful. The reading material was clear and complete. I especially found the choice of having Audio very helpful.
Your course was very thorough. I learned a lot.
Easy reading, easy to understand and learn. Funny and entertaining. Loved the ability to have it read out loud.
Because is clear and explained step by step
Roger
Jacksonville Beach, FL
Easy to use and easy to pay. No problems, even for the computer challenged!
The course was easy to follow, very clear.
It was user friendly and didn't take plenty of computer savvy skill to navigate through the course material. Easy to understand and comprehend.
It is fast, comprehensive, and cheap!!!!
Because you are a great team
A lot of studying pays off. Test was fair. Called with a few questions and talked to very nice people.
I gave you all a 10 because I'm a fast reader and this method allowed me to go through at my convenience. Rare, but I felt it went quickly. The text was clear and understandable, the examples were good (good job on the animation).
I highly recommend this site for your online traffic school. Very informative. Easy to comprehend.
I feel the test is complete and easy to understand. Thank You
It was easy to use and a good option when you are unable to take a class because of work.
Very well written and easy to follow information, Thanks
Patricia
Santa Barbara, CA
It was easy to understand and very friendly to use! Thanks A+
Educational. Easy to follow.
1. It was great to actually have a knowledgeable human being answer your 800# to answer questions. I called on two different occasions with basic questions. The Customer Service person was kind, knowledgeable and professional! A great asset! 2. The course was excellent. I actually learned quite a bit, and thought I "knew it all" just because I've been driving for decades. Additionally, though my initial goal was to keep from getting a point on my driver's license, the greater value, in my assessment, is what I learned and how I will put that knowledge to use in being a safer driver, thereby minimizing the chance of future citations but more importantly, a possible collision.
It was simple easy to understand and easy for taking notes.
Great way to study at your own pace
10 it was interesting and very thorough
Because it was informative and easy
Excellent course. Clear content and communication. Very straight-forward questions and educational. User-friendly. I would highly recommend to family and friends. Thank you! :)
Your course was clear and easy to understand.
Very informative course and it was nice to be able to take it at my own pace.
Amazing Traffic School. Course is concise and easy to navigate and pass. Thanks for the great program. Would use again but no more tickets!!!!! L.O.L.
Great course. Interesting subject matter. Learned a lot of useful information.
This is my second time taking the course because I had such a great experience a few years ago. The material is in an easy-to-read format and the study guides are helpful for not only the quizzes but for the final test as well. The new audio read along feature was another great tool in digesting all the information. Whenever I needed assistance, the program staff was friendly and helpful.
Chrysanthie
Palos Verdes Peninsula, CA
I was pleasantly surprised and encouraged to see the material about driving courteously within the law as well as mechanisms to cope with and avoid road rage and aggressive driving. Thank you for including this information. I hope that folks who could use some reminders about better behavior take this course and apply lessons learned, myself included. I also appreciated how the material was laid out for vehicle maintenance including the value it gives the driver. Well done.
Registering was easy and I was able to start the course immediately. Thank you!
Tyrone
South San Francisco, CA
GREAT REFRESHER. MAKES YOU THINK ABOUT YOUR DRIVING HABITS. LEARN SOMETHING NEW EACH TIME I TAKE THE COURSE
I never thought it would actually be fun taking this exam and believe it or not I've been driving for 33 years and I actually got educated from this course thank you so much and god bless.
It was great/useful material!!!!
I don't like doing class online, but this class I was very relaxed and it was very easy for me, due to the lay out of the class. I would be more than happy to recommend this school to anyone and I will.
Super clear instructions. The website is very well designed! The information was presented in an engaging way -- not boring! I called the 800 number and didn't have to wait to talk to someone. The man I spoke with answered my questions with the greatest of ease. Thanks so much!
Thanks so much. I learned more and enjoyed it too.
I really enjoyed the course and have changed my driving to be more careful. It made me realize how I have develop bad habits over the years. I also love the program, how it allows you to read and have it reinforced with the sound. It's a double feed into the mind, eye and ear. I'm definitely using my turn signals much more. Even when I know no one is around, just to develop the good habit. Great company and web site. Thank you.
Your service is very easy to use and the customer services staff is very helpful and patient. I would recommend others to your site Awesome!
Charlotte
San Juan Capistrano, CA
Absolutely perfect Q & A.Well written!
Because I valued what I learned and would like others to do it...
I thought the class was very well put together. It was easy to understand, and very informative.
The course was clear & the study guide was very helpful. I learned from the course without stress.
Very easy and convenient to use, I highly recommend it.
Being able to take the course when my schedule allowed.
Very detailed and you can work at your own pace with no time limits
I wanted a straight forward no frills approach to traffic school. I also wanted it to be as stress free as possible with no time constraints. I wanted to study at my own pace and to log on and off whenever I pleased. This course worked for me!
Very user friendly and to the point
Easy to read, interactive and fairly priced.
I found your course very good compared to online course I had used years ago. It was easy to use and time flexible for my needs. A++++
I absolutely loved how easy and informative was this course, I was scared it was going to be hard but all the questions are easy to understand and everything made sense when reading. Very easy to comprehend. I highly recommend this course.
You answered my initial questions when I called for information. The content was well presented. The audio "read along" feature was an excellent addition to the learning process. The graphics (animations) were well presented. The material was well organized and well presented and covered many good additional topics for consideration.
The course was easy to understand and it's easy to register and start your review and test.
It was very good and at a good pace. I learned some things that will help me be a better driver.
Your course is very detailed and easy to use, also intelligent! Great program...
Was a good course and easy to pass, I very recommended it.
Registering and going through materials at my own pace was quick and efficient.
Traffic School Reviews
We consistently strive to offer our traffic school customers the best possible online learning experience - this includes providing live & friendly customer service, easy to use courses, educational content, fast processing, and affordable pricing. But don't take our word for it, here are some real, verified reviews that our past customers have left about TrafficSchool.com!