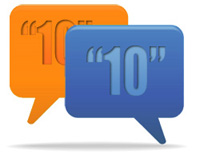 TrafficSchool.com Reviews
A Simple Question
is asked to customers that complete our online course and choose to do an optional survey:
"On a scale of 1-to-10: How likely is it that you would recommend TrafficSchool.com to a friend or colleague, and why?"
Here are a few dozen of our favorite answers:
Because you helped me to pass my tests successfully. Thank you for your kind service. I took long hours to finish this course.
Alexandre
Rancho Cordova, CA
Everything about the course was well presented and easy to process. It was informative and thorough yet simple to use
Very well outlined. Easy to understand and a lot of practical and valuable insight.
EASY TO UNDERSTAND. THANK YOU
Well prepared, organized, concise. I like your program, congrats
Mark
Jacksonville Beach, FL
IT WAS INFORMATIVE AND EASY TO FOLLOW
Traffic school made it easy. I will recommend it to my friends. And I was able to completed on my own time since I have 2 little ones at home and, I am a full time employee. Thank you so very much.
No rush...had to complete it on my own free time. Very easy to understand.
It was instructive and great!
Ease of use and well done
I thought it was really interesting and wasn't boring at all. I actually learned some things I didn't know. It was easy to follow and understand. I am glad that I went with you guys.
It was so simple to sign up, read the material, and answer the questions.
Because the questions were related to safety
I gave you this rating because it was simple and easy. The course was straight forward and the questions where responsive to the reading. The final exam didn't use the same questions as the questions on the quiz and it utilized all of the reading into the 25 questions.
Easy to understand and user friendly.
Russell
San Bernardino, CA
It was clear and easy to understand, I loved it.
Roseyolonda
Los Angeles, CA
I found your PRICING to be a very very pleasant surprise (to be granted a $5 charge instead of the quoted $19.95 for your course, for what reason I don't even know....). The course was actually fun....the content was very informative and enlightening and well-written. The YELLOW CAR videos were entertaining and a great way to put context to the printed word, plus it addressed the notion of different ways of learning for your clients---very educationally progressive (...and this opinion is coming from a retired school administrator). I loved also the access to the succinctly written Study Guide feature, yet another way of cementing the learning for the "student". Your website is brilliantly designed and works effortlessly, as I logged on and off due to visual fatigue issues. As a result I even memorized my own DL number, which is something I hadn't ever done in 60 years...yea!! And, most of all I feel I learned a lot about myself and about the features of the new car that I've only had for 10 months that the dealership didn't even explain....so !Bravo TrafficSchool.com!
The course is very easy to understand and the examples help a lot!
It was a nice refresher course.
All the representatives I talked with were very helpful and clear in answering to my questions when enrolling in the course. All the explanations of the material to study was very well understood and it also helped me to learn many aspects of the driving activity that I did not know. Very useful information. I do highly recommend this Traffic School.
Because the course really helps
Easy, quick and dependable course. Just what I need.
I think the material was presented in an interesting and informative manner. I am glad I took the course, even though it was citation related, because it refreshed my knowledge and taught me some valuable techniques. Great job! p.s. Thank you for handling the paperwork with the court and DMV -- that service is priceless!
I love it. It gave me the opportunity to get to know more tools for safety driving in my driving career. Thank you.
I was impressed with how to the point the online course work was and I felt like it covered all the material very thoroughly as well!
Material was easy to understand and presented well
Very easy to follow. The interactive portion was extremely helpful.
Very educational and smooth. Alex on your staff was very helpful in explaining the process and answering my questions before I got started. Many thanks!
I went through the course and all though it took me a long time I really learned a lot and would recommend it to anyone. Thank you.
The course was a good review
Good reminders of things learned along time ago. Informative
Easy and read along is good
It was very clear and understanding
I have taken traffic school once before and this program was much better and informative.
Very user friendly, clear and concise information, excellent price, really liked the audio feature and the easy login when returning.
The flexibility, the option to take the course when we can, where you can at our own pace, thank you
Very clear and ready to go
Very easy to register and understand! Highly recommended! Thank you!
The list is overwhelming with costs and options. TrafficSchool.com was easy and affordable. Would highly recommend to anyone who has to work and somehow fit in traffic school into a busy lifestyle.
Your course is really easy to understand. I can study it whenever I have time, it's not stressful at all. Thanks and I will highly recommend it to my friends and acquaintances.
The course was very clear and easy to follow. Definitely learned something from here.
IT'S EASY TO TAKE THE EXAM HERE
I chose the voice interactive. Easy and quick.
It was straight forward and really easy to maneuver thru course and I thought it was very convenient to do the course at your own pace. Easy peasy
The content was clear and concise and easy to understand move through quickly.
YOU MADE IT SIMPLE TO PASS THE FINAL EXAM.
THE COURSE WAS VERY INFORMATIVE AND UP TO DATE WITH THE CURRENT NEW LAWS.
It was very informational and easy to follow through
It was very informative and easy to use the navigation of the program
It helped me a lot thanks.
Patricia
New Smyrna Beach, FL
Directions were very clear
I am sixty-eight and a lot of the info was not in my book when I learned to drive. If you asked me about ABS, I would not have a word to say to you. I asked my grands and they knew all about the brake systems. Thanks for your help
The course was was informative and helpful
THIS SITE WAS USER FRIENDLY!
Easy to understand, learned new info.
Clear information. Good voice reading the words. Program worked smoothly.
It's really clear information
The information was presented in a straightforward, easy-to-follow format. I appreciated the section quizzes and the final exam study guide.
Very informative and I like the concept of being able to retake the Quiz after each chapter. In addition to paying for the course at the end.
I enjoyed and learned from this program. It offered information in an interesting and educational format. The information discussed in this program was current and the test was easy
EASY, CHEAP AND FAST, HIGHLY RECOMMEND!!!
Excellent way of taking the test on my own time frame with no pressure. Believe it or not I actually enjoyed taking the test.
Mary Louise
Los Angeles, CA
I have given you this rating because I feel that you covered current and up to date issues for drivers. I can't think of anything you may have left out. Important as well, the price was right. I was able to take my time.
I know more about the law
Was very informative, I learned a lot of new information that will help me in my driving. Thank You!
Covered material appropriately
Professional & informative format!
Effective. Efficient. Was able to use an iPhone.
Very easy going through the process.
Dealing with you has been simple, honest and straightforward. The material itself was well designed and easy to understand.
It was the best, well laid out online course I have had to deal with. No trick questions or extra BS that is not needed. I think I actually learned a few things using this course! Good job.
I learned a lot from the course.
I think it was fun and learning both because the course is very well presented on your website. I learned lot of new things in the Driving Course.
Very inexpensive, fast, easy, and...painless!
Easy to follow and information clearly explained
Is a good school all questions are clear and understanding I learned new laws
Very informative and helpful! Easy to use!
The course was easy to complete and very educational.
A very interesting & enjoyable course. It was fun to take and refreshed my mind on joy of driving.
Easy and comfortable to read. Broken down into sections.
I got to refresh my memory, and an update on new rules.
So very easy to use and understand. Price was AWESOME!!!
It was easy to understand - well 'versed' and could be done at one's own 'speed'.....
This was a great well prepared and presented course. It was easy to understand and navigate and I completed mine in approx. 6 hours over a period of 5 days, with 100% pass rate on all 7 quizzes and final exam. I strongly recommend students to read everything carefully and avoid trying to speed read to save time. This will assist in passing the quizzes and final exam.
Very easy to understand the directions and the whole sections to read prior to taking the exam.
I spoke to someone when I registered, she was friendly, patient and courteous. The course was easy to read and understand. I liked the study guide when you took the quizzes and the final.
To the point and not overly time consuming
Robert
Rancho Santa Margarita, CA
Every thing about your course was great! You make a difficult process easier!
Quick, easy to understand
From start to finish, the course was easy to complete. The registration process was very fast and easy. The Traffic School was very responsive. The course was well organized. Thank you.
Very easy registration. I opted for the audible package which helped me retain the information better as I read along. Easy to follow and navigate. The price was reasonable. I give it an A+++.
It was clear and easy to understand
Traffic School Reviews
We consistently strive to offer our traffic school customers the best possible online learning experience - this includes providing live & friendly customer service, easy to use courses, educational content, fast processing, and affordable pricing. But don't take our word for it, here are some real, verified reviews that our past customers have left about TrafficSchool.com!