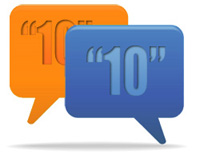 TrafficSchool.com Reviews
A Simple Question
is asked to customers that complete our online course and choose to do an optional survey:
"On a scale of 1-to-10: How likely is it that you would recommend TrafficSchool.com to a friend or colleague, and why?"
Here are a few dozen of our favorite answers:
They had an 800 number and I was able to get a live person immediately very kind easy to understand and walk me through the getting started procedure
It's streamlined, convenient, simple. I'm not very computer savvy, almost 80 years old and yes I actually enjoyed the entire process......Thanks..
Easy to understand, good information, quick to get through and no administrative problems. Thanks
It was relatively inexpensive & very convenient to do at home. Someone had passed the idea on to me. Thank you.
It was fast and it was cheap.
Quick, simple, informative, well designed website and excellent price!
This course was awesome, easy to use, cheap, easy to pass
10. I will highly recommend this traffic school. Informative and easy to understand. Excellent!
Very interesting and I like how I can save and continue when I want.
I would recommend this traffic school course to any family member super easy and understandable ! Very helpful !
MY KNOWLEDGE IS FULLY REFRESHED ABOUT SAFE DRIVING AND HAD A GOOD REVIEW ON THE RULES OF THE ROAD. THANK YOU.
Emmanuel
Trabuco Canyon, CA
This is an excellent refresher training for all drivers of all ages. Very informative and up to date information.
The test questions are easy to understand and updated my knowledge in the recent laws in the State of California.
The training was well designed and easy to navigate. The information was well presented.
Because of the ease of use and not hard to understand or follow.
The course let me pass the examination fast and help me understand some traffic grey issues
Thank You, the course was informative and good.
The course is easy to use and very informative
Your course is self explanatory, very well put together. I would recommend this course to anyone.
fast easy to following good price
Because this course is easy to use and understand and above all extremely helpful.
your site is really easy to navigate through, very well explained and not boring at all.
Class was stress-free, simple to follow on the computer (not my forte!) and I learned some important things. Thank you
Im not to good with this kind of stuff but yall made it so easy to do that even someone like myself had no problem. Thanks
This course was completely user friendly. Easy to navigate, straightforward information
The reason why I would give you a rating is because the course was easy to understand and I was able to go through it very quickly. I learn a lot from this class and I highly recommend it to other people who are struggling.
It was easy to sign up and easy to navigate even through my cell phone!
It took me 3 three hours to complete the course, I took notes on a few points I never knew about. I learned a great deal. It was very informative, accurate and easy to navigate through.
Because the course was very helpful and easy to understand. I feel I will drive better because of this course. Thank you so much.
excellent course and wonderful customer service
I feel I learned something and the information was well presented and easy to follow. I especially liked the Reading feature and Study guide.
Your course was easy to take, convenient, very understandable and easy to read while also allowing me to get important review and reminders that will make me a safer driver. I was so impressed with the content that I purchased the content to be able to review later as refresher and reference info!
Even after 50+ years of driving, I found the course to be informative and helpful. Laws change and laws are forgotten. As a safe, courteous driver much of my behavior on the roadways has become instinctive. The course provided me with a good "refresher" on the actual laws for driving California's roadways. I learned some interesting things.
It was easy to read and understand. Although I would recommend you highly, I sure hope I don't have to and that we don't have to meet again. Sigh. Thanks.
The course was full of useful info, easy to navigate, and at a great price.
Because I'm satisfied what I studied and very easy to understand and if you don't you can review it again, thank you so very much with this kind of learning no need to go anywhere
Excellent website, very easy to understand, very easy to register and amazing learning experience, materials and presentation. Loved the experience. I did learn some key points that were refreshed and it was so very worth taking this course. An awesome course like this should be mandated by the DMV every 5 or 10 years instead of waiting for a person to get a violation to do this course. Great job Traffic School team - keep it up!!!
Your people are friendly, helpful and incredibly knowledgeable. The course was actually...fun!
informative quick and easy to use
This is a great online option for Traffic School. The layout of the program is very informative and easy to navigate through. I was able to finish in 3 days and scored 100% on the final exam. I highly recommend the course!
it was easy. well explained. I understood the concepts and passed all questions correctly 100% the first time
The 'sea' of suggested Traffic Schools the court provided was overwhelming and not helpful. I found your school through Yelp, the most 5 star reviews of any other school. The enrollment process, information on the course was clear and easy. The material was presented well. Being able to complete the sections at my own pace was ideal. I had to contact a representative at the beginning to clarify my Case #. She was very helpful and provided the information quickly (it ended up being my ticket #). No negatives whatsoever. Thank you for this service!
Simple, straight forward, procedure; great info about driving all around, and excellent customer service from beginning to Mr. Adam.
I was able to do it on my own schedule and at my own pace. It was insightful and informative and made an impact on driving behaviors I had not considered before. I think it will make me a better driver and am grateful for the experience. Thank you.
The moving violation that precipitated this online course was my first moving violation in many years. While I had attended in person traffic school those many years ago, this online experience was new to me and slightly uncomfortable. I considered duplicating my ancient history and reattending an in person event. Ultimately I choose to take this online Traffic Course which exceeded all my expectations. I daresay I actually enjoyed the course and educative material presented. The following: 1) Ease of use 2) Clear material 3) Logical flow
Because it was easy and no stress
Xin-Ran
Citrus Heights, CA
Wonderful traffic school learning process! Very well designed contents and tests! Excellent service! Thank you very much!
It was the simple format and price.
Because it was easy to understand!
very helpful, easy and fast!
I BELIEVE WHEN SOMETHING IS DONE RIGHT THEY SHOULD BE TOLD SO THEY DON'T CHANGE THINGS THAT WORK.
The course was great and I learned some things I didn't know. Thanks!
It was simple to follow and easy to navigate.
It was easy and very organized.
TrafficSchool.com was very easy to register, start, and complete. It's very boring but also allowed me to refresh on some of the updated laws.
Joycelyn
Port St. Lucie, FL
I WAS UPSET WHEN FORCED TO ATTEND TRAFFIC SCHOOL, BUT SINCE I TOOK THE CLASS I AM VERY HAPPY. IT IS SO INFORMATIVE. THE TEACHING WAS EXCELLENT AND PUT IN A WAY WITH ALL THE REASONS WHY WE DO THINGS. I WOULD STRONGLY RECOMMEND THIS COURSE TO ANYONE AND EVERYONE THAT NEEDS IT OR EVEN AS A REFRESHER COURSE.
It is so easy, step by step, more than enough backgrounds b4 test. Simply Awesome. ur team deserve 5 Star rating.
Course material was clear and it gives the user the ability to work at his/her own pace!
I was able to take my time to read and review over everything and I was able to take as many chances as I could !! This website is the best I've ever seen and this was my first time having to take a driver improvement class.
Joycelyn
Port St. Lucie, FL
Like the information. Very simple and easy to learn
The course is very educational beyond what I expected, it has surely enhanced my ability to drive safely and take care of my vehicle
The school was easy to follow and allowed you to stop and restart anywhere needed.
Everything was clear, informative, easy to use.
Simple navigation throughout the course. Ability to stop and restart was easily accomplished. Can't speak about customer service because I never needed it. The best part is the low price for a simple no headache course. I already paid way too much in fines and fees for a ticket I didn't deserve so saving on traffic school was very welcomed.
Informative, educated and own pace! I could learn take my time, not rushing around, to make sure I am understanding. I certainly enjoyed taking this course and glad to chose this online site. Thank you so much!!!
Caused this course open my eyes wide and will make a better driver for the safety of my self and my love ones and the others drivers thank you. I did learn my lesson
Information was easy to understand and tests made sense.
Excellent presentation of material and useful information
I think this is a very helpful refresher reminder of laws.
I really learned and picked up some new safety tools in driving
Course was easy with no problems
Great and Simple Easy To Understand!
Very convenient and the format was great. Thanks again!!!
Jacqueline
National City, CA
EASY LEARNING GREAT COURSE...
speaker was easy to understand. the quizzes were based on common sense which made it really easy to take.
Simple. Easy. Good material.
spoke to a rep, she was courteous and very helpful
I thought that it was a good course and kept you thinking and not answering too fast
very fast, quick and easy
it was easy to follow and quizzes were short. i liked the interactive scenarios.
Great Course very Accommodating allowing you to navigate with Ease.
Ease of use and the course work was well laid out and easy to understand. thanks
I found the course to be thorough. And very user friendly. Even though it cost a little extra, I'm glad I paid for the read aloud option. it was very helpful.
I was surprised at the sincerity and detail of the course, especially considering the inexpensive cost
It is well laid out and straight forward. It is not too difficult and I appreciate the study guide. Reasonable price too.
I spoke with a gentleman who helped me register. (I'm somewhat of a dinosaur on computers.) I SO appreciated his help. He gave me confidence that everything we were doing would work out. I'm going through a lot these days and his kindness was much appreciated!
Very straight forward traffic school. Easy to register, engage, and complete.
Well organized and useful The extra tips with animation was very helpful as well as fun to do like a little break from study Thanks for your excellent work to help keep road safety for all
Louis
Pacific Palisades, CA
It was quick and easy and very helpful
I really enjoyed the Traffic School and I really liked the little examples of the YELLOW CAR and this driving diagrams. Thank you so very much.
I enjoyed the course because I just sat back and listened to the audio and apparently the method was so effective that I managed to pass the test with 100% score, the first try. Also the price was very reasonable.
The instructions were clear cut and dry. I was able to do everything at my pace. I really did enjoy the fact that there were no third party ads at all. Basically everything was just as I was told it would be. Very refreshing.
It was made to be quick and painless
The information is good, and offered a refresher on many aspects of safe driving and rules of the road. Also, it allowed me to complete the school from the convenience of my own home at my own pace.
I gave the rating because when I needed help someone was always available to to talk to me.
Good information, easy to use, good price.
The course was easy to navigate and was extremely helpful. I learned a lot. Thank You
I believe this is way easy to get the traffic school on line
Clear information, just enough video enhancement, and a couple of good gag answers to lighten the process. A well planned course and format.
I personally Enjoyed the Traffic School, it was EASY and Overall, had an Comfortable Pace with the course
Very easy to understand and the online system was easy to navigate. The animated video illustrations are a nice feature that helps you identify with real situations. Thank you.
amazing traffic cite fast and easy
Nanette
Marina Del Rey, CA
Very Helpful, reading & voice translator made it enjoyable & well worth the time. Thank You
I really enjoyed the simple, informative format (with hints of humor). The "yellow car" features were a nice touch and change of pace for checking knowledge. Your prices were very reasonable - while I hope I don't have to, I'd be happy to use your services again!!
Excellent process. the use of the audio for an additional $4.95 was awesome. Many thanks
It was an easy read and very informative.
Course was informative and I'm a senior so it helped refresh things
You folks provide a great course! : )
Because it was informative and easy to understand and very helpful.
Traffic School Reviews
We consistently strive to offer our traffic school customers the best possible online learning experience - this includes providing live & friendly customer service, easy to use courses, educational content, fast processing, and affordable pricing. But don't take our word for it, here are some real, verified reviews that our past customers have left about TrafficSchool.com!