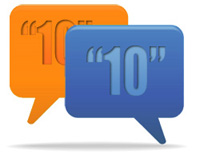 TrafficSchool.com Reviews
A Simple Question
is asked to customers that complete our online course and choose to do an optional survey:
"On a scale of 1-to-10: How likely is it that you would recommend TrafficSchool.com to a friend or colleague, and why?"
Here are a few dozen of our favorite answers:
Hello, I appreciate the easy functionality of the website and course. The log in and work at your own pace feature really helps you understand and process the material needed to pass the course. I would definitely recommend this course to all of my friends and family or anyone needing traffic school!
I like the audio read-along feature. It helps me to stay focused and alert. I need auditory as well as visual instruction.
Touched bases on everything I needed a refresher on.
Because I believe it was a very good review good driving practice while instilling review of laws and rules for safe driving
10 very educational needed this
Alfred
Manhattan Beach, CA
The ease of following the program step by step. To be able to backtrack, with an unlimited time frame. Thank you.
I thought I knew it all but I guess we all need to brush up a little bit.
I thought the course was very informative and clear.
Super easy, fast, entertaining. I actually learned a lot. Will definitely recommend!
It's simple and has a lot of examples. This is a simple way to finish traffic school
THE COURSE IS SO EASY AND HELPFUL
I like how you guys cut it off to sections and then made it into short pages of information I can get distracted easily sometimes and this help on keeping focused on the reading.
Very detailed. It is a great refresher course especially for someone who has been driving over 40 years.
Fun, clear and EASY to use. I had a practically seamless experience!
Great course, easy to understand and to the point!
Rucel Antonio
North Hollywood, CA
Because it was easy to read and understand
I appreciate the course. It taught me the new rules and reminded me a lot of safety tips when I am on the road.
It was easy to follow through, very easy to understand most of all when I had to contact the office for some questions that I had received a call back right away excellent customer service
Great course. What could be very boring, you have made this interesting and easy to navigate and complete. Very user friendly.
I recommend using TrafficSchool.com. You won't regret it. They are helpful all through the process, even during your testing. I hope I will never need to use their services again, but if I do, I will come back to this traffic school for sure! Everyone drive safe and good luck.
You made the testing easy to understand and the website easy to use. The test itself was easy. If anything, I over-prepared. Also, you returned my calls promptly and granted me the discount price. I appreciate that you manage providing the completion of the test with the Court and DMV.
I feel that it's important.
The course was very educational and improves your driving skills. I learned about the new laws, child safety info, driving in bad weather conditions and more. Taking this course on my time, anytime, with no rush was great too. This is an A-1 traffic school and all with excellent customer service included. Thanks so much
This course was very smooth, easy to move through. The information was written very clearly and informative. I highly recommend this course to people that need to take traffic school!
I enjoyed the interactive sections very much!
It was a great school, very easy to enroll, staff are very attentive answered my call within minutes. The course is user friendly, good learning tool, and exam questions are important points to remember.
Easy to use, good explanations, no trick questions. Well done
It's easy and clear to understand. It's great to take quizzes in between sections to check and see if you comprehend the material!
The course was informative and I enjoyed it.
Great course to take at home on-line.
The course was reasonably priced, clear, to the point, easy to understand, and navigate.
Easy to navigate! Well written course with great visuals and examples!
It was a great experience
Easy to get through in a short amount of time
Sereniti
Lake Elsinore, CA
Very easy to navigate you're website
Hello, I actually enjoyed and learned a lot!!! Very easy to follow, great info... Best online school ever!!!!!!! Will recommend to anyone! Thank you!
Instructions were clear and answering each question needed to think deeply and logically and then answer. Thank you very much
The course is well organized, easy to read, and the quizzes helped a lot. I passed the final exam 100% the first time. Good course
You guy actually make the class interesting and I only fell asleep once. lol
Important to refresh the basics, reinforces universal safety.
This is a great and complete course. I took my time reading the pages and learned a lot. If I earned 100% it is because I took my time reading conscientiously all the pages to understand all the mistakes we make. Traffic has never been so dangerous in Los Angeles. Thank you for those who took their time writing this book.
Straightforward no nonsense
Affordable price. Useful material. Easy to navigate.
IT CANNOT GET EASIER THAN THIS TO GET YOUR TRAFFIC SCHOOL DONE, THANK YOU FOR MAKING THIS PROGRAM EASY AND ENJOYABLE.
Easy to access; concise; thorough; only complaint: too informal in several sections. Thank you!
10, because I'm very satisfied with the service.
It was very well informed before the test, and the test has tricky questions but good!! Thank you.
While I was working on the online lecture, I noticed my driving attitudes that should be corrected. It was really a good chance for me to update my knowledge of driving. Thank you!
I learned a lot, the course was easy to navigate and I can continue to access the information after completion.
Very informative, also liked the videos. The DUI video was very powerful! (made me cry) Excellent job, learned a lot, but hope to not have to do it again.
Very educational while not to overbearing
I had such a great experience using TrafficSchool.com. The modules were informative and easy to navigate. Highly recommended!
Excellent course content, smooth online navigation, very professional.
Maricela
Mission Hills, CA
Overall excellent experience! I will be posting a review on YELP. :)
Great course; wealth of information that was explained in a comprehensive manner. I learned a great deal: finished in two days and will recommend to others.
This traffic school course explained the laws of driving very strait forward an easy to understand if you read all the materials. It also was easy to register and I did it on my phone instead of physically going to traffic school which I thought was very time saving especially with the Coronavirus going on.
Being able to use the audio help out a lot and the course was easy to understand
IT HELPED TO REVIEW THE CURRENT DRIVING AND TRAFFIC LAWS AND REGULATIONS.
Sanford
Woodland Hills, CA
Good course and relaxing to take
It was very easy to complete and didn't take much time to complete.
Easy to stop and save and continue, good prep for each quiz/test
What a nice and great progressive experience.
Patricia
San Francisco, CA
I loved it! Read and learned a lot!!!!
Easy to navigate and comprehend
Everything was done in a professional way
Anthony
Stevenson Ranch, CA
Course material was outstanding! Review exams at the end of each chapter really helped!
It was a great online course and Eric really helpful, thank you so much
The course was easy to follow and informative.
Very detailed and updated with modern technology. I learned a few things as 58 year old.
Very informative with well defined sections and excellent graphics -helpful to both new and experienced drivers
Because is a school very clear in all the material
Good to understand to pass the test
Although the course involved a lot of reading I think it covered a lot of material that was good in reviewing the law and common sense practices in driving.
It's easy to understand and it gives you the answers after you have taken the tests so you can get and understand what the law is ... And if you have any questions there's a number or email there for support
Magdalena
San Bernardino, CA
Is easy to understand and learned a lot thanks so much for your help
This course was fast and easy. Very good information provided. Good questions asked that were not to difficult!
Very easy to follow instructions. Information very well presented and laid out. Thank you!
Although I did not get a perfect score, I learned a lot. I appreciated it.
This online class is very user-friendly. It's very easy to enter the course and learning material, and easy understanding, and very convenient by time and place. Especially to the full time workers.
Convenience and easy to follow instructions
I'm So Grateful For Having Had The Opportunity To Take This Course. I'm Kinda Disappointed In Myself For Missing One Question; But I Learned A Lot! Thank You For Making This Available. It Wasn't Boring. It Was Interesting And Enjoyable. Being Able To Go At My Own Pace Was Awesome! Thanks Again And Please Stay Safe. Warm Regards
It was very easy and helpful reminders if I knew someone who needed it
Great course! It was wonderful to be able to take the course online, instead of driving to a local class and sit there all day to listen to the traffic instructor.
Because it was a good and easy to understand course
The course is easy to understand and follow
This was easy and informative!
Marie-Claire
Rolling Hills, CA
I was very happy with the class: I think it was very useful and very well done. Thank you.
Easy to use and straight forward in every respect
The course material is very practical and it would be good for everyone to refresh his driving knowledge
Course was straight forward and easy to understand. Website worked well
Because it is simple and understanding
Mostly because of the study guide to help understand most important safety regulations.
Travis
Melbourne Beach, FL
I like the way the test is
From start to finish, it was a better experience than I had expected.
Great information, easy to follow!
1. Able to take course at my own pace. 2. Able to review/check points if uncertain. 3. Learned new information.
It was interesting, easy to learn and didn't take too much time. All information was accurate and easy to understand.
You were straight forward in your requirements with no hidden charges or whatnot. The course was informative and reasonably interesting. I have been driving for many years and did learn some things from you. I think everyone should be required to periodically complete such a course to retain a license as we all become complacent in time. Thanks for providing this service.
It was great that I was given three chances to retake and to study the test over
Traffic School Reviews
We consistently strive to offer our traffic school customers the best possible online learning experience - this includes providing live & friendly customer service, easy to use courses, educational content, fast processing, and affordable pricing. But don't take our word for it, here are some real, verified reviews that our past customers have left about TrafficSchool.com!