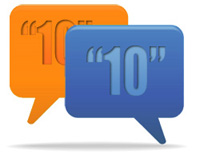 TrafficSchool.com Reviews
A Simple Question
is asked to customers that complete our online course and choose to do an optional survey:
"On a scale of 1-to-10: How likely is it that you would recommend TrafficSchool.com to a friend or colleague, and why?"
Here are a few dozen of our favorite answers:
Well organized and informative
Because I would very likely recommend your course.
Ernst
Rancho Palos Verdes, CA
I think my driving will improve.
Super easy to use and easy to navigate. Thank you!!!
Ayman
Huntington Beach, CA
Very easy and understandable course.
This website was easy to navigate and the information was helpful
I liked the way you went through everything before the test! Made it very easy!
Easy access to website and course material. Easy to understand, and the price was under $10.
It is clear, thorough and well thought out, with visual situations which make the situations easy to understand.
Because I did not have any problem reading and understanding the questions.
I really appreciate the how the course material was presented.
Samantha
Moreno Valley, CA
It was easy to register and the completion of this traffic school did not take long.
The information presented is straight to the point and very comprehensive. In addition, the information did not feel overwhelming or unnecessary/inapplicable. The quiz questions required a reasonable/applicable understanding of material for real-life situations, rather than vague numerical data that some may have a hard time remembering when trying to process all of the information presented. Thank you for a valuable, quick, and simple traffic school experience.
Was good telephone support when needed
Easy and convenient to navigate through the reading, learning, testing process.
I liked the easiness of your tests and valuable information
Learn more and pass easily
Being my 1st time for online traffic school I found this course to be the coolest ever, being able to study and take tests at your own pace and learning so many new laws along the way, this is definitely the way to go. Thank you.
Relatively easy and convenient. Very thorough course.
My brother recommended this course to me! Thank god he did. Pretty straight forward. I would recommend this course to anyone who is skeptical of completing an online course. DON'T BE AFRAID trafficschool.com is the way to go. *FYI I was not paid to write this review. Honest truth!
It is a good information and easy to have it, thanks you.
Jeannie
La Habra Heights, CA
Course was easy to read and understand, lets you go at your own pace
It's user friendly site....happy to be in this class...and learn a lot
It was really easy and I learned a lot
Well put together easy to use.
It was as easy and inexpensive as advertised. Lots of good updated traffic law information also. I hated having to do this, because of the time investment, but overall it turned out OK and had simple common sense answers in the test. Good job! This site is probably one of the better ones out of 1500 possible traffic schools listed in dmv.ca.gov website. I found this in my first search on google.
It's easy to do and you gain a bunch of driver info that is important to know
Brana
Westlake Village, CA
Easy to use and questions reflect the material given. Additionally, the reading was interesting and vocabulary easy to understand.
Was very well done and composed
Because good for learning yourself easily. You can focus.
THIS WAS VERY USER FRIENDLY AND I LIKED THAT IT READ THE INFO TO ME, I JUST WISH IT WOULD HAVE READ IT FASTER.
It was simple and easy understand for me
Even though the course is somewhat long it is a great refresher and I learned some things I did not know. I appreciate the opportunity to take this course.
Great course, easy reading and very through
Format, system, content, ease, straightforward. Brilliant! Thank You!!
The course was very informative and easy to understand.
Easy and straight-forward.
Fast, easy, and comprehensive. Also no timers, work at my pace, and ability to return to course pages at anytime during test to review.....ie.....open book.
The course is very easy and self explanatory very satisfied with this program thanks
The course was informative, however the questions were so easy that I could have answered all of them without doing the course. It was almost comical. I'm glad its done.
Michelle
South Pasadena, CA
It was wonderful and I learned a lot.
I received great information that will help me become a better and more safe driver. I believe this course should be taken by all drivers before taking their DMV license test, because there is amazing information in this course that you will not see on any of the DMV handbook.
Everything about your format was perfect. I have told 2 friends about your course.
It was a great review and reminder of traffic law and good driving practices that were learned by me many years ago. I was way overdue for a refresher course. Further, newer principles and practices were introduced to me that I intend to fully implement in my driving habits going forward. The information was presented in a very comprehensive and engaging manner. My hat is off to your writers.
Jannette
Moreno Valley, CA
It's the best class online
VERY HELPFUL ON KNOWING EXACTLY WHAT THE LAW IS. THANK YOU
I gave you the rating above because I really like the way you have everything set up on the web site and I was able to complete the traffic school at my own pace. You all are awesome! Thank You!
Because it's a good website
I thought this was a very informative course including many updates to current driving and vehicular codes.
Because it's simple and gave me many chances if i fail until complete. Tks!
It was so easy and clear program
Price is reasonable and website courses were easy to follow. I don't need to worry because the company is going to forward my test results to Santa Clara Court.
I learned a lot of info, details and things that can make me a better, safer driver.
Kenyatta
San Francisco, CA
It was so informative. I am glad I got the book, it made doing the online that much more beneficial.
Kathleen
Monterey Park, CA
It was very informative and I felt that the important questions were asked.
IT WAS VERY EASY TO GO THRU THIS SITE AND I WAS ABLE TO DO IT AT MY SPEED AND CONTINUE WITH EVERY DAY LIFE
Because it educates you about driving
You actually ask questions on the tests that are in the readings and you can go back and check your answers.
Excellent! It's easy to read, I liked the audio option as well. Loved the study guide option too. I would recommend to friends and family.
Because it does let know a lot new stuff I didn't know
Course easy to understand, effective teaching!!
This was a complete and comprehensive course. It was very easy to read and follow to answer the quiz and final test.
Easy to understand text and questions.
It has a lot of great learning tools in it
Everything was smooth and easy
Because it was very helpful and understanding. Thank you
EASY TO ACCESS THE COURSE-VERY HELPFUL TO UNDERSTAND ALL THE QUESTIONS.
It was easy to follow. Services were 100 % delivered. Learned a great deal.Thanks
Very easy to read and provide great explanations of Vehicle Codes and good driving habits.
Easy to understand and navigate. Explained if I selected the incorrect answer.
The course is extremely and methodically structured. It enables thorough review of all important concepts and guides towards better and safer driving. I have thought at various universities close to 50 years and vouch for the integrity and thoroughness of the materials presented.
This school was of great knowledge, direct and to the point, great for refreshing rules after 40 yrs. I could not say a negative word about this course. The staff were extremely helpful to me when I was unable to sign in. I would definitely recommend this to everyone.
Gregory
Canyon Country, CA
Very easy and smooth transition from start to finish
Easy, convenient, and straight forward
It was very through and I understood everything. It made it easy to go through the course and take the test with confidence.
Geoffrey
Huntington Beach, CA
Because it's fast, easy, and the chapter tests and pop quizzes prep you for the final test
Regardless of how long one has driven a car, there is always something to be learned, and things we did not know. It is a good course, and very comprehensive. My only complaint is (just) a few questions on the quiz seemed too ambiguous, and the other answers could have applied.
Course was easy to follow and fast as advertised.
You can progress at your own speed
Easy to navigate school and be able to work at own pace, great class, would recommend to anyone.
This online course made me receive more information about driving & abiding with traffic rules & some basic new laws than attending a class with many people in the same room.
Comprehensive, easy, interesting, definitely changed my view about driving and safety
Your website is extremely easy to use, very consistent, easy to absorb and helpful.
The course is very educational
Easy to understand course
Thought course was comprehensive useful and easy to get through. Especially enjoyed the videos.
I received a same day response after completing your survey. Thank you so much! I procrastinated going online to take the course, due to my fear of computers. The course was easy to understand, helpful, and enlightening. But your response was awesome. I'm so glad to see your company cares. I wish you peace and all prosperity. Thank you. Yes I will tell everybody about Trafficschool.com,Inc
Learning things that we didn't know about driving
I find the course material very relevant in helping experienced drivers updated on new government regulations and technology changes. It certainly helps to refresh memories to improve driving habits.
I always freeze up at tests so following the outline and system of this online helped me a lot!!!!!
It was very long and time consuming, but I actually found it very helpful. Even though I've been driving for over 40 years and this was my second ticket in my whole driving life, I did learn a few interesting things and facts!
Because it is informative
Course content and ease of use.
Easy to follow. Explanations are valuable, they provide greater insight.
Easy to understand and interactive
I like the format. It is easy to use
I thought the course had very good content. My only knock was that there was a fair amount of redundancy. But maybe that's good thing.
MORE CONVENIENT THAN GOING TO TRAFFIC SCHOOL. ABLE TO STOP AND TAKE CARE OF GRANDKIDS AND THEN RETURN TO STUDY.
Everything was very easy to understand. This was my first time taking a class online. Thanks
I felt that the course was both interesting, but sectioned appropriately so that the material just flowed consecutively. I actually learned quite a bit that I had either forgotten, or was new.
Traffic School Reviews
We consistently strive to offer our traffic school customers the best possible online learning experience - this includes providing live & friendly customer service, easy to use courses, educational content, fast processing, and affordable pricing. But don't take our word for it, here are some real, verified reviews that our past customers have left about TrafficSchool.com!