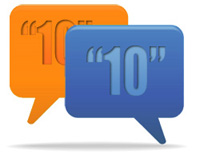 TrafficSchool.com Reviews
A Simple Question
is asked to customers that complete our online course and choose to do an optional survey:
"On a scale of 1-to-10: How likely is it that you would recommend TrafficSchool.com to a friend or colleague, and why?"
Here are a few dozen of our favorite answers:
I've done regular Traffic School in a class rooms, one time I've even used VHS video tape class, but this on-line was the EASIEST I've ever done. If I have a chance then on-line is the way to go! THANX!!
I loved it it allowed me to do it on my own time, started then went to work and came back to finished, thank you it was easy to understand and very informative.
Because it was easy to book, easy to access and understand the lessons.
The best you guys really helped me without stressing and I don't know what to say but thank you guys so much I love you guys
It was very easy to understand the audio was clear. Very detailed. Thank you
It was easy and convenient.
The entire text is easy to understand, explains the underlying reasons for warnings and regulations, clarifies the situations that even experienced drivers often overlook. Equally important, if not more, the on-line class provides a pleasant learning experience--not a chore I initially expected. Congratulations!
thanks to you i completed my traffic school certificate. muchas gracias se los agradesco de corazon. IGRADUATEYAY
The user interface (and navigation) was easy to follow. Each section of the course was divided into easy-to-skim sub-sections, so that I could zero in on the things that I needed to learn about the most (with key information in bold). There were no hidden fees or anything. The additional things that I could pay for were available in the side bar on the course homepage, which was nice, because I knew what was there, what I wasn't paying for, but that I could pay for additional things if I wanted, and yet I didn't feel pestered by pop up windows or anything attempting to get me to spend more money. The whole thing felt respectful, helpful, easy to use, and it inspired my trust in trafficschool.com's staff to have my back.
I got no problem whatsoever with your traffic school. Thanks a lot.
Abigail
South San Francisco, CA
Easy to use reading is swift Passed on 1st attempt Cheers!
TrafficSchool.com is wonderful. Darryl was very helpful and patient with all my questions. The course materials set up are easy to follow. Your pricing is very reasonable. It makes sense that TrafficSchool.com has such a high reviews. I am so glad that I chose your school. Thank you!
IT WAS EASY, LEARNED A LOT....
Absolutely would recommend this program to anyone. Very simple to use and easy to read, made the whole process pleasant. Thanks.
The course was user friendly, informative, affordable, & worth every minute of my time. Thanks!
This course was fast and easy. Very good information provided. Good questions asked that were not too difficult!
Nasim Nastaran
Lake Forest, CA
The fact that the course is online and on my pace, was very helpful. Thanks
The Course offered voice reading which makes it convenient to understand the each section, you can easily repeat the lessons. Common sense and practical experience is shared thus learning and reminders are easily absorb and I believe will help me more to become a good and traffic rules abiding person. It may seem very long course but if you focus and stay on tract, I believe you can finish in one day with ease.
The course was well though out and easy to use as well as exceedingly informative and challenging; I actually enjoyed taking it, unlike some traffic school classes that are boring and dreadful.
It's was easier than what I expected! I loved that I could save where I left off and continue once I was ready!!
I am very satisfied with the content of the course. I thought I know a lot already but there are some things I still don't know. I'm glad I took traffic school! Thank you!
The interactive learning format was very easy to follow, navigate and progress throughout the course. It was a plus taking the course at the comfort of my home during these uncertain times we are going through with COVID-19. Thank you Trafficschool.com for making this experience for me a pleasant one. I scored really high on all quizzes and final exam! Thank you. One Satisfied Student.
It was easy to sign in, I loved the fact that I could do a segment or two and save them and pick up again when I had time. The text was easy to read and the questions were straight forward and not worded as to trick you into the wrong answer. I will keep this website in my bookmarks in case I need it again in 18 months (but lets hope I don't)
Affordable price. Useful material. Easy to navigate.
The program is good easy to use and covered all what I need to know about traffic and more. Thanks 😊
This course was very easy and clear to understand. Lots of good example and explanation for the cvc codes and laws. I am supper happy cuz I was able to go my own pace and my own time, which helped me focus and not stress out about it. i am one happy customer. Thank you.
Course was very easy to navigate
Good course, time well spent on a Sunday morning. Would Highly Recommend to anyone who needs to take this course.
The course was knowledgeable and easy to complete
School did what it promised in content and price.
More convinced every thing's save time, gas, and no virus
easy to understand, user friendly and very informative
I have to say I enjoyed the lesson and very well presented, Thanks
All statements are very clear and easy to understand, thank you very much!
It was extremely easy to use and the way the quizzes and exam were set up was great. Would recommend to anyone.
The course was designed to be easily understood and read. In taking the course I learned lots of new rules and that helps me to avoid bad habits.
I found this to be very convenient and easy, and the price for keeping the point off of my driving record is great. Thank you.
This course was very user friendly, and the setup worked perfect with my schedule. I highly recommend this course, and Trafficschool.com.
THIS PROGRAM IS TOP NOTCH!
As an attorney of 34 years (auto and personal injury) I confess that the material was very easy. I did appreciate that your employees were available even after normal business hours to assist with a glitch (not accepting my e-mail address on enrolment - Veronica) and locating a date required to finalize the course. Also, the price was right.
User-friendly fast and well computerized
Anne
Palm Beach Gardens, FL
Very informative and I learned a lot. This will definitely make me a more thoughtful driver. Easy to read and understand. Thank you. Now I hope I pass the final
Instructional, interactive, & CA code based
The site was user friendly, no timing, and very informational
User friendly interface and was a very quick process.
The course was written extremely well and I appreciated the content that resulted in a better understanding of the rules and laws of the road. In summary every driver should take this review every 2 to 3 years!
The course was simple and convenient online.
Good refresher. Lets me know I'm doing it right
Because it really helped me to pay more attention for any future violation.
Was able to have a good review of my driver skills and and gain additional driving knowledge
all the questions was written so I could understand them
Easy to read and understand
Great school to review and learn by driving correctly.
it is very clear and informative.
Because of your costumer service
I like it because I learned more stuff
The course was to the point. The course addressed the rules of the road in a defensive driving understanding. The Audio Read was a awesome experience. Thank You Traffic School.
It's so easy to learn and understand!!!
very informative... audio is so clear to hear... thank God!!! god bless
It was easy, organized, offered optional audio for different learning modalities, reasonably priced & online.
Excellent course easy to understand
Because we are so excellent
This course is very easy and too much helpful. I personally recommended for my all family and friends
Great pace and understanding component.
LOTS OF INFORMATIVE INFORMATION
it was great and informative. Will recommend my friends
It is very easy and comprehensive!
Great customer service and follow up via email. Coursework on website was easy to access although the language was sometimes confusing to understand.
It is excellent and well understood material. I learned a lot with this review. thank you.
I very like your service.
Easy to navigate, I like that you can refer to the Study Guide for help in every Section and Final Exam.
Excellent information and easily understood. help is available when answering questions. Price is great!!!
Not boring and moves along quick a good program.
The presented material was informative and educational; It offered recent traffic laws.
Enjoyed it and learn a lot.
It was well-written and informative. And the website was very easy to use. Thanks for making a dreaded task better!
Course well organized, excellent explanations for legal phrases were provided in plain language, tone of lessons were helpful and practical.
BECAUSE I LOVE AT TRAFFIC SCHOOL
Excellent and well defined course.
IT WAS EASY TO WORK WITH.
You received this rating because I really appreciate how quickly you responded when I realize I provided my CDL incorrectly. And the fact that you submitted an extension on my behalf. You had my back. Good looking out. Thank you, thank you!
Because I was 100% satisfied
Because this is cheap, for me. Thanks
I'm 61 years if you flip the number I would be 16. That's how long its been since I took a test for driving. It was a great brush up on driving rules.
It was easy to understand and follow the instructions
I can do the work at my own pace.
I love how you can go at your own pace! Thorough and simple to understand. Recommend it to everyone
Constantine
Dowling Park, FL
Fast, easy & as painless as possible.
The course was easy to navigate, informative and all allowed me to read at my own pace. I learned a lot about new California driving laws. Thank You.
Traffic School Reviews
We consistently strive to offer our traffic school customers the best possible online learning experience - this includes providing live & friendly customer service, easy to use courses, educational content, fast processing, and affordable pricing. But don't take our word for it, here are some real, verified reviews that our past customers have left about TrafficSchool.com!