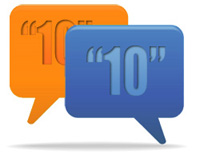 TrafficSchool.com Reviews
A Simple Question
is asked to customers that complete our online course and choose to do an optional survey:
"On a scale of 1-to-10: How likely is it that you would recommend TrafficSchool.com to a friend or colleague, and why?"
Here are a few dozen of our favorite answers:
Easy to navigate, can do it from any device
I was able to take the class at home, and there was no time limit to finish.
Excellent course!! Fast and easy to follow lessons. Highly recommended.
I needed a refresher after Driving since 1960. I Learned some new laws too. THANKS
Easy to follow at my own pace
Thank you so much! This is my first (and I hope the last! LOL) online experience with Traffic School. I was so nervous and I felt like you held my hand all the way through. No gimmicks, tricks, or misleading! Thanks again!
THE COURSE IS VERY INTERESTING, I HAVE BEEN DRIVING FOR A LONG TIME AND I HAVE LEARNED A LOT AND IT IS ALSO A GOOD REFRESHER
When taking this course, I realized that there were a lot of things I've been doing right. I also came to realize a lot of things I've been doing wrong. I never noticed the No Left Turn from 6am to 9am. However, I made that left hand turn flawlessly. This instruction taught me so much. Thank you.
I liked being able to take course from home.
Because the questions were clear to understand and having the samples available helped
Great course. Easy to navigate and good information! Not least it serves as a great refresher to Ca DMV laws.
It was a great course and is very affordable. Thank you
I took this course a few years ago. This time much better. Interesting & informative. MUCH more helpful than last time. Too many stats & not enough useful info last time. This time lots of helpful info. Car info re maintenance & new technology really helpful! Really excellent course for any driver. Would be good reminder to all drivers!
Love this course it taught me a lot and learned a lot of the new laws that I did not know and now I will drive with more cautions so I can be a better driver.
It was very informational study to reading all about driving in California.
Love this, saved me so much time and gas! Loved that it will save and take you right back exactly where you finished off at. Will definitely recommend! Thank you trafficschool.com !! :)
I enjoyed the format, the ease of operation, and all the educational benefit. Excellent course!
I honestly enjoyed taking your course. It was very informative and interesting. Thank you.
Amazingly organized everything was covered instruction wise very educational
Lawrence
Castro Valley, CA
Quick, Easy, Simple, and reasonably priced. Highly Recommend.
I actually learned some things this course was a great refresher.😊😊
Very Good Instruction! Personally would like to see some instructive video, even to add interest value and a change of pace from all the reading. Great Graphic Animations! (maybe more...) Instructive & Professionally Created!!
It was very understanding and went through everything that I needed to know to help me pass
I learned a lot from your course and the website is very easy to use. Thank you!
Claudine
Pacific Palisades, CA
The material presented was easy to understand. Also, you can start and stop as your schedule permitted without losing your previously completed work. Great help.
The information is very easy to learn and test to answer.
Your course was very well organized and easy to follow. The audio option was a great feature and helped me focus better on the content.
Chris
Huntington Beach, CA
The reading was easy to understand and the questions were fair and not meant to be tricky.
Very straight forward and easy to follow. The quizzes at end of the each chapter helped emphasize important points.
Clear writing, precise descriptions, new information. Well done!
The explanation and language used is very accurate and easy to read. I like it
Because I loved every second of this eternal process! lol!
This is the best online traffic school experience I have had. I've seen other interfaces when my friends or family have taken and I have had to help read some of the complicated tricky questions. This seemed smooth, seamless and easy to understand. I will definitely recommend this online traffic school
Because is very helpful for my self
Everything was outlined and provided as described in the initial signing up
The course gave good information, was easy to understand, had its of options, including text audio reading and more.
Can't believe I read through each chapter so carefully and the test was so easy that I got 100%. Wish I had spent less time (spent 4 hours) reading through chapters and taking chapter tests, to find out that the test was so easy (yes, I am glad it was so easy). Maybe it was my reward for reading over course material and taking notes. Thanks again
I tend to wait till the last minute to do these kinds of things, so I needed to find an affordable company that made it as easy as possible for me to fulfill the requirements for my traffic ticket on time with basically no time to spare! The program itself was efficient and simple to use and understand. I think the format was great with questions worded from a common sense approach. Thank you for a great course! I will use it again if necessary.
I have never had to take a class before and I thought it would be confusing but it was alright
I give this rating because is very good school for understand more about traffic school and California law, so that's why I give this rating (9)
Ease of program and attentiveness of customer service.
Very good web-site easy to operate
Course information was easy to set up, follow and return to at any time. Thank you TrafficSchool.Com for making my exam easy as well. It's set up real nice.
The program is very educational and helpful
Because I learned so much from this class that I did not know that will make me a better and safer driver. Thank You
The material is well structured, useful. I liked the tests at the end of each chapter. The final test was reasonable. The price is good too!
Christine
Newport Beach, CA
Concise well written course. Animation is a great enhancement. Could not be happier. You run a well organized service.
It was straight forward which I appreciate.
I am really too much thinking person so I consider for 3 days to register for this online class that I searched and compared a lot but finally I meet this trafficschool.com even English is not my birth language I easily understood and took a test perfectly! Just took 6 hours for me but others can finish earlier! Thanks :)
Anita
Rancho Palos Verdes, CA
Great program!! Staff is wonderful, answered my questions. Very helpful. The graphics and course book are conducive to maximum learning.
IT WAS MUCH MORE ENJOYABLE THAN THE CLASSROOM SCHOOL I HAD TO ATTEND 4 YEARS AGO. I DID LEARN SOME IMPORTANT FACTS AND GOOD TECHNIQUES TO USE.
Easy to follow and very educational
Fast, easy, simple, affordable
The learning was not difficult and I was able to finish in only a week!!
The best course I ever had thanks
I think this is an opportunity to educate in traffic safety
The course was easy and fast to complete
Ripsime
North Hollywood, CA
GREAT PRICE AND GREAT WEBSITE CHECK IT OUT!!!!! NO BS...
The course was very good at giving the necessary needed information. It was easy to read and all thoughts were put together very well. Everything needed to successfully complete the course and pass the DMV test was available by a computer friendly system.
Thank you for keeping it easy to read without a bunch of "fluff." And thank you for NOT having videos. The short interactive videos were fine because they were short. I prefer to READ vs. watch and this course was perfect for me!
Very easy to register, the course material was well organized and clearly presented.
Suchasinee
East Palo Alto, CA
Because it's easy and very convenient.
The lessons were easy to read and I actually learned a lot in the course...thank you!
I recommend this course due to its accuracy
It was a very good course that was informative and easy to understand.
Patricia
San Francisco, CA
Nice to be able to take course at home on my computer! Highly recommend the audio! Makes it easier to get through! I did learn something from the course!!! Thank you TrafficSchool.com!
It was easy and quick take
Easy to sign up and easy to navigate through the sections. Nice to be able to stop, take a break and restart without losing your place.
This course was very user friendly and easy to understand. And entertaining as well! Not too long - and I especially love the "save and log off" feature that lets you resume your course at a later time. Some online courses don't have that option. Overall, it's a great way to brush up on the current traffic laws and regulations as well as learning something new about your driving technique. Also, the best way to remedy your traffic violation and point standing with the DMV
The info was interesting and presented well. It was fair and easy to follow.
The course was very informational and complete. It was easy to navigate and offered read aloud for different learning styles and better comprehension. I liked the virtual learning as well with visuals. It also gave me a better understanding of why I got my ticket and how to avoid future violations.
Is very good system I am happy
As I often have trouble with wording in tests... this one was very easy to understand and the visual interactive part of the course was very helpful. Thank you.
COURSE IS BEEN VERY HELPFUL
First off you need to know that I am NOT a computer guy at all! That being said, I had no idea what to expect with on-line traffic school. This "trafficschool.com" was so simple and cheap!!!! The course was laid out perfectly and made it so easy to follow and complete. The price was also amazing! I'll tell you what, you should look no further than Trafficschool.com! I received a 100% final score! Thank you!
The traffic school online course was complete and very informative. I especially like the short tests after each section.
The online course provided by TrafficSchool.com was indeed very thorough. I reviewed and learned a lot from this course, including new laws. Thank you, TrafficSchool.com for making this all possible!
Course was easy to understand and follow at my time, and work schedule. Purchased the audio which made the material easier to understand. Learned some new things from DMV since this was my first ticket in 45 years. Extremely happy courses are available now online. Highly recommend this course! Thank you!
It was good experience for me and I learned some tips about condition of the weather etc etc
Course was put together extremely well, with useful information.
Your course is incredibly well and concisely written and very easy to follow and navigate through! Great job, thank you very much!
Great course, information presented easy to understand and navigate website.
Easy to understand and maneuver
Program is easy to access and program in very informational.
Easy sign in, the audio was awesome, will definitely recommend this site
The course was well done.
Easy to use website. Good presentation of info.
Refreshed my knowledge on rules of the road.
Very good I would highly recommend
Because the course was helpful and easy to complete and you can do it at your own pace.
Great and easy to understand
Because it was easy to understand and easy to use.
Traffic School Reviews
We consistently strive to offer our traffic school customers the best possible online learning experience - this includes providing live & friendly customer service, easy to use courses, educational content, fast processing, and affordable pricing. But don't take our word for it, here are some real, verified reviews that our past customers have left about TrafficSchool.com!