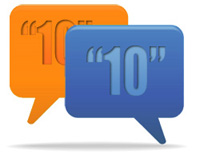 TrafficSchool.com Reviews
A Simple Question
is asked to customers that complete our online course and choose to do an optional survey:
"On a scale of 1-to-10: How likely is it that you would recommend TrafficSchool.com to a friend or colleague, and why?"
Here are a few dozen of our favorite answers:
Easy to navigate and great experience!
Easy, quick, and you can complete on your own time!!
PRICE was AWESOME and the course itself was EXACTLY what I needed!
Very easy to use and understand. Price was perfect for fixed income people like myself.
Instructions were easy to follow. Material contents were very comprehensive and useful
Easy to understand, convenient, and educational. Up to date information
IT SO SIMPLE AND SO EASY TO UNDERSTAND
Great driving school, all information is clear and simple. Thank you!
The course taught me everything I needed to know about driving in California, in a lawful manner. The course had a lot of good information was very easy and I would recommend it to anybody who needs to take driving course. I wish I knew about this when I was in high school.
TrafficSchool.com was really well written and easy to follow. I really liked the ability to stop between sessions and then restart when convenient. Well done and with an excellent price!
It was quick and easy. And could be done at your residence.
I learned a lot about new DMV laws, statistics, defensive driving, etc. It was a refresher course, with a lot of examples and friendly internet navigation. The price is great.
The course was easy to read and understand. I loved the review questions & tests after each section. I even had to laugh at some of the possible answers and yet some will select them as being correct. A common sense approach to taking this exam is the key to passing it. When I initially logged on I was having issues with the system accepting required information as to paying for the course on-line. I called your business number very close to the end of the business day and got to speak with the most polite and professional lady that I have ever encountered. She was a delight. She walked me through the steps and I was able to complete my application. She made my day at the end of her day. I passed the course with a grade of 92%. Not too shabby for an 85 year old retired USN veteran. I still have it "Fonz". Happy Days.
Course was easy to read and understand. I loved the interaction pages.
Great product and simple to use.
This has been an enjoyable course. The information is clear and concise. The animated quizzes are well done and informative. I like the simplicity.
It was easy to read, user friendly, and very economical!
The course was easy to understand. The visual clips in each chapter helps a lot.
Straightforward lessons and easy to follow.
Attempted other websites. They were confusing and no help. Yours was super easy, affordable, and self guiding at a comfortable pace. No sales pressure. Just optional choices.
Great website. Easy to understand
The website is easy to navigate and the studying materials and guide are excellent!
Easy to complete, given all tools needed to study and pass, able to chat with live person, reasonably priced with upgrades and rush fee
Great online setup, easy to use, can go at own pace with text version, simple to understand, no price gouging or deceptive tactics like some other schools. Great overall!
Because you made this completely affordable without any extra cost that wasn't stated in the initial price and allowed me to choose what add on's I wanted which I appreciated. You also made the course easy to read and understand and I really enjoyed taking it to brush up on my driving knowledge and how I can be the best and safest driver on the road. I learned valuable information, thanks!!!
A very good course of study, the narrative was full of a lot of good insights and gave me a lot to think about. I think every driver would benefit from this course.
Because of well designed website, ease of use, and reasonable price.
The layout the course was easy to follow and very informative. I like using the option of the audio as well as reading the material. Additionally, I appreciated the ease of finding pertinent information when I needed to return to previous subjects. I literally think this course is going to make be a more responsible driver. Thank You. PS. I thought the course cost and the extra options were very reasonable.
Excellent service, ease to navigate, all questions were clear and concise. I could not have found a better traffic school. I will definitely recommend it to all my friends.
The course was focused, to the point, easy to follow, well thought out, not too long, and allowed me to review information any time I needed to -- even during the final exam. I learned things I never realized by taking this course, and at the same time, I was pleased at how much I already knew. It was a great refresher!
Excellent study! Very helpful for on the road travels. I learned a lot. Thank you
Easy to understand and friendly use.
Easily understood and I liked how you organized it.
The course was tailored to the demands of the user. I enjoyed it and the authors did a fantastic job. No one who uses the course will ever fail. Excellent job.
Because you are good and excellent. Study guide easy to understand.
It was easy to do, and they are very professional. Thank you for all your help
You delivered what you said you would - easy to understand, and flowed quite well - thank you!!!
KISS rule (Keep It Simple Stupid). Easy to navigate and to the point system.
The course was very easy to understand for a person (English being a second language). Everything was the same as I was told on the phone.
Good information and easy to understand.
Very educating and yet in simple English.
Easy to sign up, take tests and they send to the court
The course was easy to navigate with relatable course material.
Used this place twice already fast and convenient, though I found cheaper online schools also.
THIS WAS EASY AND RELAXING
The course was beneficial and easy to follow
I understood the course and it was easy to study.
I learned a lot from this course, it helped me brush up on new laws and reminded me of things that I've pushed to the side. I really enjoyed taking this class!
Fast and concise instructions, and affordable
It's good course and easy, also good price
Very straight forward, easily negotiated, and inexpensive. The best online traffic school I've ever used!
It was good, learned a lot and cheap. Thank you.
I called first and talked to a representative who was very helpful. And I proceeded after talking to her to register for traffic school which was very easy to follow instructions.
Easy to understand and put together well. Able to learn something at my own pace. Great Class
Unfortunately this is my second time having to redo traffic school, this website is really awesome for what it's worth! Real smooth and easy thank you!!!!
THE COURSE WAS REALLY EASY TO FOLLOW, I HAVE NO PROBLEMS AT ALL, THANK YOU SO MUCH GUYS!!!
I enjoyed the flexibility of working at my own pace. The sections were made to give good information and not overwhelmed me. Easy to understand and use the site.
Website is easy to navigate
Very clear. The tone is excellent. Easy to navigate, no glitches.
I really appreciated the training experience, and I feel like I was able to refresh my memory a lot with this course. The customer service when you give them a call is a 10/10. They're all so nice and they answer the phone so quickly and make sure that all your questions are answered so you don't have to worry about anything.
Easy and quick traffic school
It was very easy to register and with guidance on what to do. Lots of information about driving under weather conditions that I didn't know about. Very informative
This is amazing! The way the information was displayed was very easy to follow, and very easy to understand. I had fun interacting with the material, never felt bored although I am a slow reader and it took me long time to complete since English is not my mother language. I definitely learned a lot and I am planning to apply what I learned because it is practical, life saving and all made sense.
Your site was efficient, competently designed, easy to follow, and succeed in filling it out with a passing grade, at a reasonable price point and investment of time.
I think that your course is very thorough and provides very relevant questions related to today's driving issues. It completely covers the Rules of the Road and makes you think about some of your own good and bad driving habits. Thank you!
Very easy refresher. Will see to it that I follow and apply the safe habits I have reviewed in this course.
TrafficSchool.com has a great way of teaching what needs to be learned in a sufficiently way of understanding each topic of driving and introducing the new laws. It was a well taught class. Thank you so much for your help
The course was easy to understand. They had options for answering the questions, and the interaction clips were nice because they gave a visual of the situation the particular lesson was about. I had several options of schools to pick but trafficschool.com stood out as the best one and I'm glad I chose them.
This was the fastest and best (most thorough and direct) traffic school ever.
To Whom This May Concern: I will recommend California Traffic School for three reasons; first, when I called for information, Claudia was so friendly and professional. She helped me register and explained the program clearly. Second, the audio feature was unexpected and amazing! I loved the option of increasing the speed which kept me engaged as did the video diagrams and pictures. Third, I had dealt with another vendor prior to contacting California Traffic School. The representative was rude on the phone and would not accept the fact that his material had misspelling and the test didn't provide accurate answers when compared to the study guide. California Traffic School's material was easy to follow and the answers to all unit quiz' and final exam were amply provided. Thank you for a favorable experience!
Margaret
Garden Valley, CA
Thought provoking questions and answers with great diagrams made the process of learning very enjoyable.
Well designed course covering all major aspects of the privilege of driving.
I thought it was an educational program. I learned to be careful driving although I didn't think I ran a red light. That has nothing to do with the course. But the course was good and educational.
Very simple and easy to use
The course was well written. The information was clear and concise. While I could never get the interactive cars to work, I really enjoyed learning driving techniques. Thank you!
Thank you. I thought it would be harder.
Ronald
South San Francisco, CA
It is a very helpful course, it was a very easy to navigate
Very helpful and professional.
I WAS ABLE TO DO IT AT MY OWN PACE AND NAVIGATE THROUGH THE COURSE EASILY.
I actually enjoyed this course and learned new things. The course was easy to follow and user friendly. Thank you for the positive experience.
The registration was easy and the information detailed and pertinent to my driving life. It was long, but each part felt important and necessary and easily understood.
Although a bit long and repetitive in places, overall it was well written and organized. It was easily digestible considering the material is mind-numbing
The course was very helpful and informative. It also allowed me to complete it on my individual pace. Thank you
Because there was NO time minimum that was required on each section. I could go as fast as I wanted to go.
Patricia
Valley Center, CA
Understandable, & questions clearly asked , & liked that I was able to stop & save then continue as I pleased
It was informative and easy to read. And it seemed like the writer really cared about the safety of the person reading. It seemed like a little too much detail sometimes, but it was good
It was a simple and straight forward course
I enjoyed the new California laws
The material was well written and clear. It covered all the necessary aspects that are important for safe driving.
Very easy and helpful exam to take.
It was straight forward and was the cheaper option compared to other sites.
Very easy and understandable
I had great time to learn and had interesting time to know new information. It took much time to master for me, but it worth it. Thank you so much for all of your staff member who are very nice and helpful.
For the most part was very easy to read and understand (a few parts were a little long-winded or confusing), but I leaned a lot. It was also valuable to learn about specific laws as I am new to California and didn't know some of them. Really enjoyed the course
The course was easy when its read to you and the price was great! Thanks guys!
Simple to understand, very organized topics easy to look at. I really liked and didn't takes a lot of my time. I really recommend!
Well organized and has great instruction.
Information was great! Easy to read and understand. Interacting with the screen made this course fun.
Zinnoon
Cathedral City, CA
Information is very clear, this includes simplified registration and all related aspects to do the quizzes and final exam.
Informative. Every driver should review the info provided every 5 yrs
Really nice interface with supplemental interactive activities.
Because thank to this course I get to learn new things the are going to help me to be a better driver in road
I was able to log out & log on easily with no problems. The questions were easy to understand & I was able to answer correctly.
I found this course very informative! I learned a few new laws and reinforced others. This course is quick but very thorough. it has made me more aware of my driving!
It's very helpful to improve driving habits and understand the laws
The test material was complete and comprehensive
Easy to register, follow, and interesting
Easy to register and cheap
The course had a lot of useful information. Great reminder on how to be a better driver, avoid collisions and road rage. Thank you
Very helpful information about updated traffic rules and regulations, good driving instructions and the course itself is well-organized.
Material is very nicely organized. Easy to comprehend.
Traffic School Reviews
We consistently strive to offer our traffic school customers the best possible online learning experience - this includes providing live & friendly customer service, easy to use courses, educational content, fast processing, and affordable pricing. But don't take our word for it, here are some real, verified reviews that our past customers have left about TrafficSchool.com!