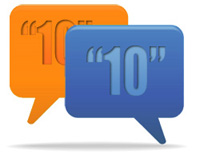 TrafficSchool.com Reviews
A Simple Question
is asked to customers that complete our online course and choose to do an optional survey:
"On a scale of 1-to-10: How likely is it that you would recommend TrafficSchool.com to a friend or colleague, and why?"
Here are a few dozen of our favorite answers:
Eduardo
Manhattan Beach, CA
Easy to understand it and to pass for the tests
Very easy but yet very informative. This option is so much easier for someone who has a busy schedule and can stop and start at any time. The read along option is a great feature to have as well.
This was an excellent refresher course. Thanks
Very informative course that will help me be a better driver. Thank You!!!
Wow, you made it easy to understand, practical with law, examples, and wording, the support tests were a great tool. The updated laws were great supporting information. I really like the class and it was affordable.
Excellent course and very easy to follow!
Great format and easy to save the page and come back to it later. Easy to read and understand, I liked the virtual tools used, easier to apply what you just read. Thank you.
Easy class and I actually learned a few things I did not know thank you
The course gave me a fresh reminder of things that I already knew but had forgotten or ignored. Thanks for the reminders!
Detailed information & easy course
The study material was precise and to the point, so it made it easy to pass the final exam
Refreshed my memory again
I had no idea which traffic school to choose and I when I found this one, it was so easy to use and helped me according to my schedule
THANK YOU IT WAS A GREAT EXPERIENCE
Louise
Fountain Valley, CA
It was so convenient, interesting and simple way of reaching the goal! Thank you for making this exam accessible to me.
Katherine
Santa Barbara, CA
You made it easy go through the whole process. It was informative and almost pleasant! You did not "dumb it down" or make it difficult to learn. The information was presented very efficiently. And I was not bored into mindlessness. Good work! I am going to be a better, more informed driver. I am glad I chose you!!!!
It is a good course covering a lot of points and very helpful
Was comfortable and relaxed taking the course and test.
It was a very simple test! meaning that I was able to pass it with a 100% grade thank you very much!!
The course was easy to navigate when I could get connected online. EVERY TIME I HAD TO CALL IN FOR HELP, ALL PEOPLE THAT I WORKED WITH WERE PATIENT WITH ME, EXTREMELY COURTEOUS & MOST EXTREMELY HELPFUL. I AM MOST HUMBLY GRATEFUL FOR THE EXPERIENCE.
It was a wonderful experience and accomplished what i desired.
Very easy to use and very understanding
This course was very important to me. I wanted to do well on the final, and I did. This was my first ticket since 1959. I wanted the information to be educational and informative, and it was. Using the audio assist, the entire procedure took longer than I expected, but it is well worth the effort. I enjoyed the course but I hope that I never have to do it again.
So very convenient. I was able to do at home Thank You!!
Easy to sign up, great price, great info, put into an easy to read format, easy to access review material, test questions easy to understand!!
Very down to earth with excellent descriptions, clarifications and examples.
It helped me a lot and learned more new things
Thank you so much for the opportunity to improve my driving record. The lessons that I learned and relearned will guarantee that I will be an excellent driver in the future. I am 65 years old and it is very valuable to have this opportunity.
Because this course is very important to me in order to improve my knowledge to drive safely
Cynthia
Desert Hot Springs, CA
Easy course. Efficient and easy to maneuver.
The information given was easy to use and comprehend. Although this is just a website, the people behind Trafficschool.com are very caring and genuinely want the student to pass without a hidden agenda.
VERY INFORMATIVE AND EASY TO UNDERSTAND AND REMEMBER
Excellent job! Very helpful.Cheap!
Easy to understand and easy to work with.
It was a good value, very informative and easy to follow. Thanks!
I THOUGHT IT VERY THOROUGH AND TO THE POINT AND FELT LIKE WHILE THIS WAS INFORMATIVE AND PROFESSIONAL, I LOVED THE DOWN TO EARTH COMMENTS AS WELL. I KEPT A LOT OF NOTES SO I DIDN'T HAVE TO CHECK BACK MUCH BUT THOUGHT IT VERY HELPFUL TO HAVE THIS FUNCTION. I ALSO LOOKED FORWARD TO THE VISUAL VEHICLE EXERCISES. ALTHOUGH IT TOOK A LONG TIME FOR ME (2 SESSIONS = 7 HRS OF STUDY FOR ME BECAUSE OF NOTE TAKING) I LOOKED FORWARD TO LEARNING AND REFRESHING MY DRIVING ABILITIES. YOU MADE IT INTERESTING AND NOT BORING. THANK YOU!
Clearly written. Excellent advice. The thoughts in these articles are valuable. Although I have been driving for 65 years, I have learned so much.
Richard
Altamonte Springs, FL
So informative and refreshing
I have gained a lot of information, new laws, and clarified several issues.
I am not very good with technology and the whole process was well guided, easy to use and informative. I liked that you included a study guide for those "not sure" questions for review. The "grade as you go" was also good for the self-esteem which encouraged you to continue.
Thanks TrafficSchool.com. Course was well written, realized what the key issues were as I read every page, and aced all the tests 100%. Electronically sent my "passed certificate" to the court, and anticipate getting the dismissal notification, all at a reasonable price. Thanks.
It was very convenient to be able to do this class in my home at my own speed. Stop for a meal or bathroom break. As much as I didn't want to do this, I did learn some valuable things.
Noreen
Huntington Beach, CA
The online safety course is reasonably priced and top quality. Easy to get through and includes a lot of references to safety and traffic studies. I learned a lot even though I have been driving for 50 years. I can see the value of taking this course every year or so just to refresh and keep up with the recommended practices. Thanks
I loved the website and the material was easy to understand and relevant.
Course was easier than expected. All information was explained well, so I was prepared to take the final exam.
It was so easy and very convenient... thanks
The course was easy to enroll in and well designed. No issues in completing it.
I was really scared because it was a lot to read and I am bad comprehending or knowing the meanings of a lot of words. I did it all by myself and I surprised myself while watching my four month old grandson during his napping. I feel that this test was very informative and it was too much for me but somehow I passed. Thank you. Thank you also to all who helped me logging in and answering my questions. You deserve a ten, thank you.
Rate this school a 10... so easy to follow and helpful with the review tests.
It was very helpful especially the new laws. It was also easy to maneuver through it.
I thought it was well organised and easy to follow.
I enjoyed taking the course because it was a great refresher of valuable information. I just regret that I didn't start the course earlier so I could have read more leisurely because it include some really important information for all drivers.
Because your website is user very friendly.
Is easy to use the course
It was easy to follow and understand the directions.
It was easy to register. The course was very informative, simple to navigate, and a breeze to complete. I would definitely recommend TrafficSchool.com for any who needs to go to Traffic School. It beats wasting 8 hour on a Saturday at traditional traffic school.
Got all good information needed for study and passed without any problem. Thanks for all your help.
Because it's simply a great way to get it done
I felt I learned some things I didn't know. I appreciated the fact I could take the course online and small sections at a time in the comfort of my recliner. I actually feel I got more out of it this way, other than sitting in a hard chair in a classroom environment for eight hours.
It was thorough and easy to work through. The quizzes at the end of each chapter was a great help. I finished course in about 4 hours.
As a 53 year young Englishman, living in the USA with 35 years of international driving experience (cars and motorcycles) the course gave me a great refresher course in the fundamentals of safe driving (I am a Father of three) and also it was heartening to see such rigorous efforts have been made to attempt to combat the use of cell phones and the risks that more powerful vehicles and heavily populated vehicles have on contemporary roads. The course was comprehensive without ever being boring, or a drag. I feel much improved as a driver - you can teach an 'old' dog new tricks. Thank you! I don't think it'd be a bad idea to make these tests mandatory on a sliding age scale for all drivers, perhaps annually - it'd be interesting to survey the statistics over a ten year time period if such was the case. I'm very happy that I took this particular course over actually physically attending a class, it made it far better economically in time and energy...and was actually enjoyable.
I found the course to be Informative, suggested good ideas and it was efficient.
Thank you for the Traffic School Internet Course. I really have learned a lot of the rules and regulations in Driving. I could recommend your school to friends and colleagues. Good day!
Well designed and informative course. Fair price.
It was very helpful and easy to follow the steps.Thank you
This course was straight forward, no advertisements and no delays.
WELL, IT SURE BEATS GOING ON A SATURDAY TO SOME RANDOM CLASSROOM AT 9:00 AM, THE FACTOR THAT I COULD WAKE UP, LOG IN, ZOOM ZOOM ZOOM, AND I WAS DONE IN LIKE 3 HOURS. ALSO SCORED 100 %. SO YES, I WOULD RECOMMEND TO PEOPLE.
Lluneida
South San Francisco, CA
The Website was very organized and professional.
Because I learned a lot about traffic laws that I didn't know before that will help prevent future road violations and safety tips also. I learned a lot from enrolling in traffic school. Thank you! This is a great opportunity to redeem myself and for others to redeem themselves from traffic infractions and road violations resulting in a ticket. I appreciate this opportunity and I am very grateful for a second chance.
VERY INFORMATIVE AND EASY TO UNDERSTAND THE INFORMATION PRESENTED
It was an easy to understand course
Really good course. I love it!
I found this course clear, easy to understand and very helpful.
The website was very user friendly.
Website was user friendly and easy to navigate.
Course was easy to follow and gave a lot of useful information, as a senior citizen, which I was unaware. Gave me pause about my own driving habits that need examining!! Tests were easily passed.
Charlotte
Laguna Woods, CA
It was very well explained
Was very informative and made me think before I get in my car and drive by abiding the rules
Course is well-explained and direct to the point. This program has been carefully done to make everything easier for the customers. I DEFINITELY RECOMMEND this website to EVERYBODY.
Easy to use and read. Learned a lot. Thx.
I loved that I was able to take the course on my time and it was easy for me to understand. The read along feature is great.
This was actually a good refresher course....well written & I liked the interactive video checks
There are so many websites for traffic school, I highly recommend this site and will share this information to friends if it's ever needed.
Worked out perfectly for me.
I found myself acknowledging information that was either particularly relevant or previously unknown. The material was well-written with few mistakes or poor word choices... I like that.
I thought it was full of all the information needed to pass the test and very helpful and would recommend it to family and friends.
I learned a lot, and it helped me extend my knowledge on California traffic Laws. Thanks a Lot
Cinamin
San Bernardino, CA
I was able to finish the course in a few evenings after work. It was easy to understand and I even put into practice a few things that I re-learned.
Because is more convenient for people who can't go to school thank you very much!
It was very easy to navigate
Very interactive and easy to absorb
I learned a lot! Even though I got a traffic ticket, this course was a good refresher to know the rules of the road. Thank you.
Your site was easy to sign up for and the study information and testing was very simple.
Very easy to go through and helpful
I found the course to be easy and user friendly. I learned some valuable things from the course. Thank You
Course's easy to understand
Traffic School Reviews
We consistently strive to offer our traffic school customers the best possible online learning experience - this includes providing live & friendly customer service, easy to use courses, educational content, fast processing, and affordable pricing. But don't take our word for it, here are some real, verified reviews that our past customers have left about TrafficSchool.com!