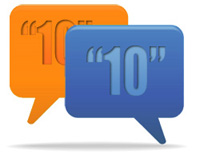 TrafficSchool.com Reviews
A Simple Question
is asked to customers that complete our online course and choose to do an optional survey:
"On a scale of 1-to-10: How likely is it that you would recommend TrafficSchool.com to a friend or colleague, and why?"
Here are a few dozen of our favorite answers:
The course was clear, concise and easy to follow. I actually learned about new California laws too!
Not my first "rodeo" - can compare to many other schools online and in person and this by far has been the most user friendly! I hope I never have to do this again but if I for some reason have to you can be sure that I will, without a doubt in my mind use this school! Seriously, you folks have done it right! Thanks so much.
Yulduz
Huntington Beach, CA
Excellent! I received good knowledge and practical advices how to drive safe!
Because I like all of the information and I understand the questions and because I like to do in my home in my time.
Because this is more convenience than walk in the class
Great course easy to understand, and to the point of what you need to know.
Sarina
Pacific Palisades, CA
It was a good simple concept
Very informative classes and educational
THOUGHT CLASS WAS REALLY INFORMATIVE & WOULD REFER TO OTHERS
Well, I am hoping that they have small fingers, so as not to accidentally press incorrect answers as I did, but as for the assistance and promptness of the assistance given, I am forever grateful!!!!! My anxiety discourages me to points of almost turmoil when I get overwhelmed and confused. Thank you Eric, Co-founder of trafficschool.com! Without all your help and direction I would be lost! I couldn't have chosen a more perfect fit for me. May you continue to be the same inspiration to those out there whom suffer from similar downfalls, and uplifting to those who just need that support! You have been amazing! As for the courses... I learned quite a bit! While reading can take me forever, I got through them with little discomfort. I will definitely be putting my newfound knowledge to use!
The site was easy to navigate, the material was clear and to the point, the section exams prepared you for the final. I highly recommend TrafficSchool.com!
The course is very complete with everything you need to consider and know when driving from every angle and aspect. I learned things I didn't know and discovered how my memory can lapse in just a couple weeks from reading the content and taking the test. I was not pleased with myself for missing 3 answers:( I definitely recommend this learning process. Thank you!
Professional website, well structured course, easy to navigate.
As a retired professional educator, I was most impressed with the business-like presentation, with easy to understand explanations provided. I would recommend you to any who ask! And you were picked at random from the lengthy list of available course providers
It was complete and easy to follow
I'm not to good with internet but you folks made it simple THANKS
Outstanding experience! This course was extremely thorough and simple to use! Highly recommend! Thank you!
Very well laid out and illustrated.
The course was very detailed and informative. I was updated on many Safety Laws.
It's very helpful and goes over everything you need to know.
It's was easier than what I expected! I loved that I could save where I left off and continue once I was ready!!
Learned a lot of new laws
Course was as advertised and informative
Study material was given easy to read and understand.
James
South Lake Tahoe, CA
Amazing course. I learned so much from this course. Everyone should do the course with the aid of hearing it read along with reading it. Very helpful in getting through and retaining course information. I also learned a whole lot about aggressive driving and how close it can turn into road rage. I've always had a bit of those tendencies and now see how foolish those traits are. Thank you for creating an AWESOME course of correction.
It was easy to understand
Great material, easy to read and listen, very organized and well structured. Thanks
Easy to follow instructions. Material was relevant and easy to understand. I hope the processing is as smooth as registering and taking the exams.
Mario
Rancho Cucamonga, CA
TrafficSchool.com gives much needed instruction, advice, rules of the road and California vehicle codes that make the driver aware of how they should drive, behave, maintain their vehicle, and ensure the safety of their passengers and themselves. I was also amazed that the owner of the school should personally contact me about completing and proceeding with the class as well as answer my telephone call. A very considerate and ensuring his students are satisfied.
Very simple and very productive and fast
Your course was to the point and very easy to read. The picture scenarios were a nice addition. Thank you.
As I said on Yelp: Easy, quick, great price, and informative! Thanks so much!!!
The online traffic school program was clear, easy to follow and very helpful. I liked the feature of being able to pause or stop at any time.
Bradley
Rancho Cucamonga, CA
The school had valuable information. I thought the test was fairly easy.
The material was presented clearly and succinctly. The cost was great. Being able to do it in the comfort of my own home was great too.
I really enjoyed your course. It was professional, interesting and easy to navigate through.
This course is very informative and very well laid out for studying easily, and especially the price is very fair. Thank you for your excellent services. Highly recommended.
It was easy, affordable, and quick
Christina
San Bernardino, CA
EASY LETS YOU RETAKE TEST
This course was easy and taught me a lot. Thanks, TrafficSchool.com!
Every chapter was clear and questions where very well selected
I thought 1. You gave me good data 2. You spoke with a clear and intelligent "voice" 3. Always to the point Thank you and to the people that wrote this ...many thanks to you and whomever taught you.
The course was easy to use and very helpful
Soufiane
Playa del Rey, CA
Experience was Great & Seamless
This course was informative and thought-provoking. I wish I hadn't had to take it but it was good for me and has definitely influenced me in a very positive way. Thank you!!
Lessons are clear and precise.
I found this course to be fairly easy to understand. Thank you so much
Margaret
Lake Elsinore, CA
Test was easy to follow, and was great that you could take your time.
Easy, able to study at your on pace.
Because you have a good deal and you are a great company
It's a complete course, it contains a lot of information. I learned a lot more than I expected.
It was very easy to understand
Very clear easy to follow reading
I had a instruction question and registration question that the web did not answer for me and needed a live body to talk too. I called left a message and request and I GOT A CALL BACK! A REAL HUMAN BEING!
Easy to read and convenient
Did a great job communicating the information. Liked the tests at the end of each chapter.
Easy instructions to follow
Lots of useful information all drivers should take it annually
The course was clear, I could do it at my own pace, and the quizzes were very helpful. No stress
Being able to take this course at home was very helpful and convenient. I was able to take intermittent breaks without missing any information vs. being in a classroom environment where I might have had the need to take break and miss prudent test information. I had started to read the text without the audio, but when I activated the audio it was awesome to read along and much easier. It kept me tuned in word for word and rewarded my self with a 100% score. Thank you so much!
Very easy to navigate through, simple process and quick explanation walks you through the process. Recommending highly to anyone and everyone.
Because I thought it was thorough and very enlightening
This website is very useful if you don't have time to go or give up a day to go to traffic school location.
It's easy to do online with busy schedule
The course was very informative, clear and easy to read. I encountered no problems in completing the course.
I recommend TrafficSchool.com because is very interesting topic.
I gave you this rating because I easily and successfully completed the course. The test questions however were not very challenging. I probably could have passed without reading any of the material though I would have not scored as well. More challenging questions would ensure that users will read carefully and pay attention to what they read.
I find this course very informative and a great tool to improve my ability to drive my vehicle in a safe and correct way
Christine
Thousand Oaks, CA
Learned from this process. Thank you.
Thanks for letting me breeze through this course in less than 8 hours, I'm a busy guy.
Very nice program gets right to the point and the questions are straight forward easy to understand. Awesome
Lots of information and helpful animation of traffic situations.
I love the fact that I learned more that I was expecting, also that you guys have the read along which was amazing, and save and log back in was very convenient
Course was very easy to understand and the reading material was easy to read.
This traffic school program is very helpful to the American drivers in acquiring driving knowledge and skills to promote safety in our streets and freeways, thus saving lives and properties.
Great course. Easy to understand. Website is very well done. Easy to cruise through the whole class. I am very happy I completed my requirement with this course. Thank you
Amazingly inexpensive and easy to use program. Informative and fun besides being extremely quick all from the comfort of my home. 5 star rating and I will recommend this site to everyone I know should they need a traffic school course.
Very easy to navigate. Course material was easy to understand and access. Great deal on the price and various options
I am 73 years old and an experienced driver who lives in a sparsely populated mountain area. Driving to San Francisco is never a pleasant experience and the downtown traffic is mind boggling. Your course illuminated several techniques for dealing with driving stress and avoiding aggressive driving responses. I believe they have improved my driving!
It was easy to navigate and I learned a few things about new regulations.
The class was very simple and user friendly as well as being very informative with the visual aids.
The information given was helpful in making me more aware of what I need to pay attention to while behind the wheel.
Clear direct and well written course, with a connection to real world driving
BECAUSE EVERYTHING IS VERY CLEAR AND EASY TO UNDERSTAND AND I LEARNED A LOT OF THINGS
This traffic school is awesome I recommend it to everyone
Augustina
Stevenson Ranch, CA
The course taught me a lot of details about driving and the law, but also, it taught me to have a different attitude and to concentrate more on how to approach driving. I did study hard, but it was not a negative or difficult experience, it was interesting. I was scared of the test the whole time, but it was not at all a bad experience!
Muhammad
South San Francisco, CA
Very good I prepared for all my needs so I wouldn't get in a collision and it helps me get prepared more and helps me fix my driving techniques.
Knowing the rules of the road is very important can save one's life and keep you safe while driving.
Because it's may efficient enough and you save time
Abigail
South San Francisco, CA
You present information clearly. I'm learning a lot.
This course was very simple to follow, at no point was I confused or left wondering about the material. I loved how you don't have to take the course all at once but can finish it at your own pace. The contact was very informative, simple, and to the point, while also having some visual demonstrations which gave examples of everyday driving so I would definitely recommend this course to anyone having to take traffic school.
Traffic School Reviews
We consistently strive to offer our traffic school customers the best possible online learning experience - this includes providing live & friendly customer service, easy to use courses, educational content, fast processing, and affordable pricing. But don't take our word for it, here are some real, verified reviews that our past customers have left about TrafficSchool.com!