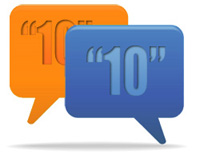 TrafficSchool.com Reviews
A Simple Question
is asked to customers that complete our online course and choose to do an optional survey:
"On a scale of 1-to-10: How likely is it that you would recommend TrafficSchool.com to a friend or colleague, and why?"
Here are a few dozen of our favorite answers:
Was quick simple and cheap thanks
Information was clear, concise, and easy to understand.
Jacqueline
Los Angeles, CA
It was clear and easy to understand. Not a 10 only because a lot of the information was repetitive.
Ana
Rancho Santa Margarita, CA
Explains things well I really enjoy!!!
This course worked around my work schedule and very easy for me to understand thank you
Great Program, I Really enjoy it. Easy, and fast. GREAT JOB ON THE SITE
The course was easy to understand, yet was very informative. It encouraged good driving behavior and made good suggestions to avoid accidents and road rage. My only concern was that the test questions offered alternate possible answers that were really nonsense and did not require you to think very seriously about your answer.
This was a very comprehensive course! It is amazing how much you think you know until you take a course like this. I learned about features on my own vehicle that was working for me and keeping me safe.
Excellent and clear study to guide us to answer correctly on our exam very useful
Course was easy to maneuver through, clearly written and geared toward helping you be successful.
This website is the best, one of my friends recommend me this website. Due to the fact that the DMV gives you so many options don't even know which one would be best. Thank you!!
The information was easy to understand and retain
Even I got 100%, and I'm one of those who reads a little to fast to understand the questions. So I did slow down and took my time and it went fine.
CLEAR AND GOOD INFORMATION
It was easy to follow the steps, very helpful, It was so easy!!!
Easy to comprehend and I was able to go my own speed.
Very clear and informative course. No trick questions! Exam reinforced the course without being overly difficult.
Access and easy to follow and use.
Simply because it was worth it, Thank you
The program was well thought out, driving videos were excellent. Even though I wished I didn't get the ticket this Traffic School was a great way to refresh my knowledge of the traffic laws and as I stated very well thought out. Thank you
Good contents, smooth going, enjoyable experience. Keep up the good job!
Great course. Easy to navigate, informative. Helpful
It completely met my needs for a good price.
The course was convenient and easy to assimilate. Presentations were short, direct and engaging.
Easy to follow instructions. Reasonable pricing.
Milad
Rancho Santa Margarita, CA
The Audible option is great. Also having access to the study guide during the test was helpful. Good price and responsive team when I asked questions.
This was a painless way to handle a highly stressful event and for that, I shall be forever grateful.
The information was written in a very informative and interesting way. The quizzes and test were easy to complete with the information given.
Not too hard to handle all those questions after went thru the course.
All of the information was easy to understand and extremely useful. I've taken traffic school in the past that was so complicated, I felt like it was a college seminar and I wasn't able to retain most of it. This course was excellent, common sense, and enjoyable. Thank you! I will practice on what I've learned because I understand the impact.
This course was surprisingly easy to use & informative! Very user friendly & any questions or problems I experienced were answered/addressed the next day in person! Pleasantly surprised by the response time & personal attention! I liked the way the information was presented & organized- I really liked the visuals & videos! & I appreciated that I could find & reread selections pertaining to the quiz & test questions!!!!! I liked that I could work on my own time & save & return to the place I left off! Best traffic school experience!!! I highly recommend this course, plus I got a great special price!!!!!
Theodore
Granada Hills, CA
It is easy to understand and is easy to access. Awesome!
SO MUCH FUN! Made it really easy and simple, really enjoyed the experience.
This traffic school course was very helpful and an eye opener. I realized that I need to develop more safe-driving habits. Thank you.
It was easy to complete and easy to understand.
I really dreaded having to take this course and procrastinated for more than 2 months to start. Foolish on my part. It was a very good course. I did not feel as if I was having a judgmental finger wagged at me. Thank you.
George
Huntington Beach, CA
It was a lot of reading.. 😅But very educational👍
Because you can go on your own pace and speed on this site
Thank you so much not only did you take my stress away but I enjoyed the course. The way it was written with the videos in between lessons and no time limit makes it light and a breeze to go through. Would recommend to everyone.
The course was easy and useful, a good reminder of traffic laws, common sense, etc.
I found everything to be explained so that it was easy to understand and made me feel comfortable.
Because it was a great experience
Everything was easy to do.
It was easy to work with and I appreciated a lot information I got taking traffic school
Content was relevant and helpful, easy to maneuver!
This was easy to do on my own time
Navigation of website was good, and everything made sense and went smoothly
Because the traffic school full with info
Easy to read and understand. Also, I learned some new information about safe driving and traffic laws
Course was appropriate and simple
The traffic school was inexpensive, fast to complete and easy to understand!
I thought the online program was easy to navigate convenient to my schedule and very informative the things that I didn't realize I didn't know awesome course highly recommend it
The course was informative, specific, easy to understand and read.
IT WAS VERY EASY TO UNDERSTAND.
Your material is very good, I would send my child to this course, it teaches comprehensive driving skills, defensive driving, common sense etc
INFORMATIVE EASY TO FOLLOW
I really learned some things and honestly was not expecting to. It was efficient and not difficult to achieve. Pleasantly surprised and actually glad I chose to do this!
IT IS SIMPLE AND AFFORDABLE.
The course material was clear, concise and well-organized. The curriculum is easy-to-follow and very informative. I appreciate that the intermittent interactive scenarios reinforce the material covered within each section and give you a momentary break from what is a considerable amount of reading. I learned a lot from this course and would highly recommend it to others.
Louise
Pacific Palisades, CA
It was easy to understand.
English Lit major that I was, I notice the grammar in writings and found only one such error that jumped up at me:) Seriously, I found the writing excellent, not overly long or redundant. Were I a non-English as a first language person I can also well imagine the writing would be understandable. The layout seemed to me as good as one could imagine or expect tho I have not seen any other schools program....blessedly, this is my first ticket in ages :)
Ease of use and no outside distractions. Clear and concise information clearly given on each section. No surprises.
Easy to sign up, to follow, and explained things clearly. The visuals were helpful.
Margaret
Laguna Niguel, CA
I liked the format of your website, and your organization of the material to be learned.
Easy to follow, understand.
It was truly easy and educational a great refresher course.
Not silly, to the point, easy to use, and some useful information
Very easy to navigate and extremely informative. Made it fun.
This was the best. It was affordable, easy to understand, I learned a few things. Except for the cost of the actual citation, I'm also happy I had to take it and wish everyone had to review the rules of the road more often. Thank you for making this as good an experience as possible.
Easy to understand material.
Reasonable cost. Self paced with appropriate information. Section tests without trick questions and immediate feedback with explanations.
Was great experience learned a lot very easy
I gave a 10 because the course was user friendly, easy to understand, informative.
Very important information
Good information, thorough, and inexpensive.
I enjoy doing it at my pace in my own home, loved it thank you
I found the course very informative. The tests didn't use verbatim answers from the text, but made you think. The video examples were very helpful.
I found the website and the training materials online easy to read and understand.
It was to the point and was well understood and was not misleading.
It was easy to read and go back to parts. I really did learn something.
Your internet traffic school was very easy to enroll into, was very informative. And you guys did all the rest, like sending my certificate to the courts. Overall I was very pleased. To all the people out there this is the course you want to take.
Course information was helpful and well explained. User friendly.
Entertaining & educational. Loved the quick videos. Less frustrating for fast readers. Didn't have to read then wait, wait, wait for the time to be up.
Gavina
Rancho Cucamonga, CA
This is my first time taking an online traffic school, I find it convenient and easy to understand.
Benjamin
El Dorado Hills, CA
Well thought out. Easy to use. Lots of text, but no errors. Just simply well done.
System is easy to understand and navigate. I liked the module format and that I could exit and enter the system without losing my progress. LOVED that my due date was on the dashboard to remind me of when I needed to complete by.
So much easier to do than going into a classroom when you don't have so much time to spare. The topics are great and interesting and I felt like I learned a lot of new rules and regulations that I never knew of. I also refreshed my memory of the laws I had forgotten. I think this should be a requirement for people that renew their license so that they can keep up with the new and updated rules. I enjoyed using this program and site. Thanks so much!
IT WAS VERY EASY TO UNDERSTAND AND HELPFUL
Because your course, both online and on the workbook was well explained, well paced and easy to follow. Thank you again and I will recommend you to anyone that need to go or to refresh their knowledge of driving in this wonderful, crazy, California environment.
I found this to be very informative and feel that this is something I will have my children complete as new drivers. Thank you for this information.
Amanda
Rancho Santa Fe, CA
I would because it was pretty good.
Easy to navigate on good information
I learned a lot from the lessons provided, very informative, concise and easy to understand. Covered a lot of aspects in safe driving including the new laws.
Great course! Keep up the good work.
VERY CLEAR AND WELL WRITTEN THANK YOU
Traffic School Reviews
We consistently strive to offer our traffic school customers the best possible online learning experience - this includes providing live & friendly customer service, easy to use courses, educational content, fast processing, and affordable pricing. But don't take our word for it, here are some real, verified reviews that our past customers have left about TrafficSchool.com!