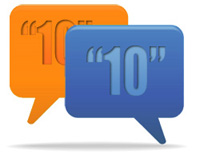 TrafficSchool.com Reviews
A Simple Question
is asked to customers that complete our online course and choose to do an optional survey:
"On a scale of 1-to-10: How likely is it that you would recommend TrafficSchool.com to a friend or colleague, and why?"
Here are a few dozen of our favorite answers:
It is very simple in work, easy to understand, and very convenient and educational. I understood almost exactly everything taught here!
It's was plain clear n easy to understand
Very easy to access and informative. Work at my own pace.
Convenient, and I am already noticing my driving is more focused
The program was easy to read and get through. I like the option of saving and returning to the program without time deadlines. Thank you!
Simple and easy to understand.
Muy buen servicio genial lo recomiendo
The website is easy to navigate. The course is easy to follow and contains information that addresses specific AND non-specific, but useful info. The writing is succinct without "dumbing down". The interface is easy to read across different platforms and devices. All in All? Better than I expected!
Great explanations, great format, and not difficult.
COURSE VERY DETAILED AND EXTENSIVE IT COVERS ALL AREAS OF TRANSIT AND TRANSPORTATION VERY USEFUL AND PRACTICAL
The important thing for me is it wasn't stressful and very educational
It gets the job done and nothing else. The work in putting it together is obvious and I never thought that any of my time was being wasted.THANK YOU
Susan
Rancho Cucamonga, CA
2 weeks ago I started a long, unedited, confusing online course. I gave up and registered for your course. Wow! I was happy from the start! Your course is well written, very clear, great examples, perfect length, and I learned a lot!! Thanks so much for the study guide so I can refresh my memory as needed. The person I talked to was great also. Thank you for a great experience!
I was able to learn new information that will help me become a better driver
Website configuration is excellent
Really appreciated clear and easy to understand/comprehend sections. Useful quizzes. Well-written and useful tests.
Patricia
Marina Del Rey, CA
The information presented was quite helpful for learning about ongoing driving experiences. Many thanks.
It was presented in a way that was informative.
It's so easy to understand with clear points, also, I have learned more updates of the New laws
It was easy to follow and I learned about the new DMV laws! Thank you!!
FROM START TO FINISH, I HAD NOT ONE PROBLEM OR INCONVENIENCE. EVERYTHING WAS SIMPLE AND QUICK. I LOVED EVERYTHING ABOUT THIS WEBSITE. THANK YOU TRAFFICSCHOOL.COM
Easy to navigate and complete.
Eduardo
Foothill Ranch, CA
I enjoy and learn a lot in this school. For me it is not boring but interesting it gives me more additional knowledge in safe driving.
Very easy to pass if you read all the chapters
Very inexpensive, to the point information, was like a school course, not very fun, but very helpful. It is affecting my driving in a positive way.
I learned a lot from the course
It was easy to use the program
It was a great course, I loved how Trafficschool.com offers the voice over reading, I tend to fall asleep when reading things personally. The little examples with the yellow car were great too, they provided good visual situations to learn from. This course was very easygoing. Thank you!
Because it's great I like it
Very easy to navigate through site
The material is easy to read, you cannot cheat, the program force you to take your time to read everything before going to the next page and it really refresh your memory about what's going on around you while driving.
I found you on yelp and decided to take a chance. So glad I did, the course was straight to the point on every chapter and love the feature of saving and continuing whenever time permitted. I did everything in about two weeks. It was a great experience and I also refreshed my memory with some of the information in the course. I will gladly recommend you to anyone needing to do traffic school. Thank you very much.
Easy to understand course.
The course was easy and inexpensive.
Very well written with many sound tips
I compared different traffic schools on Yelp reviews. This came up among the top results, and all the reviews I read about it spoke very highly of it and specifically about what the reviewers liked. This lived up to every claim made, I found to be very well-designed from a human factors/user-friendly perspective, and made this process (of traffic violation education) the easiest I have personally experienced so far. Easy and fast are not things one would expect from any traffic school program, but this one provided both! Thank you for making this a painless process.
It is a very through coverage of everything one needs to know about sharing the roads on highways and surrounding areas for drivers, motorcyclist and pedestrians
I think it would be nice to give some more visuals (drawings) for u-turn/left-turn/intersection scenarios. Otherwise, it was really nice! Good job.
Matthew
Valley Springs, CA
The course was very convenient because of the accessibility of it. I was able to take it at home when it was convenient for me.
Because your online course was very convenient and allows you to work at your own pace.I scored very high yippy. Thank you Traffic School.com
Like most busy people living in Los Angeles, I completely forgot about my driving school being due tomorrow! I was told by my friend to do my traffic school through you guys. It was enjoyable and to the point. I actually did learn a few new things and re-assured me on what I already knew. Thank you guys so much!
Because it's very convenient & also it's easy System to use.
The online course was easily understood as well as for the exams after each sections. I would highly recommend this online course!!! Thank you!!!
It was easy to sign up, easy to access, easy to maneuver and very informative.
It was user friendly and flawless. Took 3 hours to complete, but well worth the time and money. Thank you.
Its user friendly gets to point no password to come up with
Stuart
Sherwood Forest, CA
In truth, I gave this rating because it is seemingly impossible to fail this test unless you are illiterate. The vast majority of the test questions were so obvious as to be worthless. If someone wants to skate through this material, this is the course to take.
James
New Smyrna Beach, FL
Way more enjoyable than i was expecting....
100% approval rating for a very professional traffic school website
Your Questions were to the point, the actual laws were there for reference. It was extremely user friendly and I got a lot out of the class.
Easy to follow and I actually learned a few things. Some laws have changed since I took the class 10 years ago, so it was a good refresher.
The study lessons and audio listening was very thorough
This was at my own pace; after a couple of successes at 2 or 3 chapters in study, I realized I was actually learning from this course; safety for driving skills; that I can maneuver and apply behind the wheel!
I gave you this rating because it was easy and simple to do.
Stenio
West Palm Beach, FL
Your online program ran very smoothly. I didn't have any problems at all getting thru each step. Thank you
Overall, good course and very informative! Thanks.
Sumaithri
Mountain View, CA
Enjoyed the course, good pace and efficient division of the material.
Reasonably easy and clear, though boring, of course. Not much to complain about. Thanks.
It was very easy and fast to complete my course and take the final exam.
This easy to understand and straight to the point. Kinda fun also. Plus I learned something new!
Because it was easy and informative.
Because I think it's necessary for drivers to take the test at least once a year to make themselves better drivers.
Great information, easy to follow
It was easy and practical...
Everything was so easy and simple to complete my class on line fast.
It was fast and comfortable
Cause you're Awesome like me
Good course, very educational. Simple to navigate and cool facts.
Clifford
Lake Elsinore, CA
Very easy course but lengthy.
Great class, provide helpful information
Charles
Fleming Island, FL
I felt the information was very important and relative to actual driving awareness and responsibilities.
The course is great because I am very busy and I could leave and come back to where I left off as needed. There is a tremendous amount of reading so I had to get up and stretch a lot. I did learn about new laws and was reminded about laws I may have been lax on.
This course is helpful and informative
The course is very informative and understandable and the material and the audio makes it very easy to comprehend
Excellent refresher in a non-stressful environment.
Ease of use and effective way to learn
Content is good. Adam was nice so kind
Because the class teaches the importance of the privilege to have a driver license and shows facts that help us to become a better driver, regardless of road conditions or situations
Very convenient for a client who works during weekdays, also very informant.
Very easy to understand and I can take the course on my computer laptop tablet or phone
Easy and very informative
It's a very complete course
The information was presented clearly.
Christopher
San Francisco, CA
I enjoyed this course and I learned a lot from it thank you
This course was and is very informative and complete with a lot of brain storming and critical thinking questions that make you think. I like that about it. Thanks.
It is very informative and clearly comprehensive
Simple to do! Very informative
Traffic School Reviews
We consistently strive to offer our traffic school customers the best possible online learning experience - this includes providing live & friendly customer service, easy to use courses, educational content, fast processing, and affordable pricing. But don't take our word for it, here are some real, verified reviews that our past customers have left about TrafficSchool.com!