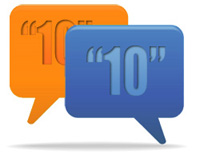 TrafficSchool.com Reviews
A Simple Question
is asked to customers that complete our online course and choose to do an optional survey:
"On a scale of 1-to-10: How likely is it that you would recommend TrafficSchool.com to a friend or colleague, and why?"
Here are a few dozen of our favorite answers:
I gave the rating because when I needed help someone was always available to to talk to me.
The course was easy to navigate and was extremely helpful. I learned a lot. Thank You
I believe this is way easy to get the traffic school on line
Clear information, just enough video enhancement, and a couple of good gag answers to lighten the process. A well planned course and format.
I personally Enjoyed the Traffic School, it was EASY and Overall, had an Comfortable Pace with the course
Very easy to understand and the online system was easy to navigate. The animated video illustrations are a nice feature that helps you identify with real situations. Thank you.
amazing traffic cite fast and easy
Nanette
Marina Del Rey, CA
Very Helpful, reading & voice translator made it enjoyable & well worth the time. Thank You
I really enjoyed the simple, informative format (with hints of humor). The "yellow car" features were a nice touch and change of pace for checking knowledge. Your prices were very reasonable - while I hope I don't have to, I'd be happy to use your services again!!
Excellent process. the use of the audio for an additional $4.95 was awesome. Many thanks
because it was easy to use and it was good to have a refresher on our driving laws. Plus I really appreciated the section on aggressive drivers and road rage. Its so common these days and its good to learn how we should deal with it. plus the reminders how take care of myself and my stress levels. very informative
Good content and good price.
it was professional and easy to the point
Alroohi
North Highlands, CA
Because they Explain everything in details
The course was organized very well and the reasoning behind the answers to the questions was explained.
this class was easy to follow and informative.
Because it was very easy and I learned a lot I will be a better Citizen. Thank you.
Easy to use, and very simple format no complications at all.
Class was honest and straight to the point.... Price was fair
Easy to understand. Awesome!!
I highly recommend this course! The online course offered great readability of D.O.T's regulations. It made it much easier to understand, making me a much better driver. Thank you!
Because I really enjoyed the subject matter and it's very important facts about the driving laws. I feel like it was very informative and necessary to enhance my driving skills.
THIS IS MY FIRST TIME TO USE THIS COURSE AND IT IS THE BEST ONE I HAVE EVER USED.
I gave this rating because the coursework was not that difficult and the material learned overall was valuable and important to know.
The course was fast, easy and a great value.
Easy. Cheap. As fast as is possible for something like this. A no-brainer!
It allows you to take the quiz at your own pace and time (before your court due date).also it is affordable. Keeps your driving record clean does not affect your insurance rate. And makes your a safer driver.
It was informative, fast and fun.
Very good school and easy course to do also informative
Very informative and great staff. I greatly appreciated the ease of logging on each time, staff follow up on registering and beginning the course and helpful staff. Ty
The whole process was simple and easy to understand.
Self explanatory easy to understand no problem at all
You are affordable and easy to read and understand.
I especially liked the voice recorded narration. I used earbuds and read along. Also it's a cool idea that you added reading speeds. What is fun too we're the Yellow Car practice scenarios.
Fair and informative. Not intended to trick or confuse.
Registration was fast and straightforward. Course was easy to read and understand.
Was super easy to navigate and got feedback for wrong answers immediately. Would definitely recommend.
This course was very user friendly & reasonably priced. I was pleased that the DMV was notified of my Course completion with in an hour or so after I finished. I highly recommend TrafficSchool.com to anyone who may need it.
This was convenient, simple and informative! I used three days at various times to complete and learned a few things I have forgotten over the years. I think it's good to review the laws every now and then so maybe I can avoid a ticket later down the road. It had been about 20-25 years since the last one so a review was valuable to me!!
it was very convenient and very easy to follow.
WELL DONE PROGRAM & DATA PROVIDED. I LEARNED SOME NEW THINGS !!
I have been driving for over 50 years and much of what the materials covered was not part of what was taught back in 1968 when I got my first license. I registered a couple of nights ago, but did not do more than look at the first few pages of materials. I got an email from Eric Creditor, who represented himself as the school's cofounder. He took the time to answer my concerns and asked me to call if I had any more questions or concerns. As I took the course, with the upgrade of the audio, The audio upgrade was money well spent and without it I know I would have spent much more time reading myself to sleep. I was pleased to learn many new things and appreciate your approach, except, I really didn't know what upgrades were necessary. I know I paid for too much, but I didn't want to take a chance that I overlooked something important. Thanks to you and Eric for taking the time to put me at ease and help me through this experience.
TrafficSchool.com is very, very helpful!
Because every thing was easy to follow and understand. Thank you all very much...~!!!
It was simple & easy, no problem
ITS VERY EDUCATIONAL AND PROPERLY RUN EASY TO NAVIGATE...
Customer service Dept assist me with everything. Very convenient I'd highly recommend!!
Very simple and easy to follow.
It was better than I expected. Good course and I learned more things than I ever thought I would.
The course is easy to understand and can be done in free time at the speed i want
I would recommend trafficschool.com, because I refresh some important law to drive in a safe. The course was easy to informative, easy to understand. The like the little yellow car video with questions. In addition, when I needed help, I called your number and always receive a friendly polite person, who understood my questions. Everyone I talk to was very informative, when made my experience pleasant and smooth. Thank you for the good experience. I would recommended and rate this course a 10
Excellent and informative, user friendly. Thank you
William
Citrus Heights, CA
Interesting scenarios, loved the videos, appreciated minimal time spent on forgettable distances, dates, and speed data.
really well thought out course and well written and very clear. the optional upgrades are really helpful. the audio feature i found very helpful and glad you had it.
Luzviminda
Citrus Heights, CA
I enjoyed your up-to-date explanation of traffic policies and rulings. Keep it up!
Because it was simple to understand and quick. It covered everything I needed to know and more. Thank you.
It was everything advertised.
Course was well written, easy to understand, and easy to navigate.
Easy to read and understand. Excellent information.
Dineshkumar
Victorville, CA
Is an very good course. Well explanation. Easy to understand. Also interesting test after chapter which are useful in final exam. Thanks to the management team
It was pretty seamless in learning and understanding with just the adequate mind absorption for every section It wasn't long. Interactive Go and quiz enhanced memory. Thank you for the perfect ride. I enjoyed the refresher course.
IT IS A GOOD ALTERNATIVE RATHER THEN GOING TO CLASS
Thank you so much for making the process understandable without having to ask too many question.
The course was easy to follow and very helpful in important reminders. Great course!!! Well Done!!! :)
The price is right. Your school provided me a complete defensive driving knowledge that I need and an assurance to pass the whole online course. KEEP UP THE GOOD WORK !!!
Course consistent with final. Excellent customer service.
It was easy to go through each lesson. I liked that I could do this course on my time. The lessons were easy to understand. Thank You!
The information was great and I refresh my driving habits with great information, thanks!!
because so simple and understandable question
I am 100% pleased with this course!!! I found out about TrafficSchool.com from my child's driver's ed course (Drivers Ed Direct). They were so pleasantly nice via phone that I asked if they offered traffic school; and surprisingly they did! I purchased the: Electronic to Court & DMV delivery (for a faster delivery) A Completion Certificate Copy sent to my email (proof for my records) Audio Read-Along feature (I increased the speed of the audio to help me get through each section faster) Rush Certificate Processing (due date was in 2 days) The website and the material was easy on the eyes and not too busy, easy to follow along and educational format was easy to understand. The course also had animated intermissions that quizzed in between the sections. It also provided a study guide to help you along the way. I scored 100% on the quizzes and final exam! Then within minutes, I received my electronic certificate and a follow-up email to confirm. Highly recommended!
Everything about it was great, easy to use the technology and to complete the course!! Thank you!
Super easy to follow great instructions!
The course was very user friendly, easy to understand the materials and provided clear content. It was easy to log back in if I needed to, so I appreciate the self paced course. I'm very PLEASED with my purchase and would HIGHLY recommend TrafficSchool.com!
Very good details, text very easy to understand and follow
VERY SIMPLE AND EASY TO DO WAS JUST LIKE HAVING A TEACHER TAKING ME THRU THE COURSE WELL PUT TOGETHER THANK YOU
English is my second language and the traffic school was super easy for me... Thanks
The course has definitely helped me in understanding my role in sharing the road to other drivers. It also gave me a review of the traffic rules and regulations that needs to be followed. Course is well outlined by the different sections and the end of the review quizzes. I was glad to have enrolled in this course thru your school. Thank you.
It was easy and convenient and direct and informative. You could take a break when needed.
The Prosses was simple and direct. I Learned a few things along the way that will be useful moving foreword. I appreciated the opportunity to have the pop up quiz during the segments which were helpful along with the explanations and the ability to use the guides for review helped me to understand and remember more clearly. Thank You
Easy, simple and common sense. I enjoyed taking this traffic school course. Also very affordable. Thank you trafficschool.com.
Timothy
San Juan Capistrano, CA
Easy web navigation, registration and completion
This course covered a lot of information in a clear and concise way. Very user friendly. Thanks
Super user-friendly, good pacing of lessons and great refresher info. Easy to read font and layout. Thank you.
Cheap and effective. Took 90 minutes to complete and pass the final DMV test, I am 63 years old. Excellent explanations, and questions that get you ready for the DMV test. I do drive a lot and like to drive but never had an accident but do have plenty of speeding tickets. I got 100% on my first try.
This traffic school course was very easy and affordable. You can work on the course at your own pace . You can read the question in a multiple choice set up and choose the best answer. I recommend this course to anyone that is required to do traffic school on line.
the website so simple and easy to navigate the options, no Ads and the course very detailed and full of useful information
It really help me understand!!
It was a great experience and easy to follow! Thank you!
It's wording was understandable and didn't feel pressured and there's been someone to talk to when I had a question. You conveyed reassurance
Outstanding course. Thoughtfully laid out, timely animated pop quizzes, manageable section tests, and most of all a website that was easy to register for without a bunch of hidden costs. Highly recommended.
I enjoyed taking the course, it was effortless, to the point and user friendly. I am glad that I choose this TrafficSchool.com. Thank you.
This course had sections and divisions that made it feel like it wasn't too long to read through each section. The writing was excellent because it used easy to understand phrases and common words. The pictures where just the right amount and also helpful to help you remember what you were reading. My favorite item is that you could take this course online from your home and could space it out. Thank you so much.
You covered everything I needed to study and pass this course! I passed it on my 1st try & taking notes is my style of learning while the extra quizzes really helped! I definitely recommend Traffic School!
You are AWESOME. Easily understood
It was very understandable I really like the audible plus the price of the online school was very reasonable I think this is one of the best online traffic school courses that's out there
This site offers one of the most budget friendly courses. And in additional, the course was simple, straightforward, and easy to navigate. 10 out of 10 would use in the future if needed, and would definitely recommend to anyone. Best choice all around!
Satisfied plus got valuable information 💁plus I got 100 %
Your material was not "fluffy" words. It got right to the heart of the lesson. I liked the animation, as well. Thank you for using correct grammar, as it makes me think that a smart group put this together.
Nancy
Pacific Palisades, CA
The material was presented in an easy to understand manner. The examples were very helpful. The chapter quizzes helped to focus on the important issues. It was very worthwhile experience even without the incentive to do so.
very easy to use, to the point, questions were clear. I had trouble registering and understanding my ticket and when I called customer service someone picked up immediately and was very helpful and clear. affordable price too.
It was the most informative and fun traffic school I've ever attended. I loved the audio option...actually thank god for the AUDIO option! Thank you I will use this site again if need be...hopefully I wont have to...and I would recommend to any of my friends.
No pressure easy to register good experience
great price, easy to go through, multiple attempts, cover the processing fees
Was able to stop & start without loss of retaining previous chapters.
very easy and informative
This course has changed my life for the better thank you very much.
This course was so educative for me and my kids, and having the option to check the study links was so helpful. Thank you!!
Because it is a great class to learn more about how to be better driver.
I have taken this course before and was glad that I did.
easy to understand and navigate. Also very informative.
It's very easy and can help you understand things even when you take the quiz it provides the study guide.
It was easy to use and very relevant information.
Traffic School Reviews
We consistently strive to offer our traffic school customers the best possible online learning experience - this includes providing live & friendly customer service, easy to use courses, educational content, fast processing, and affordable pricing. But don't take our word for it, here are some real, verified reviews that our past customers have left about TrafficSchool.com!