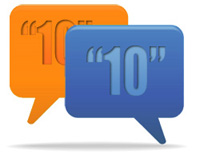 TrafficSchool.com Reviews
A Simple Question
is asked to customers that complete our online course and choose to do an optional survey:
"On a scale of 1-to-10: How likely is it that you would recommend TrafficSchool.com to a friend or colleague, and why?"
Here are a few dozen of our favorite answers:
Very complete and in depth material. I especially liked the animation.
I enjoyed the on line very much and I learned and also revised my driving skill.
Your course was GREAT! It allowed me to take my time with it. Thanks.
Fernando
North Hollywood, CA
Because it is a very easy way of meeting the requirement since you don't have to go to a school and spend 8 hours of your day. This way you do it at your own pace and it is also very economical. Thanks guys.
I found (in between lessons) when driving, that I was applying the things I had read (i.e., cushion space, entering freeway, making turns, etc.). This was a very helpful course for me and I thank you.
This course is very informational
It was very easy to get understand and contain the information to pass the test.
Course was fast and informative
It was very informative. Thank you👍
I've done traffic school long time ago, but this site has more information and easy to handle no trick at all. Thanks
Easy to use and information well presented
It's understandable and improves the knowledge of a driver. Thank you for your course.
The course was great, easy to follow and very informative.
Ease of completion and very thorough
Doing the course online saved me time and travel. I liked the format of the course and the tests were very well done. Because of the way the course was written, I learned new facts about several aspects of safe driving habits.
This is the best and most affordable traffic school online, easy and inexpensive
Because it saves a lot of time
Very simple good examples
Very easy and clear to study and take the exams.
Your course receives my highest recommendation because it allowed me to complete the traffic school requirement without the need to attend a traditional traffic school. Also I saved the high cost of regular traffic school as your course only costs $5.00.
The course was very easy to understand and accessible. I like that I can just go back in and pick up where I stopped. I appreciate the fact that I had the test review to go go back to when taking the final test. And the quizzes were very helpful also to be able to refresh everything just read
I really enjoyed this site. I feel like I learned some useful things. Gonna leave a great Yelp review now! :)
Very thorough and easy to follow
Jeffrey
Rancho Cordova, CA
I was very satisfied with the overall course
I liked that it was affordable. I could go at my own pace logging on and off. Although course was long, it had useful information. Also, current laws (rules and regulations) were covered as well. The picture quizzes during the sections were an added tool that I appreciated. Overall, I'm glad I signed up with this course.
Very informative on current laws
This was an exceptional experience. I was able to complete the course at my own pace. The cost to complete the course was very reasonable.
The site is user friendly
It's a good and fast class
I thought the traffic school program was very helpful to conveniently work around a busy schedule. Thank you!
The course was informative. I learned a couple of things. Thank You
Content review is not boring.
Very informative and easy to understand.
Website was easy to navigate through. I was able to do the course on my time. I liked that areas I already knew, I could skip over and focus on the lessons I wasn't as familiar with. Great rationale for wrong answers. I also like the value of the course. Very reasonable.
Easy to read and actually very informative, despite the onerousness of having to do it at all... I was happy to learn a few new things I hadn't known (like rolling down the window a bit in the fog to help you hear)!
This course is straight forward and easy to navigate.
Taking this course online is very convenient and relaxing. I can go log in and out anytime. Don't have to worry about any distractions. My work will be there when I log back on. The tests are simple and you can refer back to the answers while taking the test.
Very easy and fast! Great price!
It was fairly cheap and easy!
Information was clear, personal contact with the school excellent and guide a big help.
The course material is so concise and easy to understand. I liked it because it saved me some precious time by doing everything at home and at my own pace. Thanks TrafficSchool.com.
I enjoyed taking your class it really helped me.I used Audio without that it would not of been so enjoyable..I also enjoyed that I could start and stop at on my time.Thank You
The course content was clear, informative, and concise. The section tests were helpful and prepared me for the final exam. It was a painless experience!
Because everything about this course was easy to understand and it was easy to save and continue at a later time.
GREAT COURSE VERY INFORMATIVE AND I LEARNED A LOT ....THANK YOU !!!
This was an excellent experience on learning traffic rules and guidelines AND the Law. It was easy to understand and if I had any questions I could go to the study guide. I learned a lot. Thank you so much!
Was easy and to the point
Comprehensive, easy to understand
Because it was simple and very easy to work it and get it done thank you
So glad I chose this course. I will definitely recommend it to any one I hear of that needs to go through traffic school
Class was very informational and I learned a lot of things, even though I have been a driver for almost 20 yrs, with only having 2 tickets during those 20 yrs, there were things I learned that I wasn't aware of. Thank you
Course designed to student needs. Easy to understand in a clear language.
This course was everything it advertised itself to be! The material was easy to read and comprehend, the quizzes were easy and very helpful. I missed one question and it gave me the correct answer, along with WHY the answer was correct. I would do this course again, if I had to and I would recommend it to anyone.
I am not computer literate and this course was easy and helpful. If I can do this anyone can
Because I can attend traffic school from my home
Very instructional and easy to use and read and follow along audio, very common sense. Thanks!
Great experience! Easy to use!
There were several things I did not know.
Because you do a great job, very comprehensive, interesting, interactive and convenient...
The course was excellent. It provided in-depth information and also made me very aware of several issues that I have taken for granted. It will definitely make me a more careful driver. Thank you so much!
Your website is user friendly, the course easy to comprehend and to the point! VERY SATISFIED! I just hope the extra money I paid will get my certificate to the court house on time! Thank You!
The course was easy to understand and very educational.
Thank you. I had fun. Your school was very good. Thank you
Nice way to allow insurance costs down
Your test is not complicated and easy to understand.
Easy and very well explained
I found this to be a great refresher course! I will recommend for sure. Thank you
The course was easy to follow, the instructions and reviews were so helpful. Hopefully I won't have to take another such traffic school, but in the unfortunate event it is required, I will definitely return to TrafficSchool.com.
It was easy and fast, clear and concise
Bradley
Rolling Hills Estates, CA
It was easier and faster, more to the point, than another online traffic school that I did a couple years ago
Not only was it quick and inexpensive to register, when a family emergency came up and I was unable to meet the original deadline, I contacted your customer service line and they immediately gave me an extension without hassle or additional fees. I will highly recommend this site to any of my friends who find themselves in the unfortunate position to need this service. Thank you so much, I learned a lot of useful info to hopefully prevent a future ticket.
It was easy to navigate and review the material presented
The test was easy to take
The site was easy to navigate and I like the interactive demos.
It's easy and fast, love it
It's great. Very clear. You can do it at own your pace. It's very helpful. Thanks a lot. Very knowledgeable, I learn a lot
I have to say I was nervous at first about taking this course. But after the first couple review tests I knew I had this in the bag with no problems at all. And being able to check your answers while taking tests is a very nice feature. I will be telling friends and family about this place for sure!
Directions and information was helpful and user friendly
Jillian
Woodland Hills, CA
Excellent. Professional course and I learned some new things.
This course was excellent. It required a lot of thought while giving a great review of many topics around driving. I would recommend this for everyone.
I really like the ease of this course and the audio option is the best.
I thought it was a good course. I also learned a few things about law changes that I wasn't aware of.
Every part of the process flowed smoothly.
Thanks. I found the course to be extremely helpful. Easy to read and understand. Straight to the point and in a timely manner. Thank you all so very much
The website was full of useful information that was easy to follow and understand.
Many things I forgot and didn't know were in your course and very beneficial to me. Thanks.
I found the course to be very informative, easy to understand, the visuals were helpful.
Easy and well explained and I learned a lot.
Dolores
Westlake Village, CA
It was well presented, easily understood. Being able to do it your own time was most important.
This course was easily accessible, easy to log into and easy to keep up with the sections.
It is an easy course to take & would recommend purchasing the audio so you can follow more easily.
Very straight forward. Call center super helpful. Good web site navigation.
It's convenient, easy user-friendly menus and lessons to follow through at your convenience or pace.
Buenas las preguntas y rapido y facil exelente
I found this information quite informative. Easy to read. Thank you for your services
Very easy to understand and navigate through the website
The content was informative, easy to understand, and well organized. I especially liked the video illustrations of different traffic situations.
The course was very informative clearly presented
Good quality at a very low cost.
Course allows you to go through the course at your convenience and the course material provides examples and reviews.
Your course was excellent, easy to understand and to the point. I will definitely recommend your course to others. I really enjoyed and learned a lot. Thanks a lot.
Because is very good course
It was easy to understand and very helpful and fast
Traffic School Reviews
We consistently strive to offer our traffic school customers the best possible online learning experience - this includes providing live & friendly customer service, easy to use courses, educational content, fast processing, and affordable pricing. But don't take our word for it, here are some real, verified reviews that our past customers have left about TrafficSchool.com!