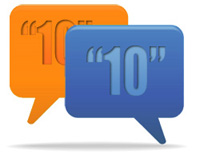 TrafficSchool.com Reviews
A Simple Question
is asked to customers that complete our online course and choose to do an optional survey:
"On a scale of 1-to-10: How likely is it that you would recommend TrafficSchool.com to a friend or colleague, and why?"
Here are a few dozen of our favorite answers:
Online classes give flexibility with other life events such as jobs, schooling, and family events, and the experience wasn't frustrating.
Very simple and straight forward
Because your traffic school online program went to lengths to help us understand the importance of the traffic laws and helps to fight the covid-19 crisis by allowing us to stay home and take the course online saving time and lives. I want to give my thanks and appreciation for making this possible and accessible. God bless u all! Be safe!
The language of the questions was simple and direct. All points covered were relevant and important. It took the right amount of time.
It was easy to follow. The study guides for each quiz and final exam made passing easier and less stressful.
It's a fun course and a good price.
I really liked the course. There's no pressure to finish. I am able to do it on my own time to understand what I need to know about driving.
I was not excited to take traffic school, but I was genuinely pleased with this course. It was well made, not too long, and very informative. The website is easy to use and it properly keeps track of progress. It was also at a very good price, especially with the Yelp discount. If anyone I know needs to take traffic school, I will definitely recommend trafficschool.com.
The school was very informative and had a lot of information that I previously did not know.
Kimberly
Citrus Heights, CA
Easy, Fast and informative
I really like the way they have managed their website because anyone can understand the steps easily
I like the reasonable pricing for Traffic School.
It was really straightforward.
The course was informative and easy to read. I was able to complete the tasks at my own pace.
I loved this course! Definitely won't be getting another ticket but great course! Will tell everyone.
I loved the fact that the course was read aloud to me helped me focus and actually taught me new things and reminded me of other things I had forgotten.
Easy to use, detailed and informative
Easy to navigate and understand
Since, it was basic driver improvement much of it was similar and known information but still was knowledgeable when it comes to numbers and reports.
GOOD INFORMATION AND EDUCATIONAL
Mohammadreza
Rancho Santa Margarita, CA
I learned so much about driving safely. It really opened my eyes as to how complacent I had become when driving. I will no longer drive like I'm the only driver on the road. I will follow the law from now on.
This course was very easy to sign up for and to understand. I am thankful to have found this site to complete my course without any hassle. Thanks again
Because I was so excited that the course was so informational and and audio was very good! Thank you so much for letting me have the options to experience such a good Online Traffic School Class course.
Even tho I took this course to keep a recent ticket from affecting my insurance (I hadn't had a ticket in more than 20 years), while I was taking the course, I realized that I (and my driving) was going to greatly benefit from having taken it. Actually, it wouldn't be a bad idea for all drivers to have to take this kind of course if you've been driving for many decades, whether or not you got a ticket.
This class had some good info would recommend to anyone
Elizabeth
Jacksonville, FL
Although some of the info seemed a little outdated most of it was very informative. I was able to add new information to be a better driver.
I had no issues & was able to complete my traffic school at my own time.
It was easy for me taking the course online
A VERY WELL ORGANIZED AND PRESENTED COURSE
This was easy to understand. You did what you promised. Thank you!
Thorough reading valuable updated information tests were important and validated
Easy to understand, quick read, completed at my pace. Straight through in around 2 1/2 hours. Not 8 hours.
I like how quick and easy things were.
Very useful information we needed to update and learn for our daily driving, thanks for your excellent online traffic school
It's was easy to take and straightforward
I gave you this rating because the online traffic school was easy to understand and quite educational.
The course was pain-free!!
I found it very informative.
Quick, clearly written, and easy!
Octavio Ernesto
Huntington Beach, CA
Good understandable reading course
I think it's great because you have ways of remember something that you already know, but maybe you are forgetting and that's the goal to keep the roadways safer on every day's life. Besides if you take, there's no point on your driver's records. Thanks so much.
I thought it would be hard and difficult. It was long but worth it. I've learned and I passed. I am very grateful thank you for this website.
Although quite long, it was very detailed and informative. Definitely learned some things I was completely unaware of.
Was an amazing experience to review all the traffic rules. Thank you!!
Although I was not happy with myself getting a ticket I was pleasantly surprised at the ease of registering and completing this course. I had many interruptions but was finally able to complete the course in my own time without any stresses. I would highly recommend.
It was easy to navigate. But it was long
Not that I really was thrilled in having to do this, but I was pleasantly surprised. I did learn a few new things and the course was well thought out and well-written.
It creates new awareness for safe driving
Great info with just enough on each subject to not get boring
I called yesterday and the man who answered assured me that it was easy, and what it consisted of. He wasn't lying! Thank you so much for being honest. I will let everyone know who needs to do online Traffic School to go to TRAFFICSCHOOL.COM ❣ ️
Easy to understand with helpful videos
It allows the person to take their time doing traffic school course and questions are easy
Is very well explained and easy to go out and in
The course allowed me to take the time to read and complete each section on my own time. It was easy to log out and return.
Because the course was direct, to the point and easy to navigate and complete.
It's true a good material.
It was easy to take ...and informative
Peter
Palos Verdes Estates, CA
Website easy to use and good information
Course was informative and interesting.
The course is easy to log on, navigate and to start and stop at your convenience.
First rate course. The material was well organized and structured. It was very informative. I felt like I learned a lot. Well done. Thank you.
It is easy to follow with clear directions and material covered. The quizzes along the way are very helpful.
The course took longer than I have anticipated but was happy to review the DMV rules! The information given was very thorough & useful except too much statistics.
ADAM AND THE LADY I SPOKE TO YESTERDAY 6-23-20 WERE SUCH A GREAT HELP THANK YOU
So I could take my time to study at home.
Easy to read and understand subjects
Hello, because I learned from your course and was able to pass my test with 96%. I enjoyed how clear and thorough the material was and how clearly it was explained. Taking the quiz after each section really helped me gain confidence to take the final exam. It is great that you focus the teaching with the aim to help the student learn and pass the test. Thank you so much for making it easy. I feel great after taking the test!
Patricia
San Francisco, CA
I learned so many rules and tips that you don't receive when you do a test for the first time. I wish you were more strict with beginners.
Course was affordable and provided clear and easy to understand information needed for the final examination. The study guide is a very useful tool to reference not only during the course and exam process but also in the future.
Because it is very educational and time saving
I like the way it was offered. The moving yellow car made it easier to understand the questions involved. I think you did a great job and it was nice that you even followed up when I didn't get to do the course right away. I think you did a first class job in these presentations. Thank you
Because this course it is very helpfully for everyone and very easy to understand I want to thank you for making this course very convenient.
The website is very clean and nice, understandable and easy to remember the important notes. Strongly recommend to others.
It was informative and went quickly
TrafficSchool.com was well presented, the material was both easy to read through & informative. It was simple to start & stop at my convenience, Thank You.
It was very educational and yet questions were pretty easy to take.
The course was easy to read and understand. I have learned new ways of protecting myself while driving those crazy freeways! Thank you!
The rating is based on the information that was presented in the course. It was helpful and easy.
The course was easy to register for and offered exactly what I needed. The course was concise and interesting and easy to follow. I would definitely recommend to anyone needing Traffic School.
Anthony
North Hollywood, CA
Because it was easy to understand the whole traffic school course.
This course was easy to read and informative. It was also nice to be able to study and complete at my convenience. Thank you for being there.
Because traffic schools helps and educates the people who need to be more cautious while driving.
Clear wordings and format. Easy read.
This is the best system out of the 2 I previously tried. And is the reason I returned, and will continue to use when ever I need.
Very easy and buying the read-along option is very much worth it!
Your response was quick and gave me clear instructions about course.
A very informative venture. I learned a lot, and made me remember the things I have forgotten. It was long, but it was very well worth time and effort.
Very nice balance between explaining the intent of the law while also providing the letter of the law. Allowing a review of the study guide was also a big plus.
Cheap, Quick, Easy, convenience. Very helpful. Thank you so much.
Easy to use and understand. Great experience! Just a little tip to better this site. Add a little bit more interactive lessons and less reading 😁
The course examinations were insightful, easy to follow and to the point. The questions were easy to read and tracked the written materials. It was also really nice to be able to work on the exams and materials when you have time, save it and then have the program pick up and track exactly where you left off. Overall, this was an excellent course and I would recommend it highly.
It's very reasonable and easy to follow step by step
Easy to use, well written, reasonably priced, liked the interactive pages
Traffic School Reviews
We consistently strive to offer our traffic school customers the best possible online learning experience - this includes providing live & friendly customer service, easy to use courses, educational content, fast processing, and affordable pricing. But don't take our word for it, here are some real, verified reviews that our past customers have left about TrafficSchool.com!