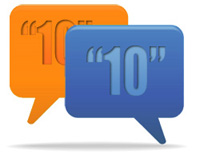 TrafficSchool.com Reviews
A Simple Question
is asked to customers that complete our online course and choose to do an optional survey:
"On a scale of 1-to-10: How likely is it that you would recommend TrafficSchool.com to a friend or colleague, and why?"
Here are a few dozen of our favorite answers:
I gave you high rating because it was easy for me to follow because I don't like anything online!!
It is a very good preparation.
Your courses were really helpful and understanding plus you can do it at your own pace
Class was easy to understand
It was simple to sign up and the instruction was to the point
VERY INFORMATIVE. RELAXED NO STRESS, NOT BORING
Updated info was very interesting and informative. Definitely feel more knowledgeable towards safety issues and concerns while driving self and passengers.
For being my first and hopefully my last traffic school experience I'm glad I chose online course! And that I chose trafficschool.com!! The instructor is very clear and keeps you engaged with the lessons the whole time. Another feature that I LOVED was the stop, save and continue later right where you left off!! Thank you trafficschool.com for making this experience an easy one.
Easy to navigate, direct to the point, straightforward information.
Course is thorough, logical and makes one more mindful of their own driving behavior.
It was a good course that presented the info well.
A very informative course, well prepared and easy to navigate.
It was very easy to understand and follow. Also convenient.
This was a very well structured and organized course.The pricing as well as the documentation being sent to the courthouse was very worthwhile.
Course is easy to setup and complete
Thank you for the online classes were very understandable and the reading assistant was very helpful
Easy sign up. Good price.
TrafficSchool.com is very user friendly. Thank You very much.
Easy to use, no confusion, prompt feedback. Thanks
IT HELPED ME A LOT AND I LEARNED THANKS
Educational / Great Format / You did all the work, I just had to be a good student / Price was within reason / Very Professional Thank You!
It had a lot of very good information that I didn't know before, it was very simple to read, and it got to the point. I loved it
Meet all my expectations. Excellent course. Thx!
I learned more than I expected and got clarification on some California laws (I learned to drive in Utah). I hope I will be a better driver now.
I highly appreciate the layout, organization, and especially the subtle humor contained in the wrong answers on the tests, really helps to lighten the mood and not psych yourself out. All in all, very informational and well-executed course, thank you.
Lots of great detailed info including Calif VC descriptions. Plus this website logged my progress. I had tried a competing website first (comedytrafficschool.com) and spent an hour watching all the videos in the first section only to discover the site wasn't keeping track of my progress. Total frustration. Thanks for a simple straightforward forward way of teaching. Thanks for including info on newer laws.
The rules/law are very well articulated and the individual chapters cover each subject fully.
Steven
Huntington Beach, CA
Great course, very informative, great design, written well, easy to follow and complete. Can not imagine a better way to do it! Thank you for making this easy and useful... I am actually a more informed and better driver for completing the course!
Christianne
Trabuco Canyon, CA
While no one enjoys going to "traffic school" I found the experience with TrafficSchool.com very easy to follow from beginning to end. Each section was very informative and I appreciated the numerous CVC citations. I'll be taking my drivers test next month and this was an excellent way to practice. It was clear that the intent of the test was to guide the "student" to the right answer. Perhaps a tad too in some respects, however the answers did offer one more opportunity to reinforce the lesson.
The best, easy to use and very helpful. I hope I don't have to use it again, but if I do I will!!!
The course information provided was very interesting and easy to understand. The chapter quizzes were not too difficult and it prepared me well for the final exam.
Course was very informative and helpful to me.
Your course clearly conveyed the information in a manner that was professional and comfortable to read, and it was quite thorough. Through your course I am now updated on California traffic law, and learned about hand position on the wheel (different from the 10 & 2 that I'd been taught).
The website is easy to navigate all the text was easy to read and the test were exactly related to the information read.
I gave you this rating for 3 reasons: #1 - The course fulfilled all the requirements of the court. #2 - From registration to completion of the course, your product was simple to navigate and user-friendly. #3 - The value was good, and in most cases better, in comparison to other competitors' offerings.
It's affordable and easy to understand.
Herbert
Marina Del Rey, CA
Extremely clear and straight forward information.
Very interesting and like the way it was done
It was easy thank you you're the best
I enjoyed taking your course. It was easy to follow and very informative. Thank you for making the experience a happy one!!
It was as advertised, quick and easy. It was also written well with relevant and useful reminders. I liked the emphasis on safety rather than statistics and legal numbers.
I thought it was going to be more difficult but I was easy and simple
Fast, informative, easy to sign up for, user friendly going thru the sub tests and literature.
I did my traffic school and completed it. I was able to go at my own pace and it was moderately priced.
You are the best. I never thought going to traffic school could be fun. You made that happen for me.
Your program was instructive and fun to take. Nice work.
Good course with a smooth learning environment.
The site was a lot better than what I expected to find and it blew my mind with how organized and easy to go through it was making all the information there was to learn actually enjoyable.
Easy to access the course and I was given lots of time to study the material lessons before taking the final exam.
Because I feel you are very good.
The course was very Informative and clear. Good to brush up as technology is advancing.... Thanks.
It is super fast, super cheap, and super easy to understand and complete the course. I am very happy to have taken this opportunity to hide my ticket/citation from the the dreaded Insurance Companies, and be in good standing with the DMV. Thanks to Traffic School Online for this AMAZINGLY FAST AND CHEAP RESOURCE !!
I loved the trafficshool.com Course it was easy to navigate and I highly recommend purchasing the Audio as well. It allows you to retain key information and helps you to pass the end of chapter test. I highly recommend this driving training.
Well done and easy to understand
It's a good course with reasonable prices
Easy to understand and intuitive website
It was easy to follow. I made an error on my log in and called for help and your person was very helpful and quick! Thanks again!
It was very helpful all the way!!
Because everything was informational and very clear and understanding.
I thought the course was well done and easy to navigate.
I like the idea I can read along with the verbal sounds of the words
The course explained everything
It's great. It's fast and easy. I highly recommend this to everyone
It was very easy and affordable
EXCELLENT COURSE WELL DEFINED INFORMATION
EXCELLENT COURSE EASY TO TAKE
The course was thorough and easy to understand. It gave insights that I would not have considered if I hadn't taken it. Explanations of laws were helpful and informative.
Clear and understandable material.
The course was easy to read and understand. No gimmicks, it did exactly what it said it would do!
Because I found it worked for my style of learning...it was easy to follow, I learned some up-dated laws and felt the subject matter given to be relevant = good job
Karen
Huntington Beach, CA
I found the course well organized. There was a lot of very diverse, yet valuable, information included
For a senior, the course was user friendly.
I LEARNED SO MUCH FROM TAKING THE 7 LESSONS. VERY INFORMATIVE AND EDUCATIONAL.
Because before test they give you time to study on the subject
Excellent website and 800 phone help. Course was fair and complete without overburdening student. Was worried about the statistics and %'s that I would have to remember all of that. But this was not included in questions, which I think is fair. All of the registering was clear and easy to follow through.
Love your class. I learned a lot and would highly recommend your school to others.
Tracy
Rancho Palos Verdes, CA
Clear, precise information. Ease of use, easy to follow. Clear and non confusing questions and diagrams.
This course was fast, easy, convenient and inexpensive!
Forrest
Merritt Island, FL
Michael
South San Francisco, CA
It was helpful! Thank you
Clear graphics, easy to understand, no timers! Hopefully I won't do this again but if I do Ill be looking up this site!
Prompt and easy, very straight forward and to the point, plus new laws up to date
I learned and it was kind of fun actually
Best online traffic school course I've ever taken.
I really learned a lot and it was a good way to learn at my own time.
The course content was clearly set out and easy to follow through.
It was relaxing doing it at home and at your own leisure
It was reasonably priced. It was easy to follow and understand. Personally it helped me understand how to drive better and safer.
Great course to get up to date information on rules and regulations!
This course is so self explanatory and helpful. I did learn a couple of things too. I was super easy to follow and the tests were not scary.
Traffic School Reviews
We consistently strive to offer our traffic school customers the best possible online learning experience - this includes providing live & friendly customer service, easy to use courses, educational content, fast processing, and affordable pricing. But don't take our word for it, here are some real, verified reviews that our past customers have left about TrafficSchool.com!