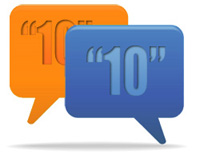 TrafficSchool.com Reviews
A Simple Question
is asked to customers that complete our online course and choose to do an optional survey:
"On a scale of 1-to-10: How likely is it that you would recommend TrafficSchool.com to a friend or colleague, and why?"
Here are a few dozen of our favorite answers:
This course was informative and easy to navigate. Thank you
I enjoyed taking your course and learned a lot.
Concise and easy to understand.
Christopher
Pismo Beach, CA
Easy to use website that is well put together in a very useful and professional way. I learned a lot from this class.
Very clear instructions and easy course to navigate. Thank you!
It's really good I recommend it
Great website, excellent way to take a traffic school course.
I thought course was informational and quick to complete.
Reasonable price for an excellent presentation.
The course was easy to navigate through and very informative!!! Also, very inexpensive which made it all the more enjoyable! Thank you.
Because it was easy and it didn't cost an arm and a leg
At any time when you have little time to submit important things like this this will be the route to take.
Easy to enroll, affordable, very easy to understand the course material
Easy to navigate and great price.
First time online user, was very pleased with price and convenience.
Very easy and quick course for traffic school!!!
User friendly and very easy.
The course was very easy to understand and comprehend!
It was simple and understanding
Thank you so much for creating such a great online traffic school course! Easy to navigate, straight to the point reading and instructions. Love the fact there were no distractions such as ads or pop-ups! THANKS!
I liked the traffic school course! Navigation was easy and there wasn't any trick questions although I did find a couple of similarities towards the end regarding brakes, and tires which was fine. I think I would have liked just a little info about the highway patrol and radar. Thanks!
It was easy and I learn something and it was easily explained to me
You guys are very kind and informative and professional
It was easy to navigate the process and find pertinent information. Straight forward. I value and appreciate that!!
Parameshwaran
Fallbrook, CA
It was well structured and informative.
You guys were amazing. Thank you.
The questions were easy to understand, and I could check back before I answered the question
This traffic school actually caught my attention and kept it through out the course. I did actually learn something too! It's a short, easy, and cheap course. I recommend it... I liked it very much...
Flexibility in completing the course on my own schedule. Easy to log back in and be directed to where I left off. Quizzes and the final exam were NOT designed to trick you. Material was clear.
Easy, fast and inexpensive!
LOVE IT! Easy, inexpensive and I learned. Totally recommending this site to everyone!~
I have not had a moving violation for the last 20 years or more, however its wonderful to know that one can go online and do a traffic course study to resolve a court obligation and also improve on my driving skills. Thanks so much.
Quick, convenient, and informative
This online course was workable for me. Learned to be a better driver and the front-office assistance was excellent with pleasant and effective communication.
Very easy to take a break and continue. Nice interactive questions
I liked that the information was easy to access and straight forward. Perhaps some of the answers were too obvious but I understand you have to make this process work for people from all walks of life
It was easy and very helpful. When you made a mistake on the questions it told you the correct answer.
Easy to use, good coverage of content
This course let me appreciate getting a ticket. It remind me about a lot of things that I took for granted. Excellent material
Easy, informative, inexpensive - and, when I called to make sure that I had put the correct court information, I was blown away that someone answered within 2-3 rings - an actual person - I didn't need to navigate an automated system. Very refreshing in this day and age.
I never thought it will be so easy to pass the test, this online school it's the best.
Excellent and clear way to understand Class.
Christopher
Chatsworth, CA
Very clear. Good pace. Informative. Easy processing. Thank you.
Really easy to complete and understand
Giselle
Rancho Cucamonga, CA
I find your site helped me immensely and easy to follow
Jennifer
Rancho Cucamonga, CA
The course was very well done, not boring or stale. Interactive and fun. Thanks for this experience NOT being boring.
I felt it was very thorough.
The audio option was most helpful in maintaining attention. Also, the section tests were a good tune up for the final exam. And, I particularly liked the automated situation graphics.
Simple and easy to understand, other classes required me to work on their time, this helped me work on my time.
I found your course to be most helpful. The reminders provided as well as the information given are indeed valuable.
Excellent material. Easy to follow, understand and learn.
The course was well constructed
Naomi
South San Francisco, CA
Easy to get through easy to understand
It was very informative and educational
Marquis
Huntington Beach, CA
Loved the course. Easily accessible. Made taking traffic school effective and convenient.
Easy informative and concise.
Because you supplied up to date information that I needed to study and retain so I could pass this test and clear my driving record..I also found your audio feature very helpful.
Not difficult to understand and complete.
I totally recommend this site
The course is very well written, much easier to understand than the California DMV handbook. Great price, good customer service.
Thank you. Awesome easy to follow course. Really helpful
Easy to read and the study guide was a great help.
I enjoyed the format and felt that the interactive Graphics were helpful. The quizzes help me memorize important facts that enabled me to pass the final exam with ease.
It was easy, informative, not expensive and not boring.
I was happy with the ease and very well structured course which I could follow easily
Vedasto
Rancho Cucamonga, CA
I learned a lot from the course and feel that my knowledge of the traffic laws and regulations is now current / updated. Each section was superbly presented and easily understandable. An excellent course.
Good examples and clearly written
It is very convenient therefore making it easier for me to take the test.
Well organized. I learned so much. Now my driving habit will definitely improve for the best. Thank you so much for job well done!
I understood all the questions clearly. Thank you
I'M GIVING YOU GUYS 10 cuss I learned and refreshed a lot of material that was there but just not used or talked about a lot... so thanks much guys for having such a informative and ease of learning or brushing up on our safety as drivers out there. Thx again.
Easy, fast, and convenient.
The course was well-constructed, and easy to follow along. Usability was a plus - can take a break if needed.
Easy to comprehend and very clear.
Material was comprehensive
Course was comprehensive and easy to navigate. Very informative
Thank you for the time and effort that was taken into the construction of this course. The information was informative and well designed for self pace learning. The knowledge from this course, was attained and retained. This was a Excellent experience.
I never thought it would be so easy! From the day I signed up I was hesitant to take the test because I thought it would take me days but I had to get it done and I finished in three hours! Thank you traffic school!
Easy to use and comprehensive
Athanasia
Santa Clarita, CA
I liked the Traffic School course because it was easy to follow, the quizzes had questions on material covered in each section, and while taking the final exam you were allowed to look at the study guide if you forgot some details covered during the course.
Easy to understand and I learned a few things!
The course was easy to navigate through and easy to understand. The quizzes along the way made sure I was on the right track. Thank you for your help!
I learned things I never knew excellent course very informative!
Registration was very easy.
Highly informative course.
I liked reading the new rules and what to do in certain situations.
Easy to complete and great instructions
Graphics were entertaining. Course could be finished in fairly short time.
I found this course to be informative, concise & to the point. Even tho I was unhappy with my speeding ticket I found many reasons to not speed again & I believe that my driving has improved. If you look hard enough at any mistake, you will find that there is always a learning lesson there
Course was easy. Price was lowest I found.
VERY GOOD TRAFFIC SCHOOL COURSE
The course was easy to understand, informative, easy to use, use at your own pace, which is real important for busy schedules. I did learn new laws that I had not heard of. Thank you
It was very enlightening and informational
Angello
West Palm Beach, FL
Pretty clear on the topics
Easy to use and inexpensive
Guillermo
Moreno Valley, CA
I appreciated the format and the way the information was presented.
I loved this course. I am an education professor and I give you a THUMBS UP for the design of the curriculum and course. Well done!
Real easy to understand instructions
Traffic School Reviews
We consistently strive to offer our traffic school customers the best possible online learning experience - this includes providing live & friendly customer service, easy to use courses, educational content, fast processing, and affordable pricing. But don't take our word for it, here are some real, verified reviews that our past customers have left about TrafficSchool.com!