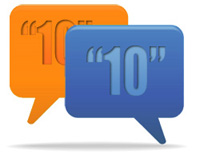 TrafficSchool.com Reviews
A Simple Question
is asked to customers that complete our online course and choose to do an optional survey:
"On a scale of 1-to-10: How likely is it that you would recommend TrafficSchool.com to a friend or colleague, and why?"
Here are a few dozen of our favorite answers:
The Prosses was simple and direct. I Learned a few things along the way that will be useful moving foreword. I appreciated the opportunity to have the pop up quiz during the segments which were helpful along with the explanations and the ability to use the guides for review helped me to understand and remember more clearly. Thank You
Easy, simple and common sense. I enjoyed taking this traffic school course. Also very affordable. Thank you trafficschool.com.
Timothy
San Juan Capistrano, CA
Easy web navigation, registration and completion
This course covered a lot of information in a clear and concise way. Very user friendly. Thanks
Super user-friendly, good pacing of lessons and great refresher info. Easy to read font and layout. Thank you.
Cheap and effective. Took 90 minutes to complete and pass the final DMV test, I am 63 years old. Excellent explanations, and questions that get you ready for the DMV test. I do drive a lot and like to drive but never had an accident but do have plenty of speeding tickets. I got 100% on my first try.
This traffic school course was very easy and affordable. You can work on the course at your own pace . You can read the question in a multiple choice set up and choose the best answer. I recommend this course to anyone that is required to do traffic school on line.
the website so simple and easy to navigate the options, no Ads and the course very detailed and full of useful information
It really help me understand!!
It was a great experience and easy to follow! Thank you!
It's wording was understandable and didn't feel pressured and there's been someone to talk to when I had a question. You conveyed reassurance
Outstanding course. Thoughtfully laid out, timely animated pop quizzes, manageable section tests, and most of all a website that was easy to register for without a bunch of hidden costs. Highly recommended.
I enjoyed taking the course, it was effortless, to the point and user friendly. I am glad that I choose this TrafficSchool.com. Thank you.
This course had sections and divisions that made it feel like it wasn't too long to read through each section. The writing was excellent because it used easy to understand phrases and common words. The pictures where just the right amount and also helpful to help you remember what you were reading. My favorite item is that you could take this course online from your home and could space it out. Thank you so much.
You covered everything I needed to study and pass this course! I passed it on my 1st try & taking notes is my style of learning while the extra quizzes really helped! I definitely recommend Traffic School!
You are AWESOME. Easily understood
It was very understandable I really like the audible plus the price of the online school was very reasonable I think this is one of the best online traffic school courses that's out there
This site offers one of the most budget friendly courses. And in additional, the course was simple, straightforward, and easy to navigate. 10 out of 10 would use in the future if needed, and would definitely recommend to anyone. Best choice all around!
Nancy
Pacific Palisades, CA
The material was presented in an easy to understand manner. The examples were very helpful. The chapter quizzes helped to focus on the important issues. It was very worthwhile experience even without the incentive to do so.
very easy to use, to the point, questions were clear. I had trouble registering and understanding my ticket and when I called customer service someone picked up immediately and was very helpful and clear. affordable price too.
It was the most informative and fun traffic school I've ever attended. I loved the audio option...actually thank god for the AUDIO option! Thank you I will use this site again if need be...hopefully I wont have to...and I would recommend to any of my friends.
Because ...it's a really great program Love it
Great learning experience. Very good lesson. Thank you
nothing is perfect, but this course was pretty darn good...
It was easy to understand
easy to follow, used before.
Covered everything. Everyone needs to have this
This course was very easy to complete. It also refreshes your mind as to what you need to do to become a better driver.
just as described audio made it much better
Richard
San Bernardino, CA
Actually learned some things!
I enjoyed taking this course and passing it
Quiz was easy reading and informative and the test was just right. 25 questions is just enough
This was an easy and informative way to complete traffic school
NICE AND EASY TO USE WEBSITE!!! THANK YOU!!!
It was Fantastic and I learned a lot
Pearlleen
Laguna Niguel, CA
The course is very thorough and clear. I learned things that I did not know before. Thank You!
The beginning portion of the test gave enough information to thoroughly complete the questions at the end of each chapter. Also, the graphics helped to answer the quick questions. The test was easy to complete.
Because the Course itself was very easy and straight forward no problems navigating the courses the information given was very beneficial in understanding how to become a better driver as well as a safer driver
The content is to the point and lucid. The importance of using our own common sense is stressed by the way your questions and answers are phrased and amplified. I consider your technique helpful to most students in establishing their long-term memory of all the crucially important facts presented in your text. I firmly believe most of your graduates will become safer and more competent drivers as a result of their studies with you. Thank you!
the best driving School online....
Course was well thought out, easy to use & understand.
I was happy with the program being read to me. I was able to adjust the speed and text size. I learned a lot and I realized that I am a defensive driver. Thanks for every thing.
You guys provide all the material the I need for the exam.
It was easy to read, fast and affordable.
This was a simple and straightforward school with very competitive pricing. Not only was this course created in a very "easy- to-understand" format, but it was also very educational and has honestly taught me to be a more defensive driver.
Easy to use and Navigate the site. Informational. Quick.
This was without a doubt the easiest and most user friendly web based site. It worked with no issues, the material was easy to understand, I passed with 96% and it was affordable. I do suggest you pay the additional $4.95 for the read aloud option. I listened on my computer and continued with my day, Highly Recommend!
It was easy to understand and to process the information! I feel that this course was well written for the student and helped me be a better driver!
This is a great online traffic school. Courses are easy to take with detailed information and you have the option of using audio-enabled reading. I also enjoyed reviewing the animated videos. The chapter study guides are very helpful. I highly recommend this school to anyone who needs it! Thank you.
was very useful would recommend to anyone looking for a good class.. also get the audio.. worth every penny.... very clear and concise. and emphasizes the points to remember for the test questions..
It was so simple and easy I was able to do it without missing work
Great price and easy to follow. It really help at pandemic time. Thank you!
The online program was easy to use and understand. And the price for the program was right!!
Well organized, easy to understand, easy flowing, unintimidating, especially enjoyed the every once in awhile bits of humor and profound statements.
Everything was nice an clear and easy to take.
The course was updated and easy to understand.
C. Antonio
Santa Maria, CA
learned a lot from the course "Bravo & thanks a lot"
Because it was of great help to me, I learned a lot of new things that will help me drive safer.
User friendly - the 7 courses were informative and eye opening life experience on most if not all of the scenarios! Easy to register and painless!
The course went smooth and the option to have the information read to you was great.
I gave this rating because this traffic school was not expensive and very easy to navigate through and understand. All the questions were simple and easy to understand and pass with a good score.
great job on making this as easy as it was!!!!! thanks a bunch
Excellent easy and I learned a lot! Awesome! I recommend highly.
the best course i give you 10+
I had to finish this before 12am and I started around 10pm and finishes 5minutes before it was due! I am literally so happy this program was easy and understandable. This program was not confusing and complicated at all!
Charles
Cathedral City, CA
Very easy to understand and very good information. Thanks.
it was easy to understand, and went by quick, had no problems
Your course organization was logical, easy-to-follow steps and had some humor in places.
I compared your rating with other schools before enrolling and I notice your credentials were impeccable. As I go through the course, I found the teaching to be so easy to follow will all the guidance as I approached the final exams. The quizzes and animation were great and entertaining. I would highly recommend you to anyone I encounter in the future who needs recommendation. Thanks you!
great course easy material....very pragmatic system applied, easy to get through tysm, best
BECAUSE IT IS GOOD AND IT SEEMS TO SAVE YOU MONEY AND IT KEEP THE POINTS OFF MY LICENSE
It was easy to understand it was thorough and it was actually fun
Great mixture of reading and interactive activities. Focused on important information I actually enjoyed the process good information nice reminders
Because it really is excellent!
You guys always do a great job explaining your questions. They are always fun when talking to your friends about, and helps us to make our driving better.
Your course was clear and easy to read. The format was great and you sending it all to the Court for me has put my mind at ease. Thank you so much!
Because it was very self explanatory and easy to understand
E Santiago
Santa Clara, CA
Easy to listen and read and lots of good information about traffic laws and safe driving.
The course is very detailed information that is very clearly laid out to understand.
Study material is updated and the test is straight forward.
So far, this is the BEST online traffic school I have used. Very clear, simple, efficient, and tight. Halfway done in about 2 hours.
It was a very well done production and easy to use. Thank You.
Stephen
Fort Myers Beach, FL
Course was informative and customer service was readily available and helpful.
EXCELLENT INFORMATION AND TEACHING HOW TO DRIVE IN FLORIDA
Very informational and well presented
Informative, great refresher course
Very complete info! It will save lives.
GREAT CLASS. EASE TO READ AND ANSWER THE QUESTIONS.
It was easy to follow. Test questions were concise and easy to understand. No trick questions.
Great courses easy to understand!...
Charles
Rancho Palos Verdes, CA
It was well organized and easy to complete.
Course was straightforward, easily understood and able to be completed in less than four hours.
I Had No Problem with the website, very simple and cheap
Again I'm impressed with the depth of the subjects!
it was a pleasant course, straight to the point.
Like Tax Preparation software, there are variations in user friendliness. For a non-techie senior, this software was easily navigated. I actually liked the comprehensive refresher current bike lane laws, automobile technology, etc.
because it is easy to use and fast
It was very knowledgeable and easy to understand
Because your Traffic School course, the materials and the presentation of the materials are really "superior educational traffic school program".
Excellent curriculum, easy to follow.
Good product. Ease of use. Thank you
The site was quick and easy to navigate. The added security before each quiz or exam was also a pleasant surprise.
It is an excellent program.
Sergey
Desert Hot Springs, CA
very easy to operate and navigate.
Trafficschool.com, Inc. is easily to understand, instructional, and helpful. Thank you very much for a great website. Best
Francoise
San Clemente, CA
I love the way its set up and very user friendly.
I think TrafficSchool course is an easy and informative class to help you out when driving on the road.
It was very good and precise and not boring.
I think you did an excellent job. There were some facts that I did not know/remember and now I have them again. I never go above 9 for we all can use a little improvement. Thank you
The price is affordable. I learned a lot. Thank you!
Course was easy to navigate and not lose your place. Also very easy to apply your common sense, with a little refresher effort navigation was a snap.
The information was easy to understand with helpful animations. The quizzes were helpful in reviewing the facts.
great course, easy to follow.
Traffic School Reviews
We consistently strive to offer our traffic school customers the best possible online learning experience - this includes providing live & friendly customer service, easy to use courses, educational content, fast processing, and affordable pricing. But don't take our word for it, here are some real, verified reviews that our past customers have left about TrafficSchool.com!