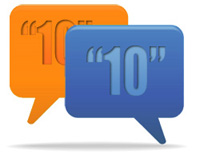 TrafficSchool.com Reviews
A Simple Question
is asked to customers that complete our online course and choose to do an optional survey:
"On a scale of 1-to-10: How likely is it that you would recommend TrafficSchool.com to a friend or colleague, and why?"
Here are a few dozen of our favorite answers:
Simple and easy to use and the content is useful
Excellent school. Thank you.
Was easy to understand thank you
This was very good information and very helpful. Would do it again.
It was easy for working family
EASE OF UNDERSTANDING, GREAT DIRECTIONS & HELPFULNESS. GREAT COMMUNICATION WITH PEOPLE ANSWERING THE PHONES & GREAT PRICE. THANK YOU
It was easy to follow & understand
Simple to read and understand
I thought you covered all the California basic laws very well.
Elisabeth
Sherman Oaks, CA
A very clear and understandable course....excellent thank you.
Really good course and well presented. Thank you
This course was straight forward, easy to understand, and very educational. I also liked that you were able to go back and review the information, study guide, and have unlimited opportunities to repeat the tests and course.
Very well written and lucid text. Easy to read and understand.
I am impressed by the course contents; I am satisfied with the answer when I called the office; I am happy with the tests and final examination that are really targeting to let the course taker to learning something.
I just wanted to say this was very helpful and my grandmother had given me this school to do cause she said she used this school once for her traffic school and she said it was very informative and easy to understand and now I will recommend to any of my friends if they ever have the need for traffic school.
This course teaches the CA DMV and Law enforcement laws required to be an excellent - safe - operator of a licensed vehicle in CA. I learned laws not seen in some DMV Driver manuals. Highly educational Traffic School for all licensed drivers
Like many people taking this course, I approached it with some reluctance and something that I had to do rather that I wanted to do. I actually learned a lot, had an opportunity to self-reflect on bad habits I wasn't aware of. I'm stunned by the number of distractions that assail each of us as we drive - particularly for me bringing the stress of work into the car. The Audio was a great option too
Diane
Capistrano Beach, CA
Ease of process. Informative.
Easy to use and straightforward presentation of material.
Very good course I leaned many good things.
NICE HELP BY RECEPTIONIST. SHE WENT THROUGH MY QUESTIONS TO START. THE COURSE IS CLEAR AND HELPS A LOT. THANKS GUYS
I learned a lot from this course
#1 Excellent teaching material, not just the traffic rules but also how to prevent accident, no waste of my time to take the class. #2 Affordable. Low cost.
It gave many real life examples of the laws and how to interpret them. Some information was new to me. Good overview of the California laws, car maintenance and basic driving.
I especially liked the listen to option to give my eyes a rest
The course was straightforward and to the point, with up-to-date laws and regulations. The interactive quizzes were informative, and the explanations for incorrect answers were presented right then and there.
It was easy and I didn't have to leave my house.
The course was convenient to do online. It was informative and well organized.
Explanation of policy is clear and concise.
The price of the course was the best selling point! The online course was extremely easy to navigate and understand. It was very helpful to have the ability to go back to the study guide while taking the exams. I would definitely recommend you course to anyone I know who needs to complete traffic school.
Ease of use, and nice support functions like the verbal reading function.
Each contact with you was enjoyable. Your website is clear and your traffic school course was instructive, fun and entertaining. I enjoyed my sessions each time I accessed them. Thank you!
AWESOME!!! BASIC DRIVING RULES/SKILLS THAT ALL DRIVERS SHOULD KNOW AND REVIEW PERIODICALLY AS LAWS ARE CHANGING...
Because it's easy and fast
Price, ease of signing up and layout of test and materials.
Informative, simply explained and easy to understand. It takes 5-6 hours to read, understand and pass the test.
Easy to do, content was helpful
Excellent as well as easy way to not only learn but as well as to fix your driving mistakes.
This was much easier than I thought. I can do it on my own schedule. It is not as expensive as I thought.
The course was well organized. The on-line testing was well planned, and uncomplicated.
Great - excellent experience and educational. Thank you.
Easy registration and clear instructions
Understandable, everything is clear, very good
This course was very easy to understand and take. I will definitely recommend this course to everyone.
Interesting, enjoyable, instructive and easy to understand, thank you so much for a fun weekend!
Robert
Westlake Village, CA
I felt the course was informative and interesting. I liked the feature where I could start and stop when time allowed.
Great course, I enjoy and learn, was very easy
Useful information and easy to understand
Easy to follow and understand
This has been the most refreshing course. So many new POLICIES and new LAWS that affect driving today. Your interactive screen on point, EXCELLENT! I'm glad you emphasized on Freeway entering and the Lines on the road. It's been very informative on your website. And, thanks for keeping it inexpensive, even with the add ons. Bravo! My brother was spot on for recommending me here. Cheers!
Instructions were clear and easy to follow
Excellent course. Easy to use and had interesting information. Not a boring class.
Easy to follow. Easy to understand. Learned something new.
Thank you! I was not looking forward to this experience, but you made it fun, engaging, efficient, and extremely useful even to a veteran driver.
Very easy to understand, informative and to complete. Will highly recommend your course
Course was very well done, instructive, and beneficial so that test taker will be a more knowledgeable driver afterward. Thanks.
Material was interesting and very well explained. I learned several things I didn't know. Helped me become aware of careless mistakes made by drivers I had not thought about previously. Possible to complete the course and pass in 2 days without becoming exhausted.
It was simple to follow and navigate.
Course is very thoroughly given, Thanks
I was able to fit this into my schedule.
I would recommend this traffic school to anyone. It was very educating and I did learn from taking this course.
I learned a lot with this class
The course was easy to go back and read the chapter.
I was comfortable doing the test and I feel that I learned some things that were very important
I gave a rate of a 10 because I feel like it's a good learning experience.
Fast and easy to understand.
Easy website very friendly and easy to understand and use
Mary
San Juan Bautista, CA
The course was thorough, covered much information without repeating or being repetitive.
Clear, easy, fun enough, and actually learned some stuff.
It's very positive to everyone
THE COURSE WAS GREAT, ALL YOU HAD TO DO WAS LISTEN, TAKE THE SMALL TESTS, THEN THE LAST TEST. IT WAS EASY, AND I DID LEARN A LOT OF STUFF. THANK YOU, VERY MUCH
It's really helpful and great.
Jason
Palm Beach Gardens, FL
Because it was very easy to understand
EXACTLY AS DESCRIBED. GOOD COURSE.
Kathleen
Carmel Valley, CA
Questions and answers were straight to the point and understandable. It was also a learning experience and Educational.
The course was easy to follow and directions were good. I would highly recommend this traffic school to friends and family oh yeah and anyone I meet. Thank you very much for delivering a wonderful traffic school
I found this course to be very informative and helpful. It was put together in such a way that I felt like I was always learning. It was an Outstanding Course!
IT WAS EASY TO FOLLOW, WELL EXPLAINED
Delivered on all representations! Pressure free, very supportive course! Thank you for making it painless!
GREAT COURSE EASY TO NAVIGATE
The course was easy to follow
Easy and convenient for anybody
Your course was very effective and efficient for me
Highly educational and direct to the point
The course was easy to understand and I could stop and start when needed. Thank you.
The course was very comprehensive and informative and most of all easy and convenient in the confines of my own home also affordable, thanks.
I enjoyed the lessons through interactive videos, questions were right out of notes reviewed, class was easy to follow, registration was easy and help with online questions by phone operator was great. The customer service people were wonderful, and made the process easy
It was self explanatory, I learned many things through your course. Thank you trafficschool.com for all your help.
Really interesting and helpful.
Thorough. I relearned things I had forgotten about. Didn't want to take this course but ended learning and relearning driving laws and instructions. Glad it's over but I am glad I took it. Good stuff.
Because I did like this course, a lot of reading but easy to understand, I did take my on time to do it, without any pressure. Also, thank you for the reasonable price. The price is also a big reason to recommend it to friends and families. Thank you again.
I am totally satisfied and your school is very likely recommendable.
Great course informative concise and relevant.
Azar
Rancho Palos Verdes, CA
THIS TRAFFIC SCHOOL IS VERY EASY TO UNDERSTAND AND AVAILABLE TOOL FOR GUIDANCE AND HELP. NOT TO MENTION THE FEE. VERY HAPPY WITH MY CHOICE.
I liked being able to do the course on my own time rather than having to take time away from my schedule to attend a classroom course.
It's simple and anyone can do it at their pace.
Because was so easy and fast...👍
The online course is comprehensive and informative. I learned things that I didn't know before. Thank you.
The course was incredibly fast and that is what I needed. I actually started another school that had a timer and quit because it was so slow. Thank you!
Though I was apprehensive about an online program, I was encouraged by a trusted friend to take this course. (I am not the most computer savvy person I know!) The entire process was straight-forward and user friendly. I have thanked my friend and I thank you, too. I would not hesitate to recommend this course.
Very thorough and user friendly, with great content question and flexibility
Traffic School Reviews
We consistently strive to offer our traffic school customers the best possible online learning experience - this includes providing live & friendly customer service, easy to use courses, educational content, fast processing, and affordable pricing. But don't take our word for it, here are some real, verified reviews that our past customers have left about TrafficSchool.com!