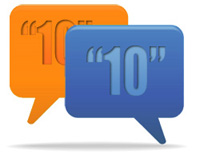 TrafficSchool.com Reviews
A Simple Question
is asked to customers that complete our online course and choose to do an optional survey:
"On a scale of 1-to-10: How likely is it that you would recommend TrafficSchool.com to a friend or colleague, and why?"
Here are a few dozen of our favorite answers:
This was without a doubt the easiest and most user friendly web based site. It worked with no issues, the material was easy to understand, I passed with 96% and it was affordable. I do suggest you pay the additional $4.95 for the read aloud option. I listened on my computer and continued with my day, Highly Recommend!
It was easy to understand and to process the information! I feel that this course was well written for the student and helped me be a better driver!
This is a great online traffic school. Courses are easy to take with detailed information and you have the option of using audio-enabled reading. I also enjoyed reviewing the animated videos. The chapter study guides are very helpful. I highly recommend this school to anyone who needs it! Thank you.
was very useful would recommend to anyone looking for a good class.. also get the audio.. worth every penny.... very clear and concise. and emphasizes the points to remember for the test questions..
Great price and easy to follow. It really help at pandemic time. Thank you!
It was so simple and easy I was able to do it without missing work
The online program was easy to use and understand. And the price for the program was right!!
Well organized, easy to understand, easy flowing, unintimidating, especially enjoyed the every once in awhile bits of humor and profound statements.
Everything was nice an clear and easy to take.
Because it was of great help to me, I learned a lot of new things that will help me drive safer.
C. Antonio
Santa Maria, CA
learned a lot from the course "Bravo & thanks a lot"
The course was updated and easy to understand.
The course went smooth and the option to have the information read to you was great.
User friendly - the 7 courses were informative and eye opening life experience on most if not all of the scenarios! Easy to register and painless!
I gave this rating because this traffic school was not expensive and very easy to navigate through and understand. All the questions were simple and easy to understand and pass with a good score.
great job on making this as easy as it was!!!!! thanks a bunch
the best course i give you 10+
Excellent easy and I learned a lot! Awesome! I recommend highly.
I had to finish this before 12am and I started around 10pm and finishes 5minutes before it was due! I am literally so happy this program was easy and understandable. This program was not confusing and complicated at all!
Charles
Cathedral City, CA
Very easy to understand and very good information. Thanks.
it was easy to understand, and went by quick, had no problems
Your course organization was logical, easy-to-follow steps and had some humor in places.
I compared your rating with other schools before enrolling and I notice your credentials were impeccable. As I go through the course, I found the teaching to be so easy to follow will all the guidance as I approached the final exams. The quizzes and animation were great and entertaining. I would highly recommend you to anyone I encounter in the future who needs recommendation. Thanks you!
Your course was clear and easy to read. The format was great and you sending it all to the Court for me has put my mind at ease. Thank you so much!
Because it was very self explanatory and easy to understand
E Santiago
Santa Clara, CA
Easy to listen and read and lots of good information about traffic laws and safe driving.
The course is very detailed information that is very clearly laid out to understand.
Study material is updated and the test is straight forward.
So far, this is the BEST online traffic school I have used. Very clear, simple, efficient, and tight. Halfway done in about 2 hours.
I Had No Problem with the website, very simple and cheap
Course was easy to navigate and not lose your place. Also very easy to apply your common sense, with a little refresher effort navigation was a snap.
The information was easy to understand with helpful animations. The quizzes were helpful in reviewing the facts.
great course, easy to follow.
For being able to complete traffic school at home on a problem free web site I'd say this is a decent deal.
Sylvia Gail
Laguna Niguel, CA
I think that the course is well written and is meaningful information. It is easy to access and to complete. I would recommend this program to anyone needing to take the course.
Course is less expensive than many others. Information was presented in an organized manner. Quizzes at end of section were helpful.
It was very informative. And if you read everything and don't skip over anything, you will pass the test.
I give this rate because you learn all the information before I start the exam.
It was fair and easy to follow the system.
the course was clear and understandable.
All the study questions were easy to understand
Ease of working at own pace and navigation of site. Good deal for price
Quick and easily understood to apply to better driving.
Excellent course. Very easy to navigate.
it was easy and fast thanks
Price is reasonable and everything was very easy to understand
good course easy to follow
it was easy to understand thank you
I thought that this was a sound and educated course. So I will recommend this course to friends and family in the future
It is very comfortable the way your system gives a chance to read and learn before taking the test.
It was a well-organized course. Well written and easy to follow. It provided good information without using too much technical language that is difficult to understand. You used simple language to explain complex laws.
Kevin
Twentynine Palms, CA
Its easy to follow along as well as VERY informative. I'm especially impressed with the considerable amount of information.
it's a perfect course to take
Convenience online Course. Finished it fast and easy. Lot of good information to review. Will help you to pass your renew DMV test if any. Thank You. Good School, Good services.
This was a get to the point easy to use site. All the questions were from what I read so it made it easier and I missed one they let me know why I got it wrong.
Your course was well thought out and very linear in logic! I got several "tidbits" of information from the course material - and I particularly liked that you covered aggressive driving and road rage (which is a hot topic during the pandemic). I gave you 5 stars on both Google reviews and Yelp.......and I will recommend you to any friends that need to attend Traffic School. Kudos to you!
I learned quite a few things that I didnít already know. It was beneficial me.
It was easy, clear and helpful. Thank you
It is very detailed and well explained.
It was very†informative and easy to understand.
Lorena
Huntington Beach, CA
because it's easy to register. thank you.
Great Self Explanatory Course
The material was well thought out and very informative not boring at all. Thank you
I enjoyed the course and learned a lot.
Because the course was very helpful and informative Thank you for all of your help in completing this course
Excellent course material. Easy to use.
it's easy to understand the course so when you go to final exam its helps a lot to pass it
Straight to the point class. It was easy to navigate as well. I would recommend this site to anyone for sure. 10/10
Practical and pertinent information.
the course was well written, easily understood and i didn't fall asleep...lol
Very easy! Actually, I think the quizzes and exam should be a bit harder. Some of the choices in the multiple choice section were so blatantly wrong, a participant doesn't really need to think much to get the obvious answer correct.
Very well written and easy read....very happy...would use u again but ill never get another ticket...lol
it is affordable and the course was easy to do.
VERY WELL PUT TOGETHER, EXPLAINS A LOT OF INFORMATION.
It was good information and easy to understand
Great course and refresher of our traffic rules and laws.
It is a very easy to understand and it is so detail about all the laws.
I took this course in the past and I feel like it was a great refresher and reminder to be mindful at all times of my own and every one else's safety around me. It's easy to forget with every day routine and driving. I appreciate that we get an option to take this course.
Eliodoro
Castro Valley, CA
Your course is very informative, easy to read and truly comprehensive. I learned a lot and took the tests at my convenience. I am proud and happy that I passed with 88% grade.
Excellent! They've made it pretty simple. It's very easy to understand the course & enjoyable!
Easy understand and can take the course whenever I want!
This traffic school gave me an additional insights on how to be a better and defensive driver. Easy to pass quizzes and final exam! Would definitely recommend this school to my family and friends!
I highly recommend this traffic school website to complete any classes you need taken. I did not take long to complete my course and it was very simple and easy to use with no issues.
Quick and easy learning with efficient processing.
Easy to read, navigate and complete the course with the chapters broken down plus quick quizzes! thank you for making this chore less painful
it was very well explained and did a great job to prepare me for the final exam
Complete course and instructions very easy to understand. And of course price unbeatable. Will definitely recommend. Thank you.
This was great! Super easy to use and understand, very informative. Was engaged the whole time :D
You had a straightforward course and offered options I liked such as dismissal verification. Haven't used other sites luckily but I didn't see this one lacking in anything, frankly.
I felt that the course was easy to understand from beginning to end. It was very well explained.
The study reading material was well presented and covered all aspects of driving. It was much more of a learning experience than just a test primer. Good job.
Viridiana
North Hollywood, CA
I did give this rating because I have being used traffic school for my needs for the past ten years and is always so easy to understand, thanks A BUNCH TRAFFICSCHOOL.COM LOVE U GUYS
Easy to enroll, reasonable cost, great presentation!
Able to do it at your time, very easy to log back in
easy to understand and follow
You Guys are the best at what you do. Keep up the great job!
Besides the fact that you can navigate the entire course from beginning to end, It is Super Simple, Straightforward and very Informative as well! I actually enjoyed it and found it simply challenging. My goal was to get 100% across the whole course and unfortunately I missed one in the final exam. Oh well!
First of all because of how easy is to register and start the traffic school Program, I spent one week calling different places and it was a waste of time they will tell me things like call us later, go to this page that didn't even appear when you were done typing it in, come get registered in person, come and get your package and just stupid things, after I found you guys and registered right away and started the program the same day, it explains everything in an easy way where you can go on your own from start to end with no problem or question what so ever, best traffic school program I have seen and I will recommend it 100% 👍
The course was easy and convenient to take at my own pace. Easy to follow along and I was able to finish and pass the course with ease. THANK YOU!!
I didn't expect to but I thoroughly enjoyed the course and learned a lot about traffic laws and safety rules. I regard this as a very valuable lesson for my well being as well as for the well being of others. Thank you, I appreciated the added features of the audio speed options, quizzes, examples and illustrations, and how the well written the online instruction manual is to follow, especially with the audio feature.
I loved ❤ your Online Traffic School from beginning to end. It was so easy and simple to register and to take Final exam confidently while learning all new laws etc as a driver in California. So thank you so much. You were The Best! Had a bad bad horrible experience with Rockys Cologne online school from beginning to end and failed exam twice and missed completion deadline so had the privilege of this last extension so was Very Scared would experience that all over but I passed and feel learnt so much and enjoyed it. Recommend to EVERYONE! Paid extra knowing my certificate of completion will be sent to DMV since today was last day. Thank you so much for helping me be a Good Driver!
Great course. Easy to take and I learned something. :)
Excellent course, user friendly, very informative. People should take this often not just when it is required.
Excellent material, paced well and set up so that one can leave and return to the same place.
I've done regular Traffic School in a class rooms, one time I've even used VHS video tape class, but this on-line was the EASIEST I've ever done. If I have a chance then on-line is the way to go! THANX!!
I loved it it allowed me to do it on my own time, started then went to work and came back to finished, thank you it was easy to understand and very informative.
Because it was easy to book, easy to access and understand the lessons.
The best you guys really helped me without stressing and I don't know what to say but thank you guys so much I love you guys
It was very easy to understand the audio was clear. Very detailed. Thank you
It was easy and convenient.
Traffic School Reviews
We consistently strive to offer our traffic school customers the best possible online learning experience - this includes providing live & friendly customer service, easy to use courses, educational content, fast processing, and affordable pricing. But don't take our word for it, here are some real, verified reviews that our past customers have left about TrafficSchool.com!