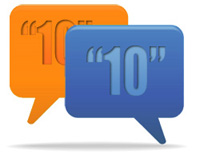 TrafficSchool.com Reviews
A Simple Question
is asked to customers that complete our online course and choose to do an optional survey:
"On a scale of 1-to-10: How likely is it that you would recommend TrafficSchool.com to a friend or colleague, and why?"
Here are a few dozen of our favorite answers:
Great on-line school, easy to navigate and straight forward with everything including price
I found the experience to be informative as well as entertaining.
I liked your program,it was very helpful to me. Thank you
Clear material and quizzes and tests were fair. Website easy to use and navigate.
Trafficschool.com was very professional and helpful with my procedure of traffic school. I would definitely recommend a friend or family member to online traffic school. Thank you very much
All info received was very pertinent and to the point. I really liked the info on Rage/Aggressive Driving. I leaned from this experience which was a win! I will recommend this course to everyone. Thank you.
Easy to understand, allows you to move quickly through the materials at your pace.
Easy site to navigate and course was easy to understand.
I wasn't expecting a traffic school that would be this informative. The way things were presented are easy to understand.
IT'S EASY YOU ARE ABLE TO TAKE THE CLASS FROM HOME READ TAKE QUIZZES AND HAVE NO PROBLEM PASSING THE EXAM.
Very easy and informative content. Was able to finish all of the chapters and passed the exam in less than 2 hrs.
Very good information and I loved the option of audio recording!
The reader's voice was pleasant. Thanks for an awesome learning experience.
Easy easy easy. It was trouble free and convenient on top of educational.
It flowed very well and was easy to follow.
All the questions were answered in the review. There were no trick questions.
Christopher
West Hills, CA
Incredible online traffic school
It helps and can improve better driving
The automatic reading is wonderful. The test are reasonable. Way better than a classroom. Best of all totally at your own pace.
This course was fast and easy as well as cost efficient.
I really liked how the all program is designed
Supena
Rancho Cucamonga, CA
Because it save your money and time.
Easy site to get through and informative
Easy to understand and very informative
10 nice system it was easy to understand and implement
Course is good, the service is good.
Among the best traffic schools I have done over 55 years of licensed driving. Course material was well presented and structured in a manner that allowed for going at my desired pace - slower where necessary and faster where appropriate. Finally, pricing was reasonable.
Excellent course. Very understandable and well organized
Understandable, nicely laid out, simple and to the point, and educational.
Elsebeth
Citrus Heights, CA
This course was easy to understand, and I actually learned some things that were new. The program was easy to access. I would definitely recommend this course to any friend.
This was easy and it only took me 2 hours. Thanks for making me laugh.
I found the info very useful, and the app easy to use.
Easy to understand, nice engaging animation, quizzes and test reflect lessons.
It was broken down nicely, and easy to comprehend!
Ademilayo
Moreno Valley, CA
The course was explained explicitly and made comprehendible for easy passing
Because this course is very interesting, very informative, helps me understand and learned more about traffic laws and regulations and driving techniques and instructions to prevent or avoid committing traffic violations and accidents in the future
This website provided good information was easy to understand I will recommend this online course to those who need an online course.
Kim
Indian Rocks Beach, FL
This was great thank you ....will tell friends
A very comprehensive course.
Elizabeth
Porter Ranch, CA
I'm very happy. It was fun and I really learned a lot. Thank you.
This is my first time doing traffic school online and I thought it was going to be such a hassle and take a lot of time, but it was really easy, fast, affordable and most of all really easy to understand. Highly recommend this traffic school to anyone that I know! Thank you!
It was great that you are able to stop at any time instead of having to sit in front of your computer for hours. The material was very easy to understand and remember.
Ease of everything! signing up, taking the course, receiving confirmation. Super Easy!
If trafficschool.com helped me can surely help others, everything is clear helpful and easy to follow, and most of all you can take it on your spare times.
Found this very informative
Because the way the course is constructed it makes it easy to understand, Very clear and concise Good tips, Diagrams and examples. The course is easy to understand and fun.
I learned a lot from the course
Your information was informative and educational.
Very simple to understand and I learned very much.
Everything went smooth and easy
Because I think it's important for everyone to know how to drive safe.
It's easy and could do it at your own pace. Very informative.
It was easy and understandable
Lessons are clear and easy to understand.
Well designed for the average educated person to understand, very detailed. The best was the repetitive chapter reviews
It is a lot to read, but easy to understand, & the test at the end of each chapter is very helpful. Thanks
BETTER THAN THE LAST COURSE I TOOK 4 YEARS AGO. BETTER WRITTEN AND MORE REALISTIC AND TO THE POINT. GAVE GOOD TIME TO EMOTIONS
When I began the course, a representative from the school contacted me to see if I was having any problems. Due to my schedule I was studying at an irregular pace per say. I explained my situation and in return, I receive written confirmation that the school would honor its obligation to assist me in any way in order to complete the course. Thank you TrafficSchool.com
Ce
South San Francisco, CA
Because I think is easy to do it
I thought the materials were organized and informative, and the testing was fair and adequate to test knowledge of the law!
Pierre
Manhattan Beach, CA
Well organized, clear lessons and easy to use. Especially liked the ease of logging in and logging out each time. Particularly like that I could just do a few pages whenever I had time and could easily return to where I left off when I wanted to
Great online traffic school. Easy to follow and it refreshed my knowledge of the driving laws and reminded me to be more vigilant at the wheel.
Was very practical, clear & easy; guiding the student step by step... I appreciate all your efforts you make on this web side; I really enjoy it while I was learning... Thank you so much.
It was educational & easy
Judith
Stevenson Ranch, CA
People helpful and information not too complicated.
I was really afraid to take this course. The way you have it set up and all the reading material before hand and the intervals of quiz questions really help. I enjoyed and learned so much more.
This is the 1st time I have used an online course. It was easy well formatted and informative. I hope I don't need to go through this again, but in the event I do? I would use this site again.
The online material was very educational and user friendly! Thanks
Course material was relevant and the tests were not too difficult
The traffic school was easy to understand and I would definitely recommend this school.
Completing the course online was easy to understand. It was flexible that allowed me to complete the course at my own pace. I would recommend it to anyone.
Well presented and could work at own pace when time was available.
Very easy and informative course. And very good that you process the paper work. The price was very fair. Thanks for being there.
GREAT REFRESHER COURSE LEARNED A LOT.
COURSE WAS EASY AND VERY EDUCATIONAL FOR OUR DRIVING UPDATE ON CALIFORNIA HIGHWAY LAWS AND SIGNS
It was easy to understand and complete.
Because it was easy to understand and it allowed me the time I needed.
Daniel
Desert Hot Springs, CA
The Material was easy to understand, a Great Value, and an educational positive experience.
I found this course to be easy to maneuver through. And the ability to log on and off and work at my own pace was extremely helpful due to my busy work schedule
The contents of this topic was very helpful.
100% flexible and convenient
THIS WAS FOR SURE A CHALLENGE AND VERY TIME CONSUMING BUT I HAVE LEARNED A GREAT DEAL AND I AM VERY GRATEFUL FOR THIS. LESSON LEARNED FOR ME!!! THANK YOU TRAFFIC SCHOOL ...... FOR YOUR ONLINE CLASS!! HAVE A GREAT DAY!!!! I HAD A BALL DOING A LOT OF BRAIN WRECKING AGAIN THANKS!!! I'M GOOD NOW YEAH!!!!
Very simple and to the point course without a bunch of unnecessary fluff
Because it was informative
This is the best traffic school ever...very user friendly
Very quick and easy. I really liked that I was able to do all the sections at my own pace. The study guides are very helpful.
Course was professionally presented, easy to follow and complete. Helpful to me in several areas, some new, mostly refresher.
Because it's easy to understand, and we learn something new
Education is always useful. Brushing up on driving always helps to stay educated with the safety of others.
It was a pretty interesting program from which I was able to learn valuable information.
Very informative, easy to understand. Very convenient for working people
This course and the ability to access it from different computers at different times was SUPER convenient! I liked the quizzes and the graphic situational questions. I have been driving 46 years (yikes!) and found this course a good refresher! I still feel like I got entrapped on the darned ticket though! ;-)
Because this school is easy to learn for traffic school. Thank you!
Easy to understand and I liked the stats and references to California. Made it interesting and relatable. I learned a lot.
I believe it is understandable to the majority of the public.
Cause I enjoyed the course
It is very easy to navigate and very informative.
Traffic School Reviews
We consistently strive to offer our traffic school customers the best possible online learning experience - this includes providing live & friendly customer service, easy to use courses, educational content, fast processing, and affordable pricing. But don't take our word for it, here are some real, verified reviews that our past customers have left about TrafficSchool.com!