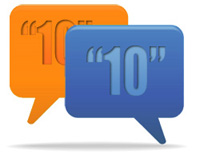 TrafficSchool.com Reviews
A Simple Question
is asked to customers that complete our online course and choose to do an optional survey:
"On a scale of 1-to-10: How likely is it that you would recommend TrafficSchool.com to a friend or colleague, and why?"
Here are a few dozen of our favorite answers:
I was dreading this. Thank you for making it not so difficult.
George
Treasure Island, FL
Extensive coverage, helpful information, attractively presented.
Excellent and all materials easy to understand. I just missed one question in my final test.
It was cheap, easy to navigate and to the point.
It was actually informative and useful
Excellent, very easy to read and understand.
It was straightforward, to the point and didn't require a degree in computer theory to use and complete. I'm a fast reader with good retention but even if I was a slow one I still could have used it effectively. Good deal!
This course was both informative and easy to understand. I would highly recommend this course to anyone. Thank you
Easy to understand and formatted well.
Information was clear and well written, hints were helpful.
This program in particular was clear and consistent, especially with the option of doing rush processing for a small fee whenever I need help to submit the traffic school completion to DMV within the same day. I strongly advise all users to read carefully and watch what date it is today and pay attention to the due date. The program overall is great for those who need to refresh their memories, especially those with little time to spare as many people those days are busy. It is an open format designed for all readers.
It was so well defined, I read the material at a glance and did the whole test in one sitting, wonderful. By the way I have been driving in California for 36 years, maybe that's why it was easy for me.
I thought information was well written tests were well thought out plenty of good information
I enjoyed it and thought it was an excellent review course for me. It also confirmed that overall I am a good driver but still need a refresher.
This course was informative and very easy to use. I actually learned a lot. I would definitely recommend it to anyone needing this service!
It was very understandable.
This was a good course to take, very easy to understand
YOUR COURSE MATERIALS WERE FINE. HOWEVER, I WOULD RECOMMEND THAT YOU MAKE YOUR STUDY GUIDE TEST QUESTIONS A LITTLE TOUGHER.
You guys were helpful. Thanks
It was easy and straight forward
Deborah
Huntington Beach, CA
Nice course - easy and quick
All of the information provided is accurate, and understandable. Each section had very detailed oriented information. The features provided within the website made learning, and understanding easy. Very affordable.
Very informative and easy to comprehend.
Very easy and simple to maneuver through
It was easy but at times very informative, I've learned a lot from it and I will put in practice what I have learned. Thank you for making this course, I honestly would recommend this to anyone and everyone. Should be mandated that every driver should take it, would make driving safer! Thank you again!
I found the course to be straight forward, and at times even interesting. I say this because naturally for an experienced driver much of the info is known already, yet the course did, at times, make some interesting points that I had not thought about, as well as use some humor. This humanized it a bit.
I gave TrafficSchool.com highest rating, because the link to your site, detailed explanation and navigation throughout the course is very systematic and explicit. Program/text is very educational. I liked the addition of the "live" situations, which were also very educational. All information required by the court to be completed is easily found, moving from one section to the next is clear. It is an absolutely great program, easily understood, all bases are covered: There is text to speech choice which is very helpful. Your site anticipated my questions and I had no problem finding answers. I am glad I choose your traffic school, thank you, I will recommend your btw very nicely designed site to everyone.
I was able to complete the program quickly and I was able to examine the study guide if I forgot anything for the exam.
Very organized and easy to follow. Points were summarized well and was able to complete the course in a reasonable amount of time
The entire course was well presented. I had ease of completing course. Thank you.
I needed a reliable traffic school. I found this one, loved it, I have been driving for a very long time but I found new information here, passed with a score of 100%, I am happy, I did it in half a day. I could have it done faster but I needed to make sure it was done with no mistakes, thank you very much, I will recommend to families and friends if needed.
This was very informative and I learned a lot.
The course was easy to complete and the material was well-written, logical, and fairly succinct.
William
Canyon Country, CA
Course material was easy to understand and repeated enough to ensure comprehension.
Your website is very organized. Your study materials are well organized and informative. I enjoyed reading along with the recorded voice. The voice is clear and evenly spaced.
This course even though I did not want to take, helped me to learn some things that I did not know. Very helpful and easy to understand.
Your course was very organized, easy to understand, very informative and very reasonably priced. I also like the fact that you send my Certificate of Completion of the course to my local traffic Court on the day that i request, and that you give me several options of proof, for my own personal record. Thank You! So very much. You're the best!
Joyce
Ponte Vedra Beach, FL
Despite some tediousness, I learned about driving, risk, safety, attention etc. The format was straightforward, purposeful and designed so it could be taken in parts/sections. I read all of it and watched the video pieces, very much appreciating the opportunity to refresh my knowledge and revive my approach to safe, attentive and courteous driving. Thank you.
The program is very informative, professional and extremely helpful.
It was really easy course to take at my own pace
This was a very straight forward test with a lot of valuable information about driving safely. Its almost impossible to "enjoy" a quiz but this one was okay.
I rate it as a 10 because it gives you the videos and information that is very useful and plenty of explanation to understand the laws and regulations of when and how a person is to drive on the road and to respect it. Meaning other drivers and pedestrians as well. I believe it is a great course that everyone should have to do before obtaining or renewing their license too.
I felt that the information was laid out in a way that made it easy to understand
Your course was informative in addition to reinforcing previously acquired knowledge. One should always be inclined to adjust to corrective input.
This course was easy, quick, and cheap.
It was very easy going, clear to understand and it helped me a lot the option of having the voice instead of reading, thank you
Abdolreza
Woodland Hills, CA
BECAUSE THE COURSE WAS INFORMATIVE. THANKS
Because TrafficSchool.com can help me learn about my mistake and I can drive better in the future
IT WAS EXPLAINED CLEAR AND WAS EASY TO PROCESS.THANK YOU
I learned things I never knew!
Easily read and understood the course material.
Easy to follow course and easy interface
I am happy to take online traffic class. I am giving a high rating for this traffic online class tnx
Easy to navigate and understand.
It's very informative and educational. You can do it at your own pace. What I have learned from the course will help me to drive safely in the future.
Dealtina
Palm Beach Gardens, FL
It is something you can do at home + at your own pace in the evening or night if you are too busy or not able to attend a traffic school on a physical address.
I have friends that used the course and said it was excellent and I agree.
Your course is well-designed and easy to follow. I liked listening to the voice-over while reading the text. And the tests and quizzes are helpful. Thanks to taking the course, I feel confident about renewing my license soon!
Because I liked the teaching method
It was a lot of good information.
This course was very easy and the test was clear and understandable
It was easy and not confusing.
Because this course was a really good refreshers course and reminder of the laws and rules of the roads we drive only daily. My awareness level is really up there now! Thank you
I received a lot of information of traffic safety from this school. It's good to always update yourself on the new traffic laws and TrafficSchool.com made this possible.
Easy control and easy to navigate
Information is educational
Andrea
Desert Hot Springs, CA
Definitely recommend this to someone because it is Affordable
I got a lot out of this Traffic School. Thank you very much.
Easy to understand and easy to navigate on various topics
I'm actually getting good information from your site and find that I am staying engaged. The information is not presented in long wordy paragraphs - it is straightforward and digestible. The interactive questions are also helpful to keep the course from becoming monotonous. I also appreciate the information letting me know how long each section is and when my class needs to be competed by. These small things are actually really helpful.
I Love the course. Especially the ability to do it at my own pace
Rochelle
Redondo Beach, CA
I found the course not too boring, actually learned something after many years of driving, and I liked being able to continue at my own pace.
The audio add on for purchase made the course easier to take and it was more expeditious than reading.
Ease of access and easy to understand the text.
It was extremely informative. I would certainly recommend it to anyone who needed to attend traffic school. Thanks
Very well organized and presented. Highly recommended.
I'm a senior and after a little time I was able to complete the program in less time than I thought possible. Thank you
This online traffic school was so convenient, fast and as promised. Thank you
Kathleen
Santa Barbara, CA
Easy, good value, and convenient.
I found it very informative and helpful in completing the final exam. Also, the price was very reasonable.
Honestly this is the website to use to complete a traffic school, their prices are very affordable, I recommend this website because it is very simple to use.
I learn a lot on my own time and at no rush
This site is very easy to understand and user friendly. My experience was great. Thank you
Online course was easily understandable. If you missed a question, it provided a correct answer and its explanation. I also liked that there was a study guide on each section in case you forgot a topic. It is also affordable.
Your program is excellent. Your website is user friendly, filled with interesting facts, statistics and relevant information to keep the online course exciting. Thank you!
Because this course was easy to understand and to follow I will recommend this to my friends and family
Expanding my knowledge in Traffic Rules and Regulations.
You weren't my 1st choice. I signed up and paid for another online traffic school. Immediately, I hated it. So I found you. Thank goodness. I liked trying it before paying & being able to take pretest as many times as needed. I really think the talk along narrative is why I'm doing so well. Worth the money for sure. So thank you. I am not concerned in the least about passing your course. Once again, my sincere thanks.
Shannon
Stevenson Ranch, CA
Easy to read and quick to go thru yet I did learn a lot. It wasn't as miserable as I was expecting a course to be. So thank you! The graphic set ups between reading were a nice change of pace. Tests weren't too long and felt confident when taking final exam.
An overall great amount of detail, & to the point questions & answers. Thank you :)
It was very informative and let me complete it at my own pace.
Munkhzolboo
Los Angeles, CA
I like it because it is understandable
It was easy to follow and I learned a lot!
Very organized and easy to use. Thank you!
Because is the best service
Traffic School Reviews
We consistently strive to offer our traffic school customers the best possible online learning experience - this includes providing live & friendly customer service, easy to use courses, educational content, fast processing, and affordable pricing. But don't take our word for it, here are some real, verified reviews that our past customers have left about TrafficSchool.com!