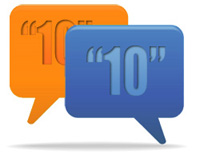 TrafficSchool.com Reviews
A Simple Question
is asked to customers that complete our online course and choose to do an optional survey:
"On a scale of 1-to-10: How likely is it that you would recommend TrafficSchool.com to a friend or colleague, and why?"
Here are a few dozen of our favorite answers:
Affordable, easy to navigate, and helpful
Very easy to understand and complete. Most are common sense questions and answers but some are not. I actually learned some new things by taking this course. I would highly recommend this site for any traffic course requirements.
Excellent Excellent Excellent! I have not received a traffic ticket in over 40 years, and I was so hesitant because I have not had to study for any test in such a long time; I must admit my hesitation was pointless because of how smoothly and seamless the course is laid out for absolute success. The review is priceless and should be given to all drivers every couple of years, it will make you a much better and more confident driver of all ages and years of driving experience. Thank You, this is an absolutely Great Traffic School Course!
The website was easy to navigate and the quizzes were very helpful.
I took your course about 5 years ago and remembered it was easy to use and I even learned some new info. Your prices are great too. I am glad to see you are still in business and going strong.
This was an excellent course, very simple, easy to complete, and helpful! Highly recommended!
It is super easy to operate and the instructions are easy to follow and the teaching is easy to understand. I can take the course at anytime from where I left off. It made it easy for me to learn.
1st the price. 2nd the easiest and uncomplicated course. 3rd, instructor reached out personally to welcome me, ask if I had questions and helped find me information regarding ticket and and court information. Honestly the most valued money spent for the something that is extremely knowledgeable and important for many reasons.
Beautifully written. Very informative. As a former Ny Times syndicated columnist I know excellent informative writing and this is a shining example. I not only enjoyed taking the course but learned more than I ever expected.
The reading information was very easy and educational. Simple and to the point. Most questions required only common sense.
Was fast, easy to understand, and informative
I am pleased with how easy it was to sign up and complete, also I learned, refreshed, etc. I would definitely refer this site.
Based on the easy access, during the process of the course, the clear explanation and details to understand, and follow each step of all sections. Definitely was very helpful and refreshing. Also, the good customer service and prompt response. I will highly recommend your services.
It was very easy to register. When I called a representative for clarification on court details, the response was quick and the person was very courteous.
Easy to understand. Price was fair.
Because the price is good and it seems to be very systematic
I was able to do a part at a time at my own pace. I had the open book assistance to remind me of facts. The cost was affordable and the system was designed for success and everything was provided to make sure you learn and pass the tests.
The different options you guys give like rush for example are great cuz I got it all over with LIKE THAT! The questions weren't too bad and it was easy to use!
Everything worked as expected, clear, and concise
Easy to navigate through online and nice staff when I made inquiry about the course on the phone, I definitely recommend it!
Very affordable, informative and convenient. Thank you for making it available.
The course is also very well-organized and easy to follow. The material is presented in a clear and concise way, and there are plenty of opportunities to practice what you're learning.
Very informative, better than DMV booklet!
Great. Easy to navigate online
Bruce
Hacienda Heights, CA
Easy to read, got to take my time while doing other things. Material was very good and current. Overall, I liked the course.
Because it was very helpful and easy to follow instructions
Easy. Course was very thorough, can adjust audio speed, and you can review each section before test.
Very well written, easy to understand, and logically organized. Great job!
I thought the information was excellent and presented quite well. I actually enjoyed the process!
Well presented material, easy to read and understand.
It was easy, fun, and affordable traffic school after paying hundreds of dollars and stress.
It was a reasonable price, easy to understand and good practice quiz on each section to make sure you know the material. thank you.
It was very easy and well explained course material
TrafficSchool.com is easy to follow the online instructions. The content is well written for easy understanding. The quizzes help ensure you comprehend the information given.
Course was easy to navigate and understand.
Course good brush up on traffic, easy to understand
James
Rancho Cucamonga, CA
Best Traffic School EVER!
Site was very easy to use. Best online traffic school ever.
Well organized. Explanations/narrative easy to understand.
It was very educational and price effective
Great price and easy to use web site
Good school, easy to follow. Learned some good information.
It was easy simple and fast. Getting the audio for a bit more, its worth it!
Convenience, in dealing with an inconvenient incident that happened. It was nice to get it taken care of on my own schedule and time frame. Much appreciated!
Easy to navigate and get through. Like the frequent checks and quizzes before the final.
The course was clear, informative, and easy to navigate.
This course has everything you need at an affordable price to complete your traffic school which is approved by the DMV. It allows you to go at your own pace, save & log out, and log back in without any issues. If you need any assistance they have a toll free number to call. I would highly recommend TrafficSchool.com.
Clear, concise, and easy to follow. Good feedback on missed questions. Was able to complete in one day. Glad I choose this one over the other three I considered.
Enjoyed the info and ease of questions and feedback.
The Website is simple, uncongested and easy to follow, the course is written in simple and understandable English language, the price is cheaper than a soda-pop drink, and most of all, the Auto Reading option with different speed settings is just a cherry on top of this "Piece of Cake Traffic School". Perhaps, that could be your AKA name as well. Thank you, the entire team is very thoughtful !!!
It was understandable, to the point, and every section of the reading material was UNDERSTANDABLE and applicable to the course and every day driving! I enjoyed taking this class and most importantly: IT WAS AFFORDABLE! Thank you immensely for the updated and current information for driving in California. This is a great refresher course for me.
Informative, good review of driving rules and experiences. Flexible-can do as quick or slow as you desire.
Joseph
Rancho Santa Margarita, CA
Really easy to navigate and learn. Also audio is a big help.
The process was great and at my own pace.
I'm not much of a reader, so the audible option was extremely helpful in completing and passing this exam.
Managing this course was easy to do. I enjoyed the reading too.
It was a very good training and I would want to share with people around me if/when they need to use it.
Course was very informative. Easy to understand
It's easy to understand tests matched the course information and I really liked it
Easy to understand and useful information
I love this experience, everything was easily manageable.
Easy to understand courses
It was easy to use and I learned items that I did not know. Very helpful!
I really like how easy it is to learn and to be engaged in the program.
Beatrice
Huntington Park, CA
Very easy to follow and found the verbal tutor extremely helpful. Thank you so much for making the process so accessible
Thanks for making this easy to understand!
The text was easy and a pleasant to read. I enjoyed the interactive elements in the course.
Great online traffic school
The material is 'to the point' and simply put. One can navigate backward to re-read a rule of the road.
You guys rock, make a difficult situation into a nice and simple way to get it done.
Easy, helpful, improved my knowledge
THE PROGRAM WAS SUPER EASY TO NAVIGATE AND COMPLETE, VERY IMFORMATIVE AND A GREAT WAY TO RE-EDUCATE MYSELF ON ALL MATTERS WHEN DRIVING A MOTOR VEHICLE. THANK YOU FOR A FUN AND EDUCATIONAL EXPERIENCE.
The course and study materials were clear and precise and easy follow. I would and defiantly will recommend TrafficSchool.com.
I thoroughly enjoyed the simplicity of this program. The extra feature(s) of the Audio Reading & Text Style were just what I needed. My questions were answered in a prompt & courteous manner & I felt listened too.
Itís a very good to learn the rules of the road
I received an email response, and a phone call, almost immediately after leaving a message on a weekend.
It was very easy for me and it gave me ample time to finish the course and I was able to go at my own pace.
It was very easy to take test long as you read the pages! Enjoyed it but don't tell anyone.
Clear instructions and it is fun to participate in the charter end testing.
It was easy reading and I thought I learned quite a bit.
I enjoyed how easy it was to complete on my own time
Of course it does take time but I thought it was pretty thorough and I feel more up to date on the new traffic and driving laws.
Very easy to use and understand
The course was very informative and made me think about why I made the poor judgement that led to the citation.
Easy to follow and I learned some important points.
It was a reasonable experience.
Because it was easy and I could understand everything
Excellent, clear and responsive web application.
I enjoyed the course and it is very clear and informative.
I can understand everything and very easy to do!
Very easy and as long as you read the information you can pass, also easy to understand.
It is a great school and recommend it for everyone
Everything was helpful and educational
Great course. Easy to follow, would recommend to others.
This was quick! And amazing! I'm so glad!!!
Very helpful and attentive to detail on rules and safety
I really liked the experience, very easy to understand the steps and the way you guys make me learn more about rules and laws in this country, thanks.
It is very helpful information and reminding of current laws.
Easy to access and great course
It was easy and very informative.
I found this course very easy to read and comprehend, and also find it useful if DMV would apply this course to all first time drivers. It was informational and easy to read.
Because it was really FAST, SIMPLE, AFFORDABLE, and FUN. Easy to understand and use. Thanks.
I didn't know what to expect, but the course was comprehensive, well laid out, and even after driving for 45 years, I learned a couple of things. Appreciated the animated knowledge checks and the course was divided into bite size sections that made it less intimidating. Thank you!
This course is so useful, easy to understand, flexible times to repeat exams, your success is guaranteed. Thanks
I gave you this rating because the course is thoroughly explained and the reading feature makes it easier and faster. Each exam question are corresponding to what was covered in each section.
Course was easy to follow and quiz was a good way to review each section. When a have a question about the course itself, your representatives are usually friendly and professional and helpful.
Quick and easy common sense approach on the test. Appreciate the ease and fast pace of getting it done. Thanks!
I was worried before I started this Traffic School, thinking this would be difficult. It turned out that it was easy and I learned some new information that I didn't know before. I scored 100% on my final exam. Hurray for me! Thanks for a good experience in doing this class, even though it was an expensive lesson for running a red light.
Excellent course and an excellent price! The content was presented very well.
Traffic School Reviews
We consistently strive to offer our traffic school customers the best possible online learning experience - this includes providing live & friendly customer service, easy to use courses, educational content, fast processing, and affordable pricing. But don't take our word for it, here are some real, verified reviews that our past customers have left about TrafficSchool.com!