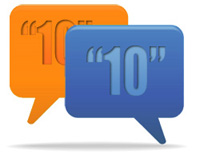 Local Cape Coral Traffic School Reviews
We asked a handful of our Cape Coral, FL traffic school customers one very simple question:

"On a scale of 1-to-10: How likely is it that you would recommend our online Cape Coral DMV licensed traffic school to a friend, and why?"
Not looking for traffic school in Cape Coral, Florida? Read Florida Traffic School Reviews for other cities.
So easy to read and comprehend
Easy to study and take the quizzes. Ability to reread chapters. Good school
Set up very well and easy to use
It was simple and every helpful.
It's Wonderful it will make me a better driver and I enjoy everything about this call, thank you. God blessed!!
It is very important to brush up on your driving knowledge.
Course covered a wide range of information. Was not overly difficult. I did learn.
Concise and to the point. Good test
Well organized. Easy to understand. Gives you more knowledge of laws. Will keep me more alert.
I felt it was very complete and easy to follow. For me, I did not complete it quickly so I would advise a friend to allow adequate time.
Easy to understand with helpful videos
Course was very detailed and quite informative.
It was an excellent review of needed information.
This course was very important to me. I wanted to do well on the final, and I did. This was my first ticket since 1959. I wanted the information to be educational and informative, and it was. Using the audio assist, the entire procedure took longer than I expected, but it is well worth the effort. I enjoyed the course but I hope that I never have to do it again.
Because it is knowledgeable, understandable
Because I learned a lot. Thank you is an excellent school class.
The content was relatable and the quizzes definitely prepared me for the final exam.
I was very pleased with the process, the videos and the audio tools available. I enjoyed taking the course and it will save me two (2) points on my driving license.