The TrafficSchool.com
5-Star Guarantee
Choose the Traffic School that's been building your trust since 1994.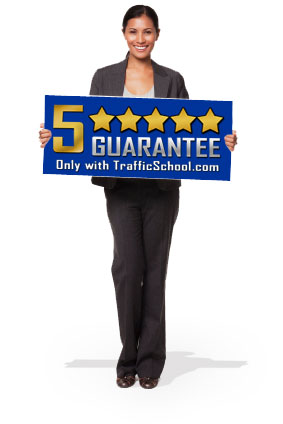 Our 5-Star Guarantee is our way of saying, "Sit back and relax, you're in safe hands."
100% Satisfaction
Don't worry, be happy: Not satisfied? Unlikely. But if you are, we'll gladly refund your course tuition in full.
Low Price Match
Show us the money. We'll match it: Found a lower price for the same course we are offering? Get our course for the same price.
100% Money Back
Can I get a refund? Why, yes, you can: Money Back means money back at TrafficSchool.com... without all the hassle.
Free Pass Promise
Passing is easy. Failing is Free: We're so confident you will pass our online course, we'll pick up the tab if you don't.
Zero Hidden Fees
No one likes Fee Hide and Sneak: Our prices are always clearly on display and you'll never find any required "surcharge surprises."