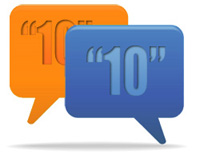 Local Bradenton Traffic School Reviews
We asked a handful of our Bradenton, FL traffic school customers one very simple question:

"On a scale of 1-to-10: How likely is it that you would recommend our online Bradenton DMV licensed traffic school to a friend, and why?"
Not looking for traffic school in Bradenton, Florida? Read Florida Traffic School Reviews for other cities.
Cause the site is understandable very easy to navigate.
IT WAS COMPREHENSIVE YET EASY TO FOLLOW AND COMPLETE. DID NOT GIVE 10 SO AS TO LEAVE SOME SPACE FOR IMPROVEMENT!
Because it was informative and easy reading. Tests were easy to follow
The Course was easy to follow and understand.
Your final exam test is very clear.
Very in depth information. I did learn many things I was not aware of prior to taking the course
The class is so clear and wonderful. I love it.
Because I took my time to learn more.
Learned a lot - saved money for insurance and took points off drivers license. When I needed help to enter course you helped. Thanks for the experience!!!
It was very informative and technical in detail, some of which I admit, I did not know. I did learn and feel it will be helpful.
IT WAS EASY TO FOLLOW AND EASY TO COMPLETE
Course was well done, easy read and excellent material & refresher course.
Great curriculum built in nice website. Very informative and helpful for all types of drivers. It should be used once every 2 years as a sharpener. Good job!
So far it's well tailored
I found the course to be very beneficial as a review of information and as a reminder of the importance of careful driving practices. I think it ought to be required occasionally for license renewal.
I enjoy this website and it assists me well with what I need to do.
It was very informative and educational
It was very enlightening and informational
I believe you made very clear descriptions of the material
I found it a great way to review as I have not taken a written test in decades. Doesn't hurt to brush up and see what is new.
All questions were clear and not tricky. All topics were touched on.
It's laid out well and easy to follow
I thought the course was interesting and informative
It was a very good refresher course as to my own driving, what my car has as to safety requirements and additional new safety inventions.
Material was easy to follow, information was very informative.
I have found this Traffic School Program to be extremely helpful and especially making me more aware that Driving is certainly a privilege and not a RIGHT to get behind the wheel of a car... Thank You...
It was easy to understand. Thank you
Very informative test. I learned a lot of new things