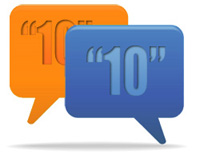 Local Orlando Traffic School Reviews
We asked a handful of our Orlando, FL traffic school customers one very simple question:

"On a scale of 1-to-10: How likely is it that you would recommend our online Orlando DMV licensed traffic school to a friend, and why?"
Not looking for traffic school in Orlando, Florida? Read Florida Traffic School Reviews for other cities.
It was very easy to understand and navigate.
Its good, you take time to think
I found it to be very comfortable to be able to log out and come back. Also that during the test, had the opportunity to reread information.
Allows me to do what I need to do
It was a great course. You guys got straight to the point and I did what I needed to do, Thank you.
Because is very clear, but to hard for me to read English
Very informative and adequate for the purpose served.
Quality and effectiveness of our program, I receive a superior educational traffic school program.
If taking and passing this course takes point off your driving record/license it it well worth it.
Helpful and clear instructions fair assessment
IT WAS EASY TO UNDERSTAND EACH MODULE.
Very happy with service and course. It would be a 10, but my zip code is wrong on my certificate. I reviewed and corrected my info, but it's still wrong.
Easy and convenient for a personal pace. Loved the study guides.
Because it was a very informative course. It really informed me about current situations, rules and regulations that wasn't in place when I originally took my driving test.
Because it is a very good and easy way to not get eight points on your license.
Course was painless and well versed!! Thanks for everything!
Because it has been so patient and do it on my free time
Course was much longer than expected but when having problems and calling the office the staff answering the phones were all so kind, courteous and polite. They all seemed very eager to answer questions and help with any problems I was having. Thank you for all your help and assistance. They raised the bar here. Again information provided was useful but didn't work into a 4 hour time slot. Again great team and customer service. They made the difference!
Because I was 100% satisfied
Easy steps, learned a lot from the topics
Because not only did you touched on traffic laws but also vehicle safety, handling, etc. which gave me new perspective in driving more safely!
It allows the person to take their time doing traffic school course and questions are easy
Great information, easy to follow!
For having having great system
Easy to read and convenient
A very comprehensive course.
It was great that you are able to stop at any time instead of having to sit in front of your computer for hours. The material was very easy to understand and remember.
Your course is really easy to understand. I can study it whenever I have time, it's not stressful at all. Thanks and I will highly recommend it to my friends and acquaintances.
Because this course is very useful
This course has certainly made me more aware of everything that can occur that over the years I had forgotten or never gave thought to. I'm aware now and I notice while I'm driving I'm reflecting on everything I've relearned or just learned. Also, I have become so much more aware of the speed I drive and how unnecessary it is, to not be in such a hurry.
Wasn't expensive and helps remind us!
I learned a lot of info, details and things that can make me a better, safer driver.
MORE CONVENIENT THAN GOING TO TRAFFIC SCHOOL. ABLE TO STOP AND TAKE CARE OF GRANDKIDS AND THEN RETURN TO STUDY.
The material is easy to read, you cannot cheat, the program force you to take your time to read everything before going to the next page and it really refresh your memory about what's going on around you while driving.
This course is very informative and easy to navigate through. A person can learn at their own pace by exiting in and out when they desire.
It is easy to understand and the questions so far are online with the study guide.
The quiz questions were closely aligned with the previous content covered.
This was a pretty intense course, with so much information, the videos are excellent, this cover a lot of information and it would be beneficial for a learning person, it covers everything you might experience on the road, if you are going to travel, giving you tips to remind you about things we sometimes don't think of it, or pay too much attention to. Very informative
Self-explanatory and useful tools.
Because I like that it is easy to understand and people can review your driving skills and do it at your own pace in the comfort of your house
The course is convenient, educational, empowering, enjoyable, helping me feel increasingly calm, confident, and observant. The reason I did not give it a higher rating is only because several of the quiz answers and one final exam answer do not completely agree with the lessons and study guides. My overall experience is positive, and I would recommend the course. God Bless You. Thank You.
Very informative and educational.
This is a good comprehensive course.
I enjoyed the videos, great graphics, fast paced.