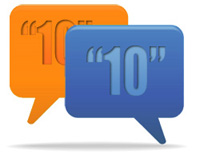 Local Tampa Traffic School Reviews
We asked a handful of our Tampa, FL traffic school customers one very simple question:

"On a scale of 1-to-10: How likely is it that you would recommend our online Tampa DMV licensed traffic school to a friend, and why?"
Not looking for traffic school in Tampa, Florida? Read Florida Traffic School Reviews for other cities.
Very educational course and will recommended to friends and family!
It was easy and I was able to correct my mistakes and take it till I passed. thank u.
Because it was very helpful and help me on things I forgot
It was helpful for future driving purposes & easy to get through.
BECAUSE IT IS GOOD AND IT SEEMS TO SAVE YOU MONEY AND IT KEEP THE POINTS OFF MY LICENSE
Very good and convenient course online, can finish it at home any part of time, flexible and comfortable, thank you
I gave this 10 rating because it is so thorough, beneficial, informative and convenient and worth it. Thank You.
Easily and simple to follow the course instruction and contents.
I believe that it helped me very much. Thank you
You guys gave a good and cheap way to complete my course
It helps to get you back on highway safety
I am very likely to recommend because the class help me keep safety in the road.
Your response was quick and gave me clear instructions about course.
Because is a school very clear in all the material
The information was written well, easy to understand. Many new details that I wasn't aware of. I know exactly why I was in an accident. I practice these suggestions, yet accidents happen. The 7 sections were appropriate. I liked the Intro, course material and the Review. I liked having Quiz at the end. Prep for the Final. Very Fair but needed to have taken good notes. I liked being able to review. The Complete and Save was wonderful. It helped as I needed several days. Excellent.
Worked great for my time-schedule
Easy registration and clear instructions
The way the program was structured e.g. professional, direct and ease of comprehension.
The course was well constructed
Very simple and reasonably priced
Very comprehensive material.
Because you can go on your own pace and speed on this site
This course was very easy to maneuver through and the print was large enough to read without any problems. The waiting time to go to the next page was excellent and the questions were definitely from the reading which was super helpful
You guys are awesome in this course thank you
Information and testing very thorough. It did take longer than I thought it would. I did learn some new information.
Time saving for all those too busy to attend a classroom. Take at your own pace.
Because you learn a lot more about traffic rules and safety
Learned more about traffic safety
Because while taking the course I learned a lot
It was very informative and easy to use. I think everyone would benefit from a refresher course occasionally.
There are so many new requirements and safety traffic laws that it is impossible to keep up with, so the course was very informative and I enjoyed the short videos.