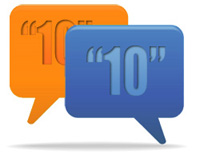 Local Sarasota Traffic School Reviews
We asked a handful of our Sarasota, FL traffic school customers one very simple question:

"On a scale of 1-to-10: How likely is it that you would recommend our online Sarasota DMV licensed traffic school to a friend, and why?"
Not looking for traffic school in Sarasota, Florida? Read Florida Traffic School Reviews for other cities.
It was simple to follow and easy to navigate.
Easy to sign up and easy to follow
I got some information I was unaware of and I know it will make me a better driver
Excellent course material. Easy to use.
Each course is very thorough with lots of information. Test questions relate to the contents of the individual courses. Suggest you read each question twice before answering!
It's important for drivers to be safe when operating a motor vehicle.
Information was easy to understand and very helpful. It was great in the explanation and familiarization of road safety. Very good refresher course for me.
Because I think it's important for everyone to know how to drive safe.
It helps you not to commit more infractions
It's really helpful and great.
Great info, not just common. Very easy to use:)
It was easy to take. I could start and stop when I needed to and came back to the same place I left off
The questions were easy to understand, and I could check back before I answered the question
Regardless of how long one has driven a car, there is always something to be learned, and things we did not know. It is a good course, and very comprehensive. My only complaint is (just) a few questions on the quiz seemed too ambiguous, and the other answers could have applied.
Course is very well presented and easy to understand.
It was very thorough interesting and clear
The course has been very well explained
This is very comprehensive and I have learned a lot by participating.
You deserve the highest rating because your course is comprehensive and, at the same time, very practical. You have successfully touched on the essential issues concerning the driver and his/her immediate environment: thus the driver, the roadways and the vehicle. Thanks for your lectures and your professionalism. Endless gratitude, Cornelius.
Ease of accomplishing goal
It was so long for elderly to read all of the info, but very good information
It was quick and easy and I learned a lot. Thank you.
Your course was thorough and contained everything necessary to pass the test.
Very user friendly course.
Because it's helpful and you can go at your own pace.
Easy learning, enjoyable videos and overall well done material!
...Ability to review is quite helpful. Twenty years ago I caused a rear-ender. In that traffic school I was taught the two-second rule for interval between vehicles. Your course recommends 3-8 seconds depending on various factors. Lots better advice. Old drivers are smarter than old dogs, we can learn new tricks and we need to.