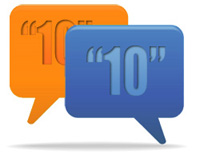 Local Miami Traffic School Reviews
We asked a handful of our Miami, FL traffic school customers one very simple question:

"On a scale of 1-to-10: How likely is it that you would recommend our online Miami DMV licensed traffic school to a friend, and why?"
Not looking for traffic school in Miami, Florida? Read Florida Traffic School Reviews for other cities.
The course is easy to understand and provides information which many people don't think about.
Able to log on and off over 2 or 3 days. Study guide
Its very informative course, I love the fact that you guys have the option to somebody can read the course. I recommend the website and the course to everyone.
your system was easy to use and understandable
Because it covers all themes in an easy, understanding, interesting, and affable manner.
This course let me appreciate getting a ticket. It remind me about a lot of things that I took for granted. Excellent material
I found the course very helpful and informative
Course allows you to go through the course at your convenience and the course material provides examples and reviews.
The course content was well organized and easy to follow. At times it felt like it was a documentary film as it presented interesting information. The combination of text and video was great helping me to not lose focus. Thanks!
Very good and easy to follow site.
It was a great experience. Enjoy every bit of it
This is the best program I ever completed. I will tell my friends to complete as well.
It was very helpful and I have updated my knowledge and find very interested things.
Informational presented concise and clear
I like how you can complete it in more than one sitting and not have to have one sitting of 4 hours.
A very fine course. All sections complete and understandable. Easy to follow directions. THANK YOU!!!
MATERIAL WAS VERY INFORMATIVE AND EDUCATIONAL
Because you are really professional.