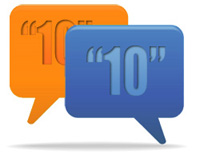 Local Jacksonville Traffic School Reviews
We asked a handful of our Jacksonville, FL traffic school customers one very simple question:

"On a scale of 1-to-10: How likely is it that you would recommend our online Jacksonville DMV licensed traffic school to a friend, and why?"
Not looking for traffic school in Jacksonville, Florida? Read Florida Traffic School Reviews for other cities.
Very thorough and informative course. I enjoyed learning how to sharpen my driving skills.
I was able to take my time to read and review over everything and I was able to take as many chances as I could !! This website is the best I've ever seen and this was my first time having to take a driver improvement class.
The course is very educational beyond what I expected, it has surely enhanced my ability to drive safely and take care of my vehicle
I liked the review and the test after to gauge my retention.
I give this rating because the course educational, and presented in a way that keeps me wanting to know more than I already know. Next, registration procedure was easy to follow!
Guadalupe
Jacksonville, FL
Christopher
Jacksonville, FL
Great knowledge to test retention method.
Keeps points off my record
Course registration and needed explanations for such were clear and concise. All information regarding course material made available and self explanatory. Course outline and modules were an easy read and tests material focused on specifics presented in courses; no trick questions. However it was a lot of reading!
Affordable, informative course easy to follow and understand
It will help them to improve their driving and safety on the roads. It will also make them more aware of possible cause of an accident while driving.
Elizabeth
Jacksonville, FL
Because this course is very helping people who no aware of how importance of driving safe at times
It was easy to navigate through and I liked that it was available in audio instead of reading it myself.
The content was good but just to long.
Celestine
Jacksonville, FL
Your course made lots of sense
The course is informative
It was a process but I prayed and pushed through it
because the class was fair and easy.
Information provided is very good.
for me that I was over the speed limited
Too long and too basic but on the whole worthwhile.
Because is educational ease and save time
Elizabeth
Jacksonville, FL
Although some of the info seemed a little outdated most of it was very informative. I was able to add new information to be a better driver.
The course was very good refresher and learned things that I wasn't aware of before.
Because the course was understandable and easy to follow
Ease of questions relating to safe driving
I took this course a few years ago. This time much better. Interesting & informative. MUCH more helpful than last time. Too many stats & not enough useful info last time. This time lots of helpful info. Car info re maintenance & new technology really helpful! Really excellent course for any driver. Would be good reminder to all drivers!
I am sixty-eight and a lot of the info was not in my book when I learned to drive. If you asked me about ABS, I would not have a word to say to you. I asked my grands and they knew all about the brake systems. Thanks for your help
Very informative and I like the concept of being able to retake the Quiz after each chapter. In addition to paying for the course at the end.
The course was easy to take and offered a lot of submission options.
Instructions were clear and easy to follow
Easy to follow. Easy to understand. Learned something new.
I found it to be very informative and I liked the quizzes at the end of each module. I am glad I took the course it refreshed my memory because it has been many years since I took a driving course and there is a lot of new information and changes that I understood better such as crosswalks lines and the driving position of your hands on the steering wheel was new to me just to name a few things. Great course
10 it was interesting and very thorough
Your information was very complete.
This course even though I did not want to take, helped me to learn some things that I did not know. Very helpful and easy to understand.
The school material was easy to follow.
Already recommended it to someone I know in less than 5 minutes great site easy and fast love it
The study material was precise and to the point, so it made it easy to pass the final exam
Course was very informative and helpful to me.
Because it is completely helpful to learn traffic.
The information was easy to understand and retain
I could read it at my own pace
Easy reading of material and the course made it easier to satisfy the DMV requirements for driving school.
Because I would very likely recommend your course.
Received good info. Easy to follow instructions. Was impressed when the owner E-Mailed me to find out why I had not started the course for a few days after I signed up. User friendly and good price.
Course information and format excellent.
I think the information and presentation are excellent. I am overall a good driver and already know most of it but not 100% of it. It is a great review.
The course was very convenient because of the accessibility of it. I was able to take it at home when it was convenient for me.
Because I thought it was not only helpful but informative
Course was informative and well organized
I really enjoyed this class. It helped me a lot to focus on thing that I am doing while driving and it refreshed my driving skill. I would take this class again just to help me with my driving and keep up with the law for driving because it is a privilege. Thanks. I now know why my parents want me to do right with my driving license.
The course was very informative and updated; I learned a valued lesson on the importance of driving safely.
Because I learned a lot of things that I can now apply to my daily driving and be a safe driver for me, my family and everyone around my driving routes...
Is easy to read, explained everything clear and give me more experience to drive
Love that you can save your progress and log back in to complete instead of sitting at a screen for four hours straight. User friendly course!
Mebrahtom
Jacksonville, FL
Because this traffic school is very important to me
Comprehensive coverage of the aspects of traffic school.
The ability of working on the test in my time frame
It was a very good review.
Can be completed on own time. However, have to wait on certificate of completion to be mailed instead of having instant results when exam is completed and passed.
I was very amazed how easy it was. In taking tests people get very nervous. After I got started I became relaxed. I was able to take my time and finish with no problem. I would recommend this course to any one that needs it.
I thought it was very helpful and I learned some things I did not know.
It was very educational and very enlightening. I was very impressed.