Dismiss Your Arizona Traffic Ticket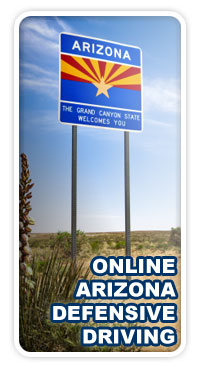 Traffic ticket ruining your Arizona driving record? At TrafficSchool.com, we've been keeping driving records clean for the 2 decades and helping Arizona drivers keep their auto insurance rates under control. We specialize in proving Arizona defensive driving school classes that are online, AZ court approved, and convenient for dropping a traffic ticket from your Arizona Motor Vehicle Division driving record. Besides helping you fight your traffic ticket points, our courses are also easy to read and educational; we guarantee that you will be a better, more defensive Arizona driver when you finish!
How Do I Dismiss a Traffic Ticket in Arizona?
Our online defensive driving school program makes it easy for you to take care of your traffic ticket without any headaches. To dismiss your Arizona traffic ticket, simply follow these 3 nice-and-easy steps:
Sign up online for our AZ Court Approved Traffic Ticket Course using our secure registration form.
Study the online traffic safety course at your own speed; everything is conveniently online and each section is easy to read through with flash animation. Each section ends with an easy open-book, multiple choice traffic safety test. Because the course is online, you can login and out as many times as you want and complete your course from literally anywhere you can get online.
We'll notify the state and your Arizona Court directly that you have earned your completion certificate. In addition, you can elect to have your Completion Certificate can also be faxed or mailed to your home.
What you get with our online Arizona traffic ticket course is an extremely flexible, easy to take, and Arizona Supreme Court approved online defensive driving course that you can afford. Go at your own pace, log-in and log-out when convenient to you, pass the quizzes with the help of open-book study aids, and before you know, it you'll be finished and we'll notify the AZ court and state directly on your behalf. When it comes to the easy way to drop your Arizona traffic ticket, TrafficSchool.com is the smart choice.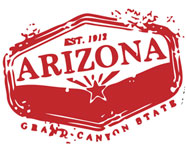 Arizona Traffic Ticket Defensive Driving Online
Did you receive a non-criminal traffic ticket while driving in Arizona? Our online defensive driving school course provides a simple way for AZ drivers to erase a traffic ticket from their MVD driving record without leaving home. By erasing your Arizona traffic ticket, you keep any points earned from going on your official driving record and you keep your insurance company from rising in price.
Arizona Traffic Ticket Point System
In the state of Arizona, most licensed drivers complete a defensive driving traffic ticket class to reduce points from their Arizona MVD driving record. Points get on your driving record from committing moving violations, some violations result in a criminal traffic ticket being issued, some in a civil traffic ticket. Most civil Arizona traffic tickets are 2,3,4 or 6 point infractions like excessive speeding, illegal turning, and disobeying traffic signs or traffic controls. In Arizona, drivers who gather too many points on their driving record in too short a time are at risk of having their driving privilege cancelled or suspended.
Examples of common Arizona moving violations and their associated driving record point values: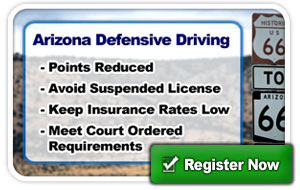 Most minor moving violations = 2 point
Speeding Violation = 3 points
Failure to stop for traffic signal, stop sign or yield the right of way leading to serious injury = 4 points
Leaving the scene of an accident = 6 points
Failure to stop for traffic signal, stop sign or yield the right of way leading to death = 6 points
Simply knowing and obeying Arizona traffic regulations is the best way to avoid having to take a defensive driving ticket course in the first place. However, sometimes even the most seasoned driver slips up and will need to erase points from their record, making our online AZ defensive driving school course an ideal way to fulfill their elective AZ defensive driving school requirement and avoiding any unwanted insurance rate increases or driving privilege suspension.
Beating Your Arizona Traffic Ticket Deadline
Is the due date for your Arizona traffic ticket coming up soon? Don't wait until it is too late, if you fail to take Arizona traffic school at least 7 days before your court due date, the violation points will be assessed to your AZ MVD driving record and your automobile rates will most likely go up. Even if your due date is fast approaching, you can go online and take your defensive driving course today. With our Same-Day-Email-Service for your certificate, you can receive your Online AZ Defensive Driving completion certificate the very same day that you complete and pay for our online driving course. In addition, we also offer other fast processing options: FedEx Next Day Air Delivery Service allows you to get a paper copy of your completion certificate within 24 hours and our Same Day Fax Service allows you to get a faxed copy of your Arizona certificate quickly as well.
Not sure which certificate delivery method is best for your Arizona traffic ticket? After you enroll, give us a toll-free call and let our friendly and helpful customer support staff help you with any questions or concerns you have, they are available 24 hours a day, 7 days a week. Sign Up to Dismiss My Ticket Now.
Who can Dismiss an Arizona Traffic Ticket Online?
If you got a traffic ticket in Arizona, chances are you are eligible to dismiss it online with our defensive driving school course. You are eligible to sign up for our online traffic ticket course if the following situations do not apply to you: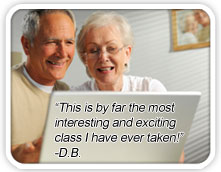 Have you already attended an Arizona defensive driving class in the past 24 month? If you've already taken a defensive driving course in the past 2 years to dismiss a moving violation, you can't take another defensive driving class, unless allowed by an Arizona court or by the Arizona Motor Vehicles Division.
Did you commit a criminal act during your traffic incident? You can't take our online defensive driving course if your Arizona traffic ticket stemmed from an auto collision that killed or seriously injured another person.
Less than a week until your court due date? For AZ tickets, drivers are required to complete a defensive driving course 7 days prior to their court due date.
Did you hold a commercial driving license when you got your traffic ticket in Arizona? CDL drivers, such as commercial truck drivers and heavy equipment operators, are not allowed to take defensive driving to fix a traffic ticket.
You are eligible to register for our online Arizona defensive driving class to remove your AZ traffic ticket from your record if none of the aforementioned circumstances apply to you.

Approved for Almost All AZ Traffic Tickets
If you are a licensed driver in AZ, chances are that our Supreme Court Defensive Driving School Course is the best choice for you. We have courses for nearly every AZ city, including Maricopa County, Pima County, Pinal County, Yavapai County, Mohave County, Yuma County, Cochise County, Coconino County, Navajo County, Apache County, Gila County, and Santa Cruz County. That means we have online Arizona defensive driving school courses for all the major Arizona municipal courts like Chandler, Scottsdale, Tempe, Phoenix, Tucson, Mesa, Glendale, Peoria, Flagstaff, Goodyear, Lake Havasu City, Surprise, Yuma, Avondale, Buckeye, Maricopa, and Oro Valley. As of today, the only court districts we do not serve are El Mirage Municipal, Gilbert Municipal, Miami Magistrate Court, Globe Municipal, and Globe Regional JP.
Dismiss your traffic ticket in Arizona online:
---
Got A Traffic Ticket Outside of Arizona?
The nationwide leader in online traffic school, TrafficSchool.com, offers defensive driving school and traffic school courses for AZ drivers as well as traffic school classes for CA, FL, NY, and TX. Click your state below to get started:
Arizona Driving Links | AZ Motor Vehicle Division Resources

Need to lookup or download Arizona MVD information? At Driving Links, drivers in Arizona can find all things driving related from MVD online forms, AZ defensive-driving online, driving schools in Arizona, and more!