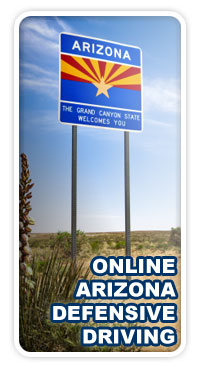 Who Can Take Scottsdale Defensive Driving in AZ?
Eligibility for our Scottsdale Online Defensive Driving Course is as follows:
You have not taken an Arizona traffic school course in the past 24 months.
You do not hold a Commercial Drivers License.
The civil traffic citation must be eligible.
Serious injury or death was not involved in the moving violation.
You must complete your course 7 days prior to your court date
Defensive Driving Removed Points from Your Maricopa County Driving Record
Looking for a flexible schedule traffic school course in Maricopa County? Our Online Defensive Driving Course can be taken anytime you have access to the internet. Unlike classroom courses, our online course is made for your convenience. Whether you're on the road or at home, as long as you have internet access, you'll be able to access our course.
Scottsdale Approved Defensive Driving
Looking for a traffic school that doesn't require you to sit in a classroom? Popular Traffic School is here to help. Erase your Passing points from your record with our online program. Complete our self-paced program in the comfort of your own home or anywhere you have internet access. Our course is approved by the Arizona Supreme Court and your certificate will be sent directly to the court.

Easy Defensive Driving in Maricopa County
Our Online Defensive Driving Course in Scottsdale is made with you in mind. Classroom courses can be long and boring, but with our Online Defensive Driving Course, you can take a break whenever needed. Simply login when you want to begin the course and logoff when you need a break. No need to worry about losing your place, we'll save it for you every time.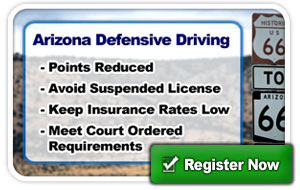 Popular Defensive Driving - Finish Today!
Forgot your due date is near and need to take a defensive driving course immediately? Our Maricopa County approved online course can help you meet your deadline because our course is available 24 hours a day, 7 days a week. You also have a choice between delivery methods for your ticket. Fax, Fedex or Email. Now Scottsdale residents can rest assured knowing that they will meet their deadline.
How Defensive Driving Works in Scottsdale
Our Scottsdale Defensive Driving School Online Registration is simple. Click on Get Started, Choose the State where you received your ticket, Choose the city where you received your ticket, then fill out your personal information. Remember to have your drivers license number and case/citation number when you begin the registration process.
---
Driving Links for Arizona Drivers

Need to lookup or download Scottsdale MVD forms or handbooks? At Maricopa County Driving Links, drivers in Scottsdale can find all things driver related from car insurance, driver license forms, AZ change of address forms, and more!
Not from Scottsdale, AZ?
You've tried our Popular Defensive Driving School, now browse our website for other valuable defensive driving resources. Throughout our site you'll find driving safety articles, defensive driving tips, MVD and DOT resources, auto part stores, and much, much more. Check out some of our helpful links below:
Defensive Driving Class for All States
The nationwide leader in online defensive driving, TrafficSchool.com, offers defensive driving school and traffic school courses not only for Maricopa County drivers, but also has a wide variety of traffic school classes outside of AZ for NV, OK, CO, CA, NY, FL, and TX. Find your state driving course below to view what's available in your town: