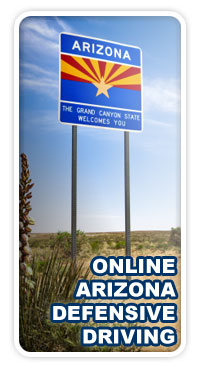 Erase Your Lane Change Violation Points from Your Tucson Driver Record
Live in Tucson and can't find a traffic school course that will remove those unwanted points from your driving record? Tucson Defensive Driving Course offers the material you need to erase those points from your record. Our course is easy to use and can be accessed anywhere the internet is available.
Cheap Defensive Driving
Our Cheap Traffic School Course was created for individuals on the go! Going to a classroom can be time consuming and boring, but with our online course, you can relax in the comfort of your own home! Just visit our website, register and begin the course and if you need a break, no problem. Logoff, take a break and go back when you're ready. We'll save your place for you!
Tucson Defensive Driving Class
We offer special rates on certificate processing and delivery if you are a Senior or Veteran with a Lane Change Violation Ticket. Cheap Traffic School understands how the cost of a citation can accumulate, so we try our best to help our Seniors and Veterans as much as possible. For more information, visit our website and register or contact us at our toll free number and one of our representatives will be happy to assist you.

The Simple Defensive Driving Choice in Tucson
Is your schedule unpredictable and you need to fix that ticket with some flexibility? Tucson Defensive Driving School is made for you! As long as you have an internet connection, a laptop or pc, you'll have access to our course 24 hours a day, 7 days a week. Work at your own pace anytime of day or night.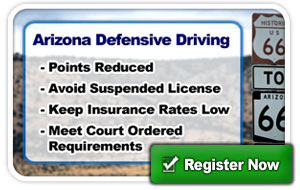 Lane Change Violation and Other Moving Violations
Our 100% Guaranteed Cheap Driving Course can help you remove points from your record for Lane Change Violation citations or other moving violation. When you complete and pass the final exam, we will process your certificate at no charge. We'll even send it to the court for you.
Who Can Take Tucson Defensive Driving in AZ?
You are eligible for Lane Change Violation Defensive Driving Course, if:
the violation was a car accident that did not involve serious injury or death.
you do not possess a CDL License.
the traffic citation is eligible.
permission was granted by the Pima County AZ Court if the driver is under 18 years of age.
it has been more than 2 years since the last time you've taken a traffic school course in Tucson, Arizona.
---
Traffic School Classes for Other States
TrafficSchool.com also offers defensive driving school and traffic school courses for other states like California, New York, Nevada, Colorado, Texas, and Florida. If you're not from Tucson, find a course below to view what's available in your area:
Driving Links for Tucson Drivers

Need to lookup or download Tucson Motor Vehicle Division forms or driver handbooks? At Arizona Driving Links Online, drivers in Tucson can get all things auto related from driving records, driver license renewal forms, Arizona traffic school, and more!
Additional Defensive Driving Help for Arizonans
When it comes to staying up to date with current traffic safety laws and regulations, TrafficSchool.com can't be beat. Search our entire site for helpful articles, MVD links, DOT information, auto insurance quotes, and more. When it comes to anything automotive in Arizona, TrafficSchool.com has you covered.