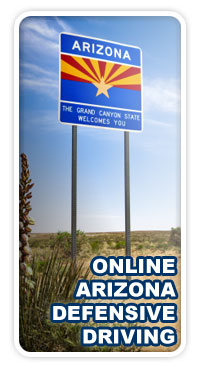 Dismissing Your Traffic Ticket in Bullhead City
Live in Bullhead City and can't find a traffic school course that will remove those unwanted points from your driving record? Bullhead City Defensive Driving Course offers the material you need to erase those points from your record. Our course is easy to use and can be accessed anywhere the internet is available.
Straightforward Defensive Driving in Arizona
By choosing Low Cost Defensive Driving Course, you won't have to step into a classroom. All you need is a laptop or pc and internet access. Our Mohave County program is clear, concise and 100% guaranteed and if you have any questions, please feel free to contact one of our customer service representatives 24 hours a day.
Disobey Traffic Device and Other Traffic Citations
If you received a Disobey Traffic Device ticket in Bullhead City, Low Cost Defensive Driving Course can help you. We are approved through Mohave County court. We specialize in removing all non-criminal traffic violations from your Arizona Motor Vehicle Division (AZ MVD) driving record and we have a 100% guarantee.

Am I Eligible for Defensive Driving in Mohave County?
Received a Disobey Traffic Device ticket? You are eligible for our Bullhead City, AZ Online Defensive Driving Course if:
In the last 2 years, you have not taken an Arizona traffic school course.
you hold a Commercial Drivers License, you become ineligible
The civil traffic citation must be eligible.
Serious injury or death was not involved with the violation.
You must complete your course 7 days prior to your court date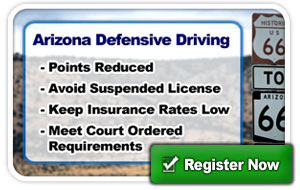 Arizona Defensive Driving Explained
Received a ticket for Disobey Traffic Device and want to erase the points from your record? Check out our Low Cost Traffic School Course for Bullhead City. Simply visit to www.trafficschool.com, click on Get Started, select Arizona as your state, and submit the information requested. You'll be started with your course in no time and on your way to having your Mohave County traffic violation dismissed.
Online Defensive Driving for Disobey Traffic Device Citations
Have a Disobey Traffic Device ticket that needs to be cleared quickly and easily? Our online course is available to you 24 hours a day, 7 days a week to help you. All you have to do is register on our website and begin the course. If you need your certificate of completion right away, you can choose between email, fax or Fedex to have it delivered. If you have any questions, feel free to call us we'll be happy to assist you.
---
AZ MVD Driving Resources for Bullhead City Residents

Need to lookup or download Bullhead City Motor Vehicle Division forms or driver handbooks? At Arizona Driving Links Online, drivers in Kingman, Lake Havasu City, Chino Valley, and Prescott can get all things auto related from driving records, driver license renewal forms, Arizona traffic school, and more!
Defensive Driving Class for All States
The nationwide leader in online defensive driving, TrafficSchool.com, offers defensive driving school and traffic school courses not only for Arizonan drivers, but also has a wide variety of traffic school classes for California, New York, Florida, and Texas. Find your state course below to view what's available in your area:
Not from Bullhead City, AZ?
We offer classes for most Arizona cities and counties outside of Mohave County. In addition, we also have AZ MVD, ADOT, and driving safety tips for Bullhead City drivers. Browse our extensive site for the best quality Arizona driving information online: