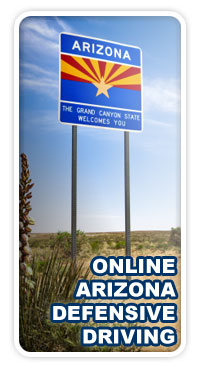 Approved Defensive Driving | AZ Traffic Safety Driving School
Approved Traffic School is available to licensed drivers in Arizona. If you received a Right Turn on Red ticket in Mesa, our online course will suit your needs. Registering is simple and you can complete our course in a day. If you have any questions, you can visit the FAQ section on our website or contact our customer service reps who are only a phone call away.
Online Defensive Driving for Ticket Dismissal
Our Mesa Defensive Driving School let's you take our course on your schedule. Whether you have a regular 9 to 5 schedule or the late shift, Approved Defensive Driving School is available to you to help you clear Right Turn on Red Ticket points from your record. You can even dictate the pace that's right for you. You can take your time or move quickly through the course. You can even take a break when you feel like it.
Mesa Defensive Driving
If you live in Mesa, you can take our Approved Traffic School Course! We are approved through Maricopa County and we're available to you 24 hours a day, 7 days a week to help you eliminate points off of your record.

Straightforward Defensive Driving in Arizona
Our Approved Defensive Driving Course is both easy and convenient. When you work a full time job and have a family that needs you 24/7, our Approved defensive driving course can be taken anytime your schedule permits. Simply login to our website, register and begin the course from anywhere in Mesa. You can logoff anytime without worry of losing your place because we'll save it for you.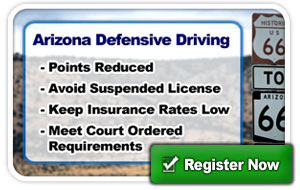 Last Minute Due Dates
Received a Right Turn on Red Ticket in Mesa and want to complete traffic school right away? With our Approved Defensive Driving School and internet access, you can register and complete our online course today. Our course is 4½ hours and covers defensive driving skills, traffic and safety. At completion, we will send you and the court a copy of your completion certificate.
Right Turn on Red Tickets
Points from Right Turn on Red Tickets in Mesa and throughout most of Maricopa County can be removed with our Approved Traffic School Course. Our course is available to you 24 hours a day, 7 days a week and if you need assistance, please feel free to contact our customer service department. TrafficSchool.com is the safe, smart way Mesa drivers can save their AZMVD driving record from unwanted Right Turn on Red points.
---
DMV Resources Online for Other States
The leader in online defensive driving, traffic school, and drivers ed is TrafficSchool.com. Find courses not only for Arizona drivers, but also for several other states like Florida, California, New York, and Texas. Find your state course below to view what safety courses are available online for your area:
Defensive Driving for All of Arizona
You've tried our Approved Defensive Driving School, now browse our website for other valuable defensive driving resources. Throughout our site you'll find driving safety articles, defensive driving tips, MVD and DOT resources, auto part stores, and much, much more. Check out some of our helpful links below:
Driving Resources for Arizona Drivers

Visit DrivingLinks.com today to find helpful AZ MVD information and other driving resources. Maricopa County drivers can find downloadable AZMVD forms, answers to driving law questions, traffic safety news, and more. It's the best online resource for drivers in Tempe, Scottsdale, Chandler, Paradise Valley, Fountain Hills, Phoenix, Apache Junction, Glendale, Peoria, Sun City, Avondale, Goodyear, and Surprise!