DMV Drive Test Advice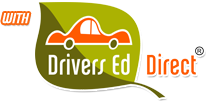 - question from 9/25/2020 by Marina, filed under Drivers License and DMV Drive Test
On my driver's license test, how should I react to an obstacle that unexpectedly presents itself? Do I need the examiner's permission to make corrective actions?
Hello there,
When driving on the road in the right lane, And there is one unpredictable obstacle, a pedestrian who suddenly show up from behind a car, someone who opens his Car's door, someone who goes into or out of a parking: what should I do when I'm driving at a pretty fast - authorized- speed?
I know what I would do in real life, quick check on my mirrors and very often changing Lane into left and then coming back into the right once the obstacle test or if I drive slow enough I would just slow down already to stop and try to fit in the right lane but driving slowly.
BUT SHOULD I CHANGE LANE on the DMV DRIVE TEST If the examiner doesn't say anything to me?
Or I am supposed to make a right turn right after the obstacle?
TrafficSchool.com Says
Hello Marina!
Thanks for reaching out. Here's what our driving school experts from Drivers Ed Direct had to say about your question:
The scenario you describe is an interesting one. The way you answered your own question is correct... you want to do what you would normally do in real life. If the examiner says "at the next light please make a right turn" and all of a sudden a pedestrian appears, someone is about to open their door while parked or a car is pulling out of a driveway, you want to avoid an accident and if safe, make a lane change or slow down and then let the examiner know you "I made a lane change because it looked like that the person was going to open their car door in our lane", but this should also be obvious to them that you were trying to avoid a collision. You always want to do the safest thing and avoid accidents, regardless of examiner directions. Also, examiners should not ask you to do a maneuver that is unsafe, but if something just all of a sudden happens, you need to react to it.

I think one of the best pieces of advice I can give is to emphasize how critical it is to scan ahead when driving, keep your eyes moving, watching for various obstacles or potential hazards up ahead, which will allow you enough time to react, sometimes well before they reach you.
A good acronym to use is SIPDE (Scan, Identify, Predict, Decide, Execute). For example, Scan for hazards up ahead, you see a vehicle parking on the street up ahead of you (Identify), Predict what could happen, such as the driver may exit or open their door into your lane of traffic, then Decide what to do... if safe, make a smooth lane change over or if there is a car next to you on the left, cover the brake and be ready to slow down or stop in case thy jump out... then Execute.

Also, try to maintain and be cognizant of the "space" all around your vehicle. In other words, don't drive in people's blind spots and try to always have space around your car (to the left or right, if applicable, in front and behind). So maybe slowing down a tad to let a car to the left of you move ahead or speed up a tad to regain the space to the left, so that you are constantly trying maintain "space" or an escape route. If you go a few miles per hour below or above the speed limit a couple times on the test, it's not an auto-fail, 1-point deduction each time. I'd advice not going 5 mph over or under, and definitely don't go 10 MPH over or under the speed limit, that's an auto-fail. This will help (space cushion driving) in your second e-mail question when you asked "Let's say I have car behind me, and we are all driving at a pretty fast and steady speed. And let's say is there are cars in the left lane. Shall I do a rough stop in case of sudden obstacle ? And with that make me fail?"... Yes, you should do everything to avoid a collision, but if you prepare beforehand (keep a space cushion to the left), hopefully it will be there if you need to make a quick lane change. Giving some extra following distance (space in front of your vehicle) for yourself is always a good idea, whenever driving.

Obviously when driving (like in life) things just happen and no matter what we do as a driver, they are tough to avoid, but honestly, I wouldn't worry about that too much or even think about it tonight or tomorrow. While you're waiting for the examiner tomorrow right before the test begins, just tell yourself once in your head "I've got this", and then relax, pretend the examiner is a friend, be as smooth as possible, keep your eyes moving (this will make you more alert and help you scan), listen carefully at the directions given by the examiner, and you'll be fine. Your just going for a nice, pleasant 10-15 minute drive on a sunny day.... that should be your mindset.
Let me know if you have any other questions and GOOD LUCK on your DMV test. You got this!

---
We hope that helps. If you have any other driving school or drivers ed questions, Drivers Ed Direct has great resources:
Drivers Ed Direct
* This question and answer may have been modified to remove any identifying personal information of the person asking the question.
** The information contained within this FAQ is up to date as of 9/25/2020. We always recommend that you get the latest information available by contacting TrafficSchool.com, the DMV, or Court directly.
SEARCH MATCHED: DRIVING SCHOOL HOW TO QUESTIONS for DMV DRIVE TEST and HOW TO PASS and DRIVERS LICENSE on Monday, March 20, 2023.
Similar Searches for Drivers License and DMV Drive Test and How to pass
Traffic School Answers Home
Ask a New Traffic School Question
No One Wants to Go to Traffic School, But You'll Love Our Online Traffic School and Defensive Driving.
Thousands of independent, verified reviews from real California Traffic School students
super easy
"Super easy to use website, very affordable and quick! I hope to never use a traffic school again in the future but if i do, i know i will be back to use this one."

~ Lina S. in California ~
inexpensive
"What a great find! Easy & Inexpensive. I like the options they offer for payment, very user friendly. Traffic School is a pain and this site made it really easy. Highly recommend this website."

~ Jane G. in Los Angeles ~
fast & easy
"Fast and easy. First time doing traffic school. This made everything so much easier. Thanks trafficschool.com."

~ Mark B. in Downey, CA ~