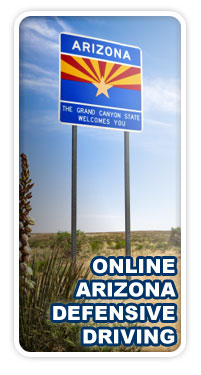 What To Do With a Cochise County Traffic Ticket
You have just received a traffic citation and may be wondering what to do. The information on this web page may help you. First of all, be sure to read both sides of your traffic violation citation. It is very important that you take action and respond to the court on or before the "Notice To Appear" date shown on the front of your traffic ticket. *Failure to take defensive driving a week before your citation date, failure to appear or contact the court on the date listed on your citation, or failure to enter a guilty plea and pay your citation in full may result in a warrant for your arrest being issued, your driver's license being suspended, and/or additional costs being charged to your person.
Cochise County Justice & Municipal Courts
Benson Justice/Municipal Courts 126 W. 5th St, Benson, AZ 85602 520-586-8100
Bisbee Justice/Municipal Courts 207 N. Judd Drive, Bisbee, AZ 85603 520-432-9540
Bowie Justice Court, 201 N. Central P.O. Box 417, Bowie, AZ 85605 520-847-2303
Douglas Justice Court 661 G Avenue, Douglas, AZ 85607 520-805-5640
Douglas Municipal Court 425 10th Street, Douglas, AZ 85607 520-417-7306
Huachuca City Municipal Court 500 N. Gonzales Blvd, Huachuca City, AZ 85616 520-456-1354
SIERRA VISTA JUSTICE/MUNICIPAL COURTS 100 Colonia de Salud, Suite 108, Tel 520-803-3800 Sierra Vista 85635 Fax 520-439-9106
Tombstone Municipal Court 402 E. Fremont, Tombstone, AZ 85638 520-457-3781
Willcox Justice/Municipal Courts 450 S. Haskell Ave., Willcox, AZ 85643 520-384-7000
HOURS OF OPERATION Monday through Friday - 8:00 am to 5:00 pm
Cochise County Defensive Driving Resources
If you would like to take option #1 to handle your ticket, you can simply click here to sign up for your Court Approved Cochise County Defensive Driving School Course today. For more information about defensive driving and ticket removal, please check out:
Sierra Vista Defensive Driving Info: http://www.trafficschool.com/arizona/Cochise-County/Sierra-Vista-defensive-driving.asp
Online Defensive Driving Programs: http://www.trafficschool.com/arizona/Cochise-County/Online-defensive-driving.asp
Speeding Ticket Information: http://www.trafficschool.com/arizona/Cochise-County/Speeding-defensive-driving.asp
Official Cochise County Court Website (Court Administration): http://cochise.az.gov
Cochise County Defensive Driving
We offer special rates on certificate processing and delivery if you are a Senior or Veteran with a Speeding Ticket. Online Traffic School understands how the cost of a citation can accumulate, so we try our best to help our Seniors and Veterans as much as possible. For more information, visit our website and register or contact us at our toll free number and one of our representatives will be happy to assist you.
Online Defensive Driving for Arizona Licensed Drivers
Have a Speeding ticket that needs to be cleared quickly and easily? Our online Sierra Vista course is available to you 24 hours a day, 7 days a week to help you. All you have to do is register on our website and begin the course. If you need your certificate of completion right away, you can choose between email, fax or Fedex to have it delivered. If you have any questions, feel free to call us we'll be happy to assist you.
Quick Defensive Driving in Cochise County
Is your due date right around the corner and you're panicking because you haven't had a chance to take a Cochise County approved online course? No problem! Our course is available 24 hours a day, 7 days a week and if you're really in a pinch, just ask us to email your certificate. It's that easy!

How Online Defensive Driving Works in Cochise County
Received a Speeding Citation in Cochise County, but dread having to find an easy to use online defensive driving course? With Online Defensive Driving School, registering is a smooth, uncomplicated process. All you need to do is visit our website, select a course, enter your personal information, enter your payment information, and begin your course. If you have any questions, our representatives are just a phone call away.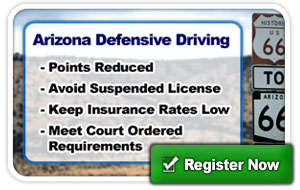 Speeding
Recently got a ticket for Speeding in Cochise County and you need to take a defensive driving course? Our Online Defensive Driving Course can help you satisfy those requirements with our Arizona Supreme Court approved course. The majority of civil traffic violations can be dismissed, such as speeding, stopping violations, and lane change citations, and no points will go on your AMVD driving record.
Am I Eligible for Defensive Driving in Cochise County?
You are eligible for our Sierra Vista, Arizona Online Defensive Driving Course if:
you have not taken an Arizona traffic school course in the last 2 years.
the violation was not a car accident involving serious injury or death.
the civil traffic citation is eligible.
You must complete your course 7 days prior to your court date
you do not have a CDL License.
---
Driving School Courses for Other States
The online leader in defensive driving traffic school programs, TrafficSchool.com, provides driving school and drivers education courses for a variety of other users in NY, CA, FL, and TX. Find online classes for your specific state here:
More Arizona Defensive Driving Info
Get more than just Sierra Vista defensive driving information. We also have links and help pages for the Arizona Motor Vehicle Division, the Arizona Department of Transportation, and defensive driving strategies for all AZ drivers. Learn more today when you surf our Arizona driving pages today:
Driving Resources for Arizona Drivers

Visit DrivingLinks.com today to find helpful AZ MVD information and other driving resources. Sierra Vista drivers can find downloadable MVD forms, answers to traffic law questions, traffic safety articles, and more.