Summer Travel Tips
Keeping Your Family Vacation Safe and Sound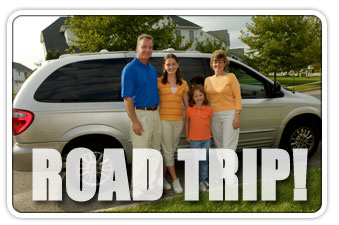 Getting set for a pleasant little weekend road trip with the family? Or maybe you are planning a vigorous weeklong family expedition across the state. Either way, you can help guarantee your summer travel plans result in delight rather than disaster. Before loading up the car with family, food, and fun, read up on these vacation safety tips, courtesy of TrafficSchool.com.
Get Your Car Geared Up For the Sizzle of Summer
Prior to hitting the road, check in with your favorite garage or your local dealership to get your vehicle ready for summer driving conditions. You'll want to make sure all four tires are summer ready; equipped for the dry, hot road and don't forget to check your tire pressure. Improperly inflated tires can cost you bundles in fuel economy and lead to an extremely hazardous tire blow-out.
Pack With Your Head
Using some brainpower when loading up your car, van, or truck can provide both economic and safety benefits. Don't pack objects all the way to the roof, blocking your visibility out of the back and side windows. In addition, double check that all items are packed tightly: in the event you have to come to a sudden stop, properly secured items won't go flying into the back of someone's head. Also try to distribute the weight of your loaded objects evenly throughout the vehicle, thus providing maximum handling. Finally, keep in mind the heavier your vehicle, the pricier it is to travel in it. In other words, pack light and empty out your trunk of all the useless junk that may have piled up over winter and spring.
Also, have your fluids checked and topped-off, including your radiator fluid, wiper fluid, and oil - which may need to be adjusted to a thicker quality in preparation for the extreme heat summer can bring. Then have the rest of your car given a nice once over, making sure all the belts are in good working order, the wipers are ready to clean bugs off your windshield, and your battery won't die on you while you're in Timbuktu.
Don't Let Yourself Be a Distracted Driver
What better way to ruin a vehicular voyage than with distracted driving. By now, the topic of distracted driving is a popular one, and it will continue to be popular until more people take serious measures to remain focused while driving. If you're the one driving, it's your responsibility to drive safely; your life and the passengers you carry depend on it. Passengers can do their part too by encouraging safe driving practices and not being a distraction themselves. Items to avoid while driving:
Driving drowsy – Pull over and rest until you're refreshed or you will eventually wind up rolled over, in a ditch.
Eating and drinking – Two hands on the wheel are better than one.
Playing with the radio – Putting your head down to look at the stereo, for even a second, can be fatal.
Texting or making a phone call – Put down that cell phone until you pull over. Seriously.
Other passengers – As the driver, your focus is the road, not those sitting in the back seat.
Did you know distracted driving is responsible for over than 7 million accidents over the past five years? Visit Drivers Ed Direct's Respect Reality Teen Driver Safety website to see how you can help reduce the number of bad driving habits out on the road.
Leave the Road Rage in the Garage
With summer inevitably comes more hazards and obstacles out on the road, like more bicyclists, motorcycles, joggers, and road construction. Summer will also bring an increase in people vacationing, folks in slower RV's, and out-of-state drivers passing through. Be patient and courteous, making sure to give extra room to those who need it… remember, they all have the right to the road just as well as you do.
Hope for the Best, But Be Prepared for the Worst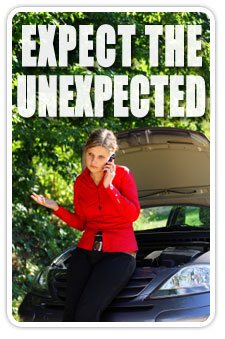 Chances are you won't run into any driving snafus this summer (knock on "hood"), but if you do, who knows when and where your car will choose to break down. Don't get caught ill-equipped for this unfortunate occasion; instead be prepared by having a summer safety travel kit packed and ready to go with:
Navigation system and/or maps
Cell phone and car charger to call for help
First-aid kit
A flashlight
Extra clothes and blankets (nights get cold, even in the summer)
Basic tools (screw driver, wrench, pocket knife, etc.)
Extra washer fluid
Emergency flares
Jumper cables
Nonperishable food
Jug of water
Another helpful tip: Before you leave on your trip, even a short one, let a friend or other family member know where you're going, where you plan to stay, and when you'll be back home.
So prior to starting your engines this June, July, or August, keep these useful vacation tips in mind and be well on your way to a summer of travels filled with success instead of stress.