TrafficSchool.com becomes First Online & Homestudy Traffic School Licensed by the California Department of Motor Vehicles (DMV)
Chatsworth, CA, February, 2012 - The way California drivers fulfill traffic school has forever changed. With the passing of new legislation by means of Assembly Bill (AB) 2499 last year, signed into law by Governor Jerry Brown and now in effect, the California Department of Motor Vehicles has begun licensing Internet and Homestudy based traffic violator schools for the first time. As of today, TrafficSchool.com (www.trafficschool.com), TVS License #E1393, became the first DMV approved Internet and Workbook traffic violator school course provider.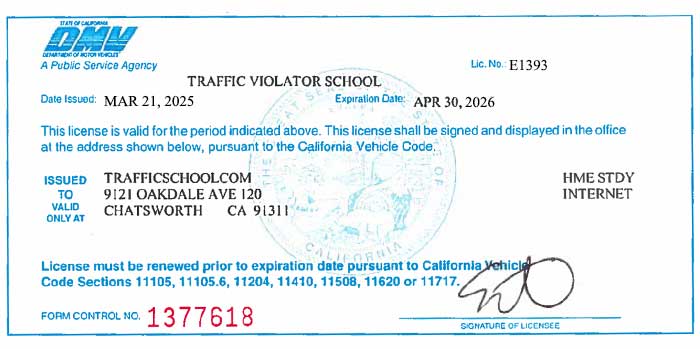 In fact, county courts may no longer approve new online or homestudy programs and all traffic schools statewide will be required to gain authorization through the DMV. The new law required that courts cease approving new home study programs back on July 1, 2011 and all previously court-approved programs submit an application to the DMV by March 1st, 2012.
Out of the roughly 200 court approved home study programs, TrafficSchool.com has become the first school approved by the DMV to offer Internet and homestudy courses throughout California. As the first approved DMV internet school, TrafficSchool.com will be able to provide ticketed drivers the kind of uniform traffic safety curriculum that the new law demanded.
Previous to the DMV's supervision, individual county court-approved courses gave way to inconsistent curriculum, varying regulations, and multiple unclear certification methods. Worse yet, many counties offered no home study options at all for traffic violators. This divided administration of traffic school without any uniformity has hindered the state's ultimate goal of traffic safety. AB 2499 provides a single, clear set of online traffic school standards for each and every county across the state.
"Both Californians and the online traffic school industry will benefit greatly from the enactment of AB 2499," said Chris Kramer, President and CEO of TrafficSchool.com, "Before today, there was no consistency among web-based traffic safety courses throughout our state. To be candid, it was a mess with the varying regulations and fees within each county, not to mention that some courts wouldn't allow online traffic school for their residents. Now, with the DMV taking the lead, drivers in any California city can get a more consistent, better quality traffic school experience. It's really a win-win."
Besides being approved statewide, the DMV is also requiring newly licensed traffic school providers to offer up-to-date curricula and to address the extremely relevant topics of today like distracted driving including mobile phones and texting issues, road rage, aggressive driving, and more in-depth defensive driving techniques.
TrafficSchool.com's Kramer added, "Drivers needing traffic school should make sure they are getting an up-to-date, DMV Approved course before enrolling or paying for anything. You can verify TrafficSchool.com's DMV License Status by calling us at 800-691-5014 or by going to the DMV's Occupational License Search website at http://dmv.ca.gov/olinq2/welcome.do."
TrafficSchool.com's online course is priced affordably at $19.95, extremely user-friendly, self-paced with no timers, high quality, filled with interactive lessons, and only requires a score of 70% to pass the final exam.
TrafficSchool.com (www.trafficschool.com), California Department of Motor Vehicles (DMV) license #E1393, has been the preferred choice for traffic school on the Internet for over 17 years, providing a variety of DMV and court approved licensed schools and approved online and workbook courses for traffic school, defensive driving, insurance reduction, mature driver, and corporate fleet training across the country, in states like California, Florida, Texas, New York, Arizona, Nevada, and more. TrafficSchool.com courses are easy, approved, educational, and satisfaction is always guaranteed.
The California Department of Motor Vehicles (www.dmv.ca.gov) has been leading the way with innovative services provided to customers 24 hours a day, 7 days a week through its Web site. Their motto of Don't Stand In Line, Go Online! has made finding information and doing business with the DMV easier than ever. The DMV offers online appointments for written and drive tests; occupational licensing searches and lookup systems, vehicle registration and driver license renewals, selection of personalized license plates, changes of address and payment of fees via secure debit transactions. Customers can also effect transactions by calling DMV customer service at (800) 777-0133. DMV is a department under the Business, Transportation and Housing Agency.
For more information, please contact Chris Kramer - CEO of TrafficSchool.com, Inc., chris@trafficschool.com or direct dial 818-885-3695.
###