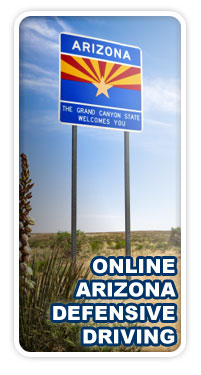 Low Cost Defensive Driving for Arizona Licensed Drivers
Low Cost Traffic School is available to licensed drivers in Arizona. If you received a Disobey Traffic Device ticket in Bullhead City, our online course will suit your needs. Registering is simple and you can complete our course in a day. If you have any questions, you can visit the FAQ section on our website or contact our customer service reps who are only a phone call away.
Who Can Take Bullhead City Defensive Driving in AZ?
You are eligible for our Arizona Online Defensive Driving Course if:
In the last 2 years, you have not taken Bullhead City traffic school course.
You are not eligible If you possess a CDL License.
Must be an eligible civil traffic citation.
The violation did not involve a car accident resulting in serious injury or tragedy.
You must complete your course 7 days prior to your court date
How It Works - Low Cost Defensive Driving
Received a ticket for Disobey Traffic Device and want to erase the points from your record? Check out our Low Cost Traffic School Course for Bullhead City. Simply visit to www.trafficschool.com, click on Get Started, select Arizona as your state, and submit the information requested. You'll be started with your course in no time and on your way to having your Mohave County traffic violation dismissed.

Low Cost Defensive Driving
We offer special rates on certificate processing and delivery if you are a Senior or Veteran with a Disobey Traffic Device Ticket. Low Cost Traffic School understands how the cost of a citation can accumulate, so we try our best to help our Seniors and Veterans as much as possible. For more information, visit our website and register or contact us at our toll free number and one of our representatives will be happy to assist you.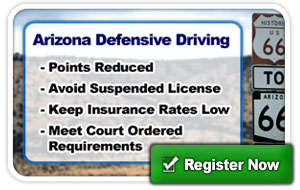 Low Cost Defensive Driving
Is your schedule unpredictable and you need to fix that ticket with some flexibility? Bullhead City Defensive Driving School is made for you! As long as you have an internet connection, a laptop or pc, you'll have access to our course 24 hours a day, 7 days a week. Work at your own pace anytime of day or night.
Mohave County Approved Defensive Driving
Having a hard time finding an online traffic school course that's approved by the Arizona Supreme Court? Look no further! Mohave County Online Traffic School Course is approved by the Arizona Supreme Court. We meet all of the necessary requirements and look forward to helping you erase unwanted points from your record.
---
Driving Links for Arizona Drivers

Visit DrivingLinks.com today to find helpful AZ MVD information and other driving resources. Mohave County drivers can find downloadable AZMVD forms, answers to driving law questions, traffic safety news, and more. It's the best online resource for drivers in Kingman, Lake Havasu City, Chino Valley, and Prescott!
Not from Mohave County?
We offer classes for most AZ cities and counties outside of Bullhead City. In addition, we also have AMVD, AZDOT, and defensive driving tips for Mohave County motorists. Search our traffic school site for the widest array of Arizona defensive driver information on the web:
Traffic School Classes for Other States
TrafficSchool.com also offers defensive driving school and traffic school courses for other states like California, New York, Nevada, Colorado, Texas, and Florida. If you're not from Bullhead City, find a course below to view what's available in your area: