YOUR ENTIRE PROGRAM
Virtual Drive of Oklahoma can be used as the ENTIRE driver's education program for a teen to get their license. The program satisfies BOTH the classroom requirement and the in-vehicle driver training requirement necessary to obtain a permit and a driver license.
AGE REQUIREMENTS

Students must wait until age 15 ½ to apply for a permit.
Students must wait until age 16 to apply for a provisional license and must have held a permit for at least 6 months.
GETTING A PERMIT

You may apply for a permit at age 15 ½ . You must be enrolled in either Virtual Drive of America or a driver education course equivalent to it. This will help develop your student with the correct driving habits.
A minor may obtain the permit at age 15 ½ ONLY if the minor is enrolled in an approved driver education course such as Virtual Drive of America.
Anyone under age 17 must have their permit for one year before being eligible for their license.
Regardless of when a minor obtains a permit, the minor must have the permit for 6 months before being eligible for licensing.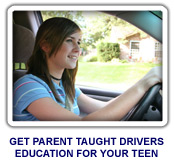 Students can apply for a learner's permit after completing just 6 hours of the classroom portion of Virtual Drive of Oklahoma. Parents will need to log the first 6 hours from Module One of the program in their "Classroom Progress Report" for the teen to qualify for a permit. Students must also pass a vision test, road sign test and written test at the DPS, as well as filling out and supplying the proper documentation. NOTE: Students may not begin the in-vehicle training until they receive an instruction permit!
GETTING A LICENSE
Students must hold a permit for 1 year and complete the rest of the Virtual Drive of America program, which consists of 30 hours for the classroom program and 55 hours of instruction for the in-vehicle portion. Upon completion of the entire course, Virtual Drive of America will send the student their certificate of completion to take to the DPS.
Note: Oklahoma' minimum requirement for the classroom portion is 30 hours and the minimum in-vehicle requirement is 55 hours. As an "approved home study parent taught program" Virtual Drive of America exceeds these minimums so that the teen is supplied with more than enough education in each of these categories.
We no longer sell this product. Please see our currently approved Oklahoma programs.