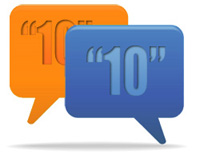 TrafficSchool.com Reviews
A Simple Question
is asked to customers that complete our online course and choose to do an optional survey:
"On a scale of 1-to-10: How likely is it that you would recommend TrafficSchool.com to a friend or colleague, and why?"
Here are a few dozen of our favorite answers:
This was really easy and not boring at all I learn new things that the DMV book doesn't tell you. I thank you
Definitely was a good learning experience for me as this site is very user friendly, thorough material and highly recommended to others.
Easy to use, easy to understand, testing was fair, lots of helpful information
I was in doubt to take an internet course. But now, I am happy I decided to do it. And most importantly, your school offered me a great tool to revise my driving skills and make a lot of changes in the way I drive actually. I really thank you for the great course I went through and be sure that you have a great plan to provide information to all people who drive and commits a traffic violation. My sincere congratulations to all of you who keep this school helping people like me. Have a nice day.
The online course was the correct balance of ease of use and proper instruction.
Excellent easy to understand and complete
All drivers learn good skills. And good course. Very very helpful tools. That's why. Thank you very much.
It is very clear and easy
Thanks for making this so informative and easy to navigate and understand. I love that it was not time consuming. I will recommend to all friends and family.
Even though I have been driving safely for over 50 yrs, this course reminded me of all I have learned, highlighted old facts and supplied me with more lesser known and new laws. Thank you
I used the audio reader which made it much more pleasant and useful. Thank you for offering that.
This was one of the most easiest courses to navigate thru in all areas.
Excellent courses and easy to understand.
Pain free and easy. Thank you so much.
Fast and Easy Course with easy to read content. Completed course within an hour and got 100% on final test while only missing 1 question out of the 7 chapter tests.
This is the easiest and fastest traffic school experience I have been granted.
The course was easy to follow and to understand. Also, I was able to save and log off, allowing me time to perform other duties or to simply rest for a bit. Thank you for a great Traffic School experience.
Easy to follow and very helpful.
Very easy to follow instructions and helpful information for any driver.
Great course. Reeducating an older driver and undoing some of the bad habits I've implemented over these many years has given me new confidence in my driving skills. Thank you. I will encourage my now adult children to take your course.
Easy navigation, easy to save and continue later. I would definitely recommend this site to anyone who is need of traffic school. I gave you guys a great review on YELP that is where I found out about your site
Thanks for helping me out I learned so much from the Traffic School.
The course was presented in an interesting and informative manner and let me proceed at my own pace. I honestly learned things to make me a better driver, especially how to remain calm when dealing with aggressive idiots on the road (and how not to become one).
I have used this company a few times and like how it works.
It's the easiest traffic school I've done. Educational I learn a lot and I am very excited to tell all my friends and family about it. Thanks for the help you guys offer
Educational, informational and effective.
Can do it as needed for your schedule
The course was easy and straight forward. I liked the course set up and everything about the course. Will definitely recommend to others!
Easy to understand, and website was awesome
I thought the course was very thorough, and I was refreshed on some matters I forgot, and enlightened on strategies to prevent collisions. I am glad I picked this course
The process was complete and understandable giving me the best chance to pass the exam the first time
I learned a lot of new information. The simulations were awesome!
EASY TO UNDERSTAND THE COURSE
Was very easy to follow and understand, staff was helpful.
Mansour
Westlake Village, CA
Very friendly website.Thanks.
This company gives you a change to go at your own pace and I like that.
The way you present the course, makes it very interesting with retention points. I am a rather slow reader, however I thoroughly enjoyed the course. Thank YOU.
The information was useful and I liked the flexibility of the course.
I learned some good safe driving tips, it was very helpful
Easy sign up and information is easy to follow.
COURSE IS EASY TO FOLLOW. COURSE ALLOWS YOU TO EASILY LOGIN LOGOFF AT YOUR FREE TIME, AND REMEMBER WHERE YOU LEFT OFF.
Because to me getting this citation has made me be more aware of my driving and other drivers and taking this course will be very helpful
I really appreciated the self study time, especially when I am a mother of 3 small children and I work full time.
It was both easy to register, practical yet educational in amusing way to review needed material
Very well put together and informative. I like the videos in between, and the alcohol video was very powerful. Great class!
Very good test, I actually learned something! It was fast and easier than I thought it would be. A lot of common sense questions too!
Course was very easy and understandable
Very educational and easy to understand. Thank you!!!!
Because it is completely helpful to learn traffic.
John
Palos Verdes Peninsula, CA
Good materials cover all aspects of driving a vehicle and acknowledge vehicle laws pertaining to daily driving, safety and peace of mind. Thank you.
Anytime I needed help they were very responsive. I found it easy to use; I choose to use the audio. Glad it's over. Thanks
Because I found it easy to follow. This was my first experience with an online course. I also appreciated that I did not have to start and keep going to the end--I was able to stop and start the next day or some days later.
The course is easy comprehend.
Very easy and to the point. I called before I registered and somebody answered right away and gave me tips and the answer to my question. You also cannot beat the discount price.
Easy, fast, and straight forward questions and answers
Loved it very informative all online courses easy to understand no classroom no driving to school and finding parking and very time consuming thank you guys you are amazing will definitely refer to family friends and clients who need to go to a traffic school.
Wasn't expensive and helps remind us!
This site was easy to use and very well put together.....
Andrea
Westlake Village, CA
Thorough, quick and to the point, not to dull. Your site is easy to use and navigate. Thank you for providing a discount on Yelp.
Easy to follow, great course
Constance
Rohnert Park, CA
Easy to understand and has visuals. It was great.
Easy, quick, seems good and comprehensive, covers new laws too.
It's very helpful website
It was easy to sign up and begin, no password to remember. Simple to sign in and finish.
Easy access, understanding and completion
Your course is self explanatory, well written, and easy to comprehend. The testing is made easier with the ability to access the course and identify correct answers.
The course was very easy to understand. I especially liked the little GO tests!! I would highly recommend your Traffic School.
The course was very educational and updated my knowledge, with a variety of great and useful information. Thank you
Good material for understanding
The course was awesome! Very well laid out and very informative.
Robert
New Smyrna Beach, FL
Use of layman language and illustrations. Easy to understand.
Arnold
West Sacramento, CA
Site is very simple to navigate that also included other options to complete the course. A must for anyone looking for on-line traffic school or just refresh their knowledge with the rules of the road.
I am an elderly woman and not computer savvy, however, I was able to do it with out too much difficulty.
One of the best online traffic school so clear and understandable and I lean more about my driving on the road.
I was dreading having to do traffic school and put it off for months, but this program was quick, easy, and painless! I also liked that the information was very current and up to date. Thank you so much!
Easy to access website. My phone call inquiries were answered promptly by a real person, who was helpful and friendly. I like the study guide available during the final exam. Thank you!
Easy to follow and understand written text
Online option is terrific
The course was well detailed and simple to understand.
I found it very easy to follow the reading of the course and the questions and I learned a lot of it thank you
Thank you! COURSE WAS VERY INTERESTING AND DID IT AT HOME. THANK YOU AGAIN.
Michael
West Palm Beach, FL
The course was good information set out in an easy to understand way. Cost was reasonable and Help was easy to get. Will recommend it to others.
I felt that all the tests were very helpful, I learnt from them a lot
The web pages are very easy to navigate. The course materials covered are concise with good quiz questions and clear explanations.
Easy reading, excellent explanations, even a little humor
Very clear examples for the driving exercise. Understandable explanations of right vs. wrong
The course is simple to follow, and is well written. The rules and laws are current and relevant.
Cheap, easy, fast, and convenient.
You covered a wide range of driving challenges, you had good ideas for difficult situations, and the course was very positive.
Fast, concrete and to the point.
Very simple and reasonably priced
Traffic School Reviews
We consistently strive to offer our traffic school customers the best possible online learning experience - this includes providing live & friendly customer service, easy to use courses, educational content, fast processing, and affordable pricing. But don't take our word for it, here are some real, verified reviews that our past customers have left about TrafficSchool.com!