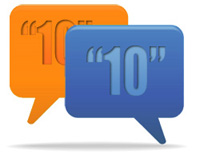 TrafficSchool.com Reviews
A Simple Question
is asked to customers that complete our online course and choose to do an optional survey:
"On a scale of 1-to-10: How likely is it that you would recommend TrafficSchool.com to a friend or colleague, and why?"
Here are a few dozen of our favorite answers:
Jennifer
El Dorado Hills, CA
Course was great easy to follow I like that it was set up in modules for ease of hopping on and off. Questions were fair. Thanks!
Colleen
Desert Hot Springs, CA
Very easy to understand and pass--thank you!
Latest information on technology, Impacts of current driving environments. Good advice for survival in various driving conditions.
The course was very informative and easy to understand and I would definitely recommend this course to a friend! Keep up the great work
Aravindsundeep
Santa Clara, CA
Very good course and was written better than the DMV handbook. Lots of reading. I had to stop many times because it is exhausting. Stop and going allowed me to comprehend more because I could concentrate more than if I did it all at once.
It was easy to register and the course was clear and very informative. I never encountered any issues like freezing or loss of unsaved work. This was my first traffic violation in all of my 12 years of driving, so needless to say I was very stressed throughout this whole process of having to go to court. Ultimately, it's a lesson learned and I appreciate your website for helping me complete traffic school in the comfort of my own home and at my own pace.
IT WAS VERY ORGANIZED AND IN LAYMAN TERMS TO THE POINT COMPREHENSIVE I LIKED THE MINI SCENARIOS AND THE MINI TESTS
Course material was easy to follow and understand.
No pressure and relaxing while listening the lesson.
This course was easy and quick, plus I learned a few new things too.
I never had to do this before. It was easy to use.
It was very informative, easy to read and understand.
Easy to follow instructions.
Very easy to register, information was accurate and helpful. I took the course on my own time and was relaxed and ready while taking it. Great school! Now let's see if court takes it and everything is as it was!! Thanks
Very well organized and easy to complete! Very impressed with the overall experience! Thanks!
The course was very inexpensive, super fast processing, and easy to understand.
Course included a lot of valuable information and I was made aware and reminded of some of the driving habits that are key to safety specially since our freeways and residential areas get more congested. I was also pleased that I took the on line course at the times that were most convenient for me.
Very easy to understand and flexibility in time with the option to save and continue later is a great option.
Roger
La Habra Heights, CA
The course was easy to follow and the questions were to the point and not confusing.
Excellent and easily read. Material could be understood well. Well written.
The course was quick and I did learn a few new laws that went in to affect recently.
Animations after each chapter very helpful thank you
Barry
Huntington Beach, CA
It was easy to follow and I learned a lot.
Course information and format excellent.
Online traffic school is easy
This course helped me a lot. Thank you
Because it's very cheap, easy, and clear
Great course, saved time and money
Because TrafficSchool.com meets all the requirements for the Court and the DMV at an affordable price and great online learning environment.
I'm 80 years old and have never had a citation before. This course was so informative and I learned much from it. Thanks
Easy to read, understand, to the point. like the video examples to break things up.
Reasonably priced, thorough course and very user friendly website. Highly recommend this school!
It was easy to access, easy to understand, informative.
It was not difficult to use the website, I am not very good at computers and I had no problems using the site. No gimmicks no surprises course and prices as advertised.
Shirley
Woodland Hills, CA
The course is educational, easy to read, not boring and I am learning things from it. Tests are reasonable.
You make it easy, fun and very comprehensive. Great presentation, images and clear language.
Provided all that was promised. Thanks
I am pleasantly surprised that this was really easy to complete, informative and very well written. I will definitely recommend this, well done (and I really liked the info that was beyond pure driving instruction). I actually enjoyed this, wow!
As inexpensive as it sounds, one would be wise to accept several add-ons so that there is a record of completion handy if the Court, DMV or Traffic School processing fails. Overall excellent program especially for California Vehicle Code updates and safety reminders.
Oh boy boy I highly recommend this traffic school site. Very easy process very helpful 110% recommended thanks for the help
Because is a great program to keep up thank you guys
Satisfied with the course thank you
Easy to navigate through course
It is very easy to understand the instruction
The website was easy to remember, the registration/login process was very simple and a huge plus for immediate live customer service assistance. The course was fast, easy and stress free as mentioned on your website. Thank you!
Very informative and easy to understand
This course exceeded my expectations. Traffic school isn't fun, but this course was clear, concise, easy-to-use and efficient with my time so I am very happy with the end result.
Very easy to understand and navigate through. Straightforward to the point and educated on important topics most used in day to day driving.
There are a number of well thought out rules to review and follow.
Because of your school integrity. Thank You.
Barbara
St. Petersburg, FL
User friendly and reasonably priced
Steps were clear and precise. Reading was informative, questions got to the point.
The website I have used in the past. The course is straightforward and easy to follow. My course taking experience was equally satisfying. I would recommend trafficschool.com to others without hesitation.
Daryoush
Thousand Oaks, CA
The course is easy to understand and helpful, it's shown me to understand more in some area which I'm not sure (grey area). Great course, I'd refer this course to all my friend and whoever I know to get this course when they are in trouble with traffic ticket. Great course Thanks
It was easy to understand
This course was easy to understand with clear instructions and helpful information.
The online experience was excellent, the material was very explanatory and the result was well worth it
Great course, great price, easy to navigate
Very easy to understand and utilize. Thank you
Very easy to understand and use.
Very informative course. I learned 8 different laws, codes and driving requirements that I was not previously aware of. Thank You!!!
Easy to use and material has great information
IT GAVE A LOT OF USEFUL INFORMATION.
Enjoyed course. It influenced me to drive more alert, safely, and responsible, with more attention to other drivers on the road I may encounter.
Course materials were very informative and easy to comprehend. I liked the format of this course.
It was an easy coarse and at your own pace there's no rush or page won't close on you if you take long to go back to it. I highly recommend it.
GOOD SITE, INFORMATIVE TO THOSE WHO DON'T KNOW THE LAWS
I gave a rating of 10 because I was very satisfied with trafficschool.com. The information was relevant and informative, and the ease of use made me a happy lady. The price of course was my immediate draw, but overall, I am happy with this school.
THE COURSE MATERIAL WAS WRITTEN IN VERY GOOD STYLE. EASY TO READ FAST AND UNDERSTAND QUICK
Great course at a great price. Loved that you could go in and out when you wanted.
Very well laid out and easy to understand. Also learned some new things!
It was efficient, fast and helpful. Thank you
This course was very informative and easy to comprehend. Not only that, the price is unbeatable.
Over my 45 years of driving, without being handicapped physically, I attended about 6 traffic School classes IN PERSON. NOW that I am handicapped, I have Not had a ticket for 15 years, BUT, I cannot sit for the length of 8 hours in an 'in-person' setting. YOUR traffic school is able to be taken leisurely, while IN A COMFORTABLE POSITION FOR MY SPINE, and I can reasonably complete ALL sections at my own pace. Frankly, I'm impressed; even though I called once during the test to offer the young lady an improvement in one of your 'interactive' questions, she did NOT treat me as an imbecile, she DID treat me as a person trying to help--she was PROFESSIONAL at all times. Thanks!
It is excellent method of learning.
Informative material and easy to navigate.
Informative easy to navigate very reasonably priced
I found the course very helpful and informative
The course content is well documented and easy to read.
Lessons being read aloud! I can listen to the lesson being read and do other things. If a part comes that I don't understand or I didn't hear well, I can go back and read it for better comprehension.
After studied your online courses, I will drive more carefully.
Very easy to navigate and complete
Nice stress free course that can be taken with logout periods.
I found the course easy to go through and yet very thorough in covering virtually every aspect of driving. It has been a long time since I went through any driver training (since high school) and it was a good refresher. My infraction (failure to come to a complete stop before making a right turn) was only a very small part of the course, but the course overall was all encompassing. I would recommend it to others that are required to take traffic school.
INFORMATIVE, EASY TO FOLLOW, GOOD INFORMATION, NOT TOO TIME INTENSIVE
Traffic school have an excellent program for people violated traffic law like me, However, without studying documents you would meet some challenges for answering 25 questions. I study well and passed the test. I will introduce Trafficschool.com to my friends. Thank you Trafic School.
Very smooth, course was easy to understand, and had updated information. Highly recommend.
Because it was easy to understand and I learned about some of the new laws.
This website was user friendly and actually made it so I could understand and grasp what I was reading.
Marie
North Lauderdale, FL
The course is very comprehensive and convenient.
Ease of use. No muss, no fuss
Easy to understand videos helps
This was very easy to sign up and to take the course at your timing
Traffic School Reviews
We consistently strive to offer our traffic school customers the best possible online learning experience - this includes providing live & friendly customer service, easy to use courses, educational content, fast processing, and affordable pricing. But don't take our word for it, here are some real, verified reviews that our past customers have left about TrafficSchool.com!