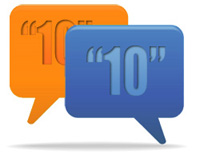 TrafficSchool.com Reviews
A Simple Question
is asked to customers that complete our online course and choose to do an optional survey:
"On a scale of 1-to-10: How likely is it that you would recommend TrafficSchool.com to a friend or colleague, and why?"
Here are a few dozen of our favorite answers:
Who likes getting a ticket?! I called my friend who works in the insurance industry and he recommended your service. I am glad because there are too many choices and it's overwhelming........ No fluff, just the test and results were based on my doing my job and you did yours! thx
Good info but a lot of reading
I can't find any words to describe how easy was the course and the test, just easy and convenient
IT WAS VERY EASY THANK YOU
Actually learned things and course was easy to understand and get thru!
Excellent customer service when I called with questions before registering. Adam was extremely professional, helpful, and personable. The course material was perfect -- easily understood! I passed the first time!😁
Because it's easy and makes it faster
Generally, it is an excellent course. My small criticism is in the wording of some text and some questions. Overall, excellent. I appreciated the thoroughness of the course. Thank You
The course was informative
I learned a few things what to do and not do. I liked the pace, and listened to the whole course. Very little or none about golf carts laws. Thank you, I am watching my speed limit, which got me here.
Informative and easy to do in different time segments
Very sophisticated clear and efficient
I thought your course was thorough & educational. I ordered a hard copy & plan on giving it to my 16 year neighbor who doesn't have his license yet. Thanks.
Reasonable price, very informative, I learned a few things I did not know. The audio was very helpful in so many ways and there was none of the unnecessary talk that you deal with at a physical traffic school. I have already referred a friend :)
I was well satisfied with your service.
It was easy and legitimately funny.
Straightforward and easy to use.
Your course is well organized and presents clear explanations and video diagrams that provided practical and useful information and statistics, in a very comprehensive manner that was easy to understand and easy to remember. Excellent format, easy to use and to return to after breaks. Congratulations!
IT WAS EASY & FAST, FAIR FEES
Because you offer an excellent well written course, enjoyable to use with unlimited flexibility
Very thorough and could understand the course.
It was very user friendly. The site was setup well. Easy to return to and able to use it on a phone.
The course was simple and straight forward.
Very educational and you made it interesting. The information was presented in a way that made it easy to understand the the little quizzes with the yellow car made it more interesting.
I actually enjoyed the course format, and learned the updates of the law and safe driving habits.
Gwendolyn
Huntington Beach, CA
Easy to follow lessons and the animations were helpful in giving a visual of the concepts presented.
GOOD PRICE, EASY INSTRUCTIONS, ABLE TO SAVE AND LOG OFF
It's easy to understand and provides the proper answers to learn and be aware as a driver.
Everything about the process was designed to educate and complete with little left to chance. A dedicated effort to reach the intended goal. Thank you
Cuz your course was AWESOME!! Being able to stop & continue later was the best thing ever. Thank you!
EASY TO USE AND VERY INFORMATIVE. WELL-PRICED.
The content was relatable and the quizzes definitely prepared me for the final exam.
I learned many facts I never knew. Very good information to make me a better driver and with hard times the signup fee was fantastic. Thank you very much. Keep up the good work
I found this website to be professional as well as helpful. I was engaged in all the readings provided as well as the visual aspects.
Easy to understand text explanations.
It was fast and easy to do.
Sankari
South Pasadena, CA
This course was very easy to understand and most importantly I was able to take my time and do it with my busy work schedule.
Well-written text; some information was repeated for maximum comprehension, but not everything, which would have made it too long.
Modern life should be like this course: logical, organized, effective, and providing a foolproof way to success.
Because it was very understandable and reasonably quick. It was also well-priced.
Clear and in-depth course material via website, easy to follow!
Informative and concise. Being able to go at my own pace was extremely helpful.
Your course was to the point & entertaining enough
Your course is easily read, well organised, and keeps a student interested ! I really enjoyed the presentation 😁 Thank you!
Easy to understand and clear questions made it easy to complete
Hesitant about the $5 course at first but IT'S AMAZING!!!!! I finished in no time at all!!!! 100% worth it take this course - stop looking this is the one!
The Sections were organized, easy to read and understand. The in-section exams highlighted how questions would be worded in final exam. I refreshed my driving skills knowledge and learned some new things.
Good course; I stayed interested throughout the training.
The price, the ease of navigation and understanding of questions. Eric, owner, personally reaching out with an email. Just overall a great experience. Thank you
It is a good platform to do traffic school.
Easy to use from home while taking care of my toddler
I was able to complete on my own time and it was great.
THIS CLASS IS VERY NICE. I LIKE IT.
I learnt a lot and I could easily navigate the website with the course and examination.
Barbara
St. Petersburg, FL
Easy and at your own pace
The course was straightforward and easy to understand. The option of audio was great for the price. Also, the questions were answered with my initial phone call.
Treesje
Rancho Cucamonga, CA
Very fast completion of the test. It was just a lot to read. The videos helped to break up the material. Price was unbeatable!!
Loved the accessibility to complete this course on my busy schedule. Also, had an issue with my personal data that needed to be corrected. Called the customer service phone line and the rep was very helpful and fast to take care of the issue. Definitely would recommend this school to anyone that may need it. Thank you.
Great course... Really liked having the ability to enter and exit at my pace. The course was actually more interesting then I had expected and served as a great refresher. Thanks
Your course was user friendly and informative.
This was very straight forward and easy to understand. Also it gave good information that was very useful and informative.
Info was detailed and clear.
A lot of good information that you thought you know but people really should read this any way so they can be more careful of others
Gives good information regarding driving on the road. It help a lot.
I would recommend because of the valuable information it has.
Carmen
Hacienda Heights, CA
It's easier to work at your own pace, especially when one is not able to attend the Saturday classes.
It is very complete, easy to understand. I learned a lot about driving safely and learned things that I never knew before.
Because everyone needs to be a good driver
Your course was simple to follow and I was able to take time in between each section.
You guys were great and I am so happy I got 100% thanks to your study guide. Thank you
I could read it at my own pace
Good personnel to help people with insufficient computer knowledge.
Easy to follow instructions and quizzes
Very informative, helped with updating my knowledge of DMV laws. Thank you
The course material was understandable and the website was easy to use.
Useful and easy to understand and follow.
The question were set up to be challenging enough but not hard enough! I believe is done to be user friendly. Good Job.
Sometimes along the way, it is a good thing that people need to be refreshed with the latest rules and regulations on Safety Driving. I really appreciate that with this school online,.. I am more confident now to drive my car with the full knowledge that I know what I am doing. Thank you very much!!!
The information was clear and helpful
The clear and concise information and ease of use was appreciated. I had started this process on another website, yours was much more functional.
I found the course easy to understand, the interpretive tests clear to follow and gained some interesting facts along the way. My husband likes to back up from his parking space in front of our house and it always makes me nervous, now I have facts to show him about why it isn't wise, thanks
It was easily understood.
Course curriculum was well presented...easily absorbed.
It was a very thorough course and I learned a lot about driving on the roadways.
Easy reading of material and the course made it easier to satisfy the DMV requirements for driving school.
The course covered just about everything related to driving.
Course is very well explained
You've done a great job presenting the information in an interesting fashion on a personal level. I enjoyed the course. Thank you.
Clear and up to date. Liked the audio option. Will be good prep for renewing my license next year. Thanks
Because the course is comprehensive and easy
The reason for giving the rating I did, is that the course was easy to understand, and did not take a lot of my time.
As easy as traffic school can be and a good price
Excellent presentations, comprehensive, easy to follow, easy to sign up
It was easy to understand
It was very informative and easy to read and easy to take the test.
A user friendly course with all the information needed to become a better and safer driver
Traffic School Reviews
We consistently strive to offer our traffic school customers the best possible online learning experience - this includes providing live & friendly customer service, easy to use courses, educational content, fast processing, and affordable pricing. But don't take our word for it, here are some real, verified reviews that our past customers have left about TrafficSchool.com!