Vehicle History Report
Buying a used car is one of the biggest decisions today's consumers face. A car is a complicated machine and can potentially have a variety of problems, many of them invisible to the untrained eye. As a smart buyer, you want to be sure you're putting your hard earned money towards a car that is built to last. As a smart buyer, you should check the vehicle history report of any car or truck before committing to buy.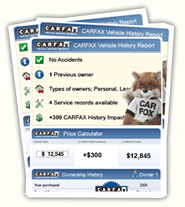 CARFAX VIN Number Check
Don't take the risk of buying a car with expensive hidden problems or previous accident histories. Get a certified vehicle history report from the CARFAX national database within seconds, it's easy!

How CARFAX Works
Ordering a Vehicle History Report is your best protection against buying a used car with costly, hidden problems. Find out your car's history, including both common and uncommon used car problem areas dealers or private owners may try to hide from you.
Carfax can perform title, odometer, problem and registration searches on a nationwide database and receive a detailed report in seconds.
Just enter a VIN number on their site and receive a FREE search showing how many files exist for any car, truck, or other vehicle you are considering buying. Catch the following common issues used cars may have unbeknownst to you:
Salvaged Title, Fire Damage, Rebuilt Engine, and Damages Repaired
Rolled Back Odometer, Broken Odometer, Odometer that Exceeds Its Limit, Suspect Miles
Damage to Car Frame, Lemon look Up, Salvaged at Auction, Water Damage
Accident History, Theft History, Use as a Fleet or Corporate Car, Use as a Commercial Vehicle, Use as A Government Vehicle