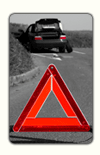 Auto Safety
When it comes to everything related to automotive safety, TrafficSchool.com has you covered by partnering with many top quality, low priced automotive safety dealers online. We'll help you find first aid kits, emergency kits, cell phone car accessories, and more! Choose from close to 200 items to help make your driving experience and the rest of your life safer and more comfortable...plus you'll find unique products that put the fun back into your leisure time.
Browse Auto Safety Products
Visit any of our hand selected auto safety partners, or check them all out to compare prices online and find the lowest prices available:
---
HandHelditems: Shop for everything handheld that will make your driving experience a safe one: find GPS navigation systems, bluetooth accessories, and other car convenience products.