TrafficSchool.com Launches Fleet Safety Portal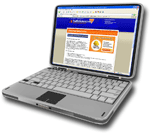 February 5, 2007
TrafficSchool.com (
www.TrafficSchool.com
), the nation's leader in online Traffic Safety classes for individuals, and supplier of their Online Fleet Safety Course for organizations, this month announces a new Fleet Safety Portal (
www.TrafficSchool.com/fleet-safety/online-fleet-training.asp
) on their website, providing a large collection of driver safety information and resources for fleet managers and safety managers.
The updated Fleet Safety Portal has been restructured with an assortment of information designed to assist corporations in creating an effective fleet safety program. Fleet safety managers can calculate how much an accident costs their company, view customization options for their organization, compare online employee training to previous methods of training, read about fleet safety topics in the news, and even demo TrafficSchool.com's Online Fleet Safety Course.
"We are pleased to offer this collection of useful resources to the fleet safety community, and hope to simplify the driver safety training process for safety minded organizations across the country," said Masa Patterson, Fleet Safety Director. "We look forward to continuing to expand the information available through our Fleet Safety Portal, and helping companies take a proactive, practical approach to developing and sustaining a fleet safety culture."
TrafficSchool.com (
www.TrafficSchool.com
) has been the preferred choice for traffic school and drivers education on the Internet since 1994, providing a variety of online courses for traffic school, defensive driving, point or insurance reduction and drivers education needs. Over half a million drivers have improved their skills thanks to TrafficSchool.com's proven online programs. They have worked closely with large municipalities, public and private companies, have a close working relationship with several state Departments of Motor Vehicles, and are proud affiliate members of the National Association of Fleet Administrators. Their user friendly traffic school programs allow students of all ages to enjoy the speed and convenience of learning online while improving the skills and knowledge related to the task of safe driving.
Contact:
Masa Patterson, Fleet Safety Director
800-691-5014 ext. 1003 or 818-885-3685
Back To News Resource Page