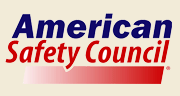 TrafficSchool.com has joined with the American Safety Council to "help you make your traffic ticket a thing of the past". The American Safety Council is a top quality online driver improvement provider that provides MVD Approved defensive driving courses for the state of Missouri.
How Our Missouri Course Works
After registering for the course online, you will have 24-hour access for up to 60 days, enabling you to complete your course at your convenience, around your schedule. Log on and off as many times as you need and your progress will be saved along the way.
Complete the course and you'll get the validated completion certificate mailed directly to your home address within 2 business days, for free. Rush email certificate delivery is available at a marginal cost.
When you receive your traffic school certificate of completion, simply take the certificate to the clerk of the court in the Missouri county where you received your traffic citation and no driving license points will be assessed against you. The address for your clerk of the court office is listed at the bottom of your traffic ticket.
Missouri Rules of the Road
Learning and refreshing yourself on Missouri driving laws continues to be one of the biggest benefits of taking our program. Brush up on some forgotten road rules, discover new laws, and learn a few defensive driving skills as you go.