May 2007:



In This Issue:
News: Drowsy Driving = Drunk Driving
Driver Safety: Don't Wait for a Wake Up Call in Your Fleet!
DYK???
Comic Relief
May Fleet Safety Special Promotion
News
Drowsy drivers have a lot in common with drunk drivers. The symptoms of both are remarkably similar, which means driving while sleepy can be just as dangerous as driving drunk. Loss of coordination, motor skills, response time, vision, attentiveness, and even your ability to think are all characteristics of drowsy driving. Recent research by Volvo has confirmed these suspicions by comparing fatigue to drunk driving. Read the full article here.
Driver Safety
Many people believe that playing loud music, rolling down the window or having conversations with a passenger are reliable ways to stay awake. The fact is, the best way not to fall asleep at the wheel is to pull over in a well-lit, populated, safe area and get some rest. The amount of sleep one should get varies from person to person, but it can be said that you should feel well rested after a good nap. While traveling with another driver it would be wise to switch off driving and not allow the other passengers to doze while you drive. Sleepiness can become contagious.
Don't wait for a fatigue-related accident in your fleet to occur – educate your drivers! Click here to read about a tragic and expensive "wake-up call" for one British company that didn't.
DYK???
Recent studies conducted by the National Highway Traffic Safety Administration, show that drowsy driving causes more than 100,000 crashes a year, resulting in 40,000 injuries and 1,550 deaths. The National Transportation Safety Board has said that probably over 50% of all collision fatalities involve sleepy drivers. Those numbers are both astounding and unfortunate.
Comic Relief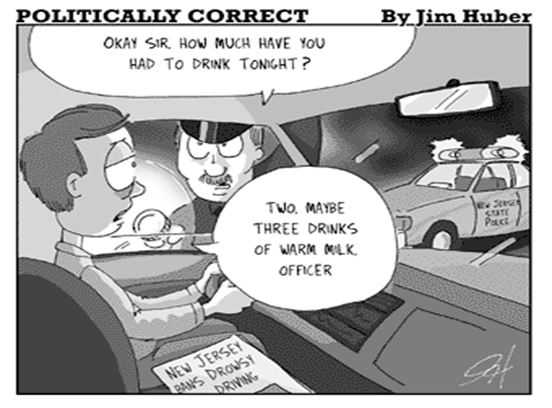 May Pricing
Get the summer started right at your company! Respond by the end of May, and get 2 for 1 pricing on our standard fleet safety course online (new customers only)!!
TrafficSchool.com (www.TrafficSchool.com) has been the preferred choice for traffic school and drivers education on the Internet since 1994, providing a variety of online courses for traffic school, defensive driving, point or insurance reduction and drivers education needs. Over half a million drivers have improved their skills thanks to TrafficSchool.com's proven online programs. Our user friendly driver safety programs allow students of all ages to enjoy the speed and convenience of learning online while improving the skills and knowledge related to the task of safe driving. Visit http://www.trafficschool.com/fleet-safety/online-fleet-training.asp for more info, or email us at corporate@trafficschool.com