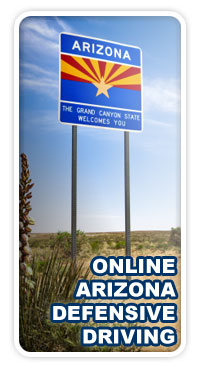 Defensive Driving Online for Right Turn Tickets
Have a Right Turn ticket that needs to be cleared quickly and easily? Our online course is available to you 24 hours a day, 7 days a week to help you. All you have to do is register on our website and begin the course. If you need your certificate of completion right away, you can choose between email, fax or Fedex to have it delivered. If you have any questions, feel free to call us we'll be happy to assist you.
The Simple Defensive Driving Choice in Eagar
Our Online Defensive Driving Course in Eagar is made with you in mind. Classroom courses can be long and boring, but with our Online Defensive Driving Course, you can take a break whenever needed. Simply login when you want to begin the course and logoff when you need a break. No need to worry about losing your place, we'll save it for you every time.
Am I Eligible for Defensive Driving?
You may enroll in our Apache County, AZ Online Defensive Driving School Course if:
it has been over 24 months since the last time you've taken a traffic school course in Eagar.
you do not have a CDL License.
serious injury or death did not result from your traffic violation.
it is an eligible civil traffic citation.
You must complete your course 7 days prior to your court date

Arizona Approved Defensive Driving
Did you know our Quick Defensive Driving School is approved by the Arizona Supreme Court? Did you know our course is available 24 hours a day, 7 days a week? Did you know you have a choice between fax, email or Fedex to receive your certificate of completion? With TrafficSchool.com, you have a variety of options when taking your Eagar Approved Defensive Driving School course.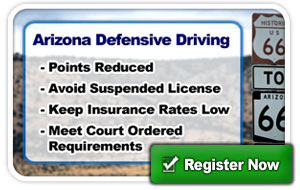 Right Turn Traffic Tickets
In jeopardy of losing your drivers license due to unwanted Right Turn Tickets? You can take our easy and Quick Traffic School Course to erase those points from your record. Simply login to our Apache County approved course and begin. With our fast and easy AZ defensive driving school course, drivers in Show Low, Safford, Winslow, Payson, Apache Junction, Florence, Fountain Hills, Coolidge, and Camp Verde can have their Right Turn points erased from your record before you can say "suspended license"!
Quick Defensive Driving
If you are Active Military Personnel, a Veteran, a Senior or a Student and received a Right Turn citation Ticket in Apache County, you qualify for discounted prices on certificate processing and delivery with Quick Traffic School. For more information, please visit our website or call our toll free number and our customer service representatives will be happy to assist you.
---
DMV Resources for Other States
The nationwide leader in online defensive driving, TrafficSchool.com, offers defensive driving school and traffic school courses not only for Arizonan drivers, but also has a wide variety of traffic school classes for California, New York, Florida, and Texas. Find your state course below to view what's available in your area:
More Arizona Defensive Driving Info
Arizona drivers can find more defensive driving resources for cities and counties outside of Apache County as well. Not to mention, we also have Arizona MVD, Arizona DOT, and AZ driver safety help for Apache County drivers. Take a look for yourself today:
MVD Driving Resources for Apache County Residents

Visit DrivingLinks.com today to find helpful AZ MVD information and other driving resources. Eagar drivers can find downloadable MVD forms, answers to traffic law questions, traffic safety articles, and more.